*Eoin Cleary. Photograph: Martin Connolly
Although successful in their first championship outing of the year, Eoin Cleary felt Clare's one point win over Waterford in the Munster SFC was "more like a defeat".
Cleary was scorer in chief for the Banner in Saturday's quarter-final win finishing with six of their nine point tally. "We stayed up in Division 2 and we're hoping for a very strong championship and you want to start as you go on for the year and we started very poorly. We were sluggish at the start and the second half, you want to put a stamp on the Munster championship straight away when you get a chance and we didn't do that this evening and it does feel like a defeat to be honest but we have to get over it, we won and got out of jail".
"It's a bit Irish to be disappointed with a win but the performance overall was poor, if we won by a few points and played well we'd be happy enough but with the performance we know there is a lot of work to do and we've three weeks to do it," the Limerick based Garda added.
Clare's better spell was in the opening half where they held a 0-08 0-02 advantage at the break, all the while playing against a blanket defence. Eoin outlined what it was like on the field to deal with so many Waterford bodies packing around his area of the field, "We struggled with the amount of numbers they had back and they broke very quickly and we couldn't contain them up front in the first half, we've a lot of work to do we know that's not good enough".
In the second half, Waterford kicked six scores in succession, Clare only mustering a single score. "There was a point in it with three minutes to go and they had all the momentum, you couldn't be but worried, you could sense it all around the ground they had all the momentum and if they had one or two more chances they could have taken them and we would be out of the Munster championship and we couldn't have any complaints if we were because with that performance we're going nowhere, Waterford were the better team tonight but they didn't win, we got the win, we're over the line and that's all that matters".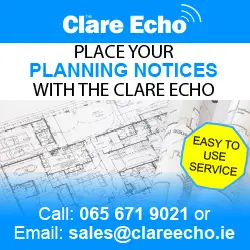 Several improvements are needed before Kerry travel to Cusack Park on June 1st among them their shot selection, "We were trying to get the momentum and taking shots we shouldn't have, we'll be ate during the week for it".
"In 2014 we got out of our lives here in Cusack Park and we gave Kerry a good rattle the following four weeks so we're hoping for the same. We know there is a lot of work to do, Kerry are a formidable outfit but we're looking forward to the challenge ahead".