IT'S 20 years ago since Ennis was named Ireland's Information Age Town and the people of Clare's capital town celebrated while those on the periphery lived in hope that they too would get a free computer.
In a time before drones existed, possibly one of the largest co-ordinated efforts in the town's bid saw school children across the town forming giant-sized messages in fields spelling out 'Ennis Information Age Town', while a helicopter hovered over-head taking aerial photographs.
Here at the Clare Echo, we've pulled out an RTE report from the archives from this month 20 years ago. Mentions of Telecom Eireann and The Point Theatre made us flood with nostalgia but will no doubt baffle our younger readers. There's also a video from Nationwide in 1999 which will no doubt feature some familiar faces.
The RTE report reads,
"Ennis in County Clare is named Ireland's Information Age Town and will benefit from an investment of £15 million to develop technologies and advance the information age society.
The announcement of Ireland's first Information Age Town was made by Minister for Public Enterprise Mary O'Rourke at an event held in the Point Theatre in Dublin. Telecom Éireann, organised the competition and 46 towns from all over the county to competed to become Ireland's first Information Age Town. Four towns were shortlisted for the final; Ennis, Kilkenny, Castlebar and Killarney.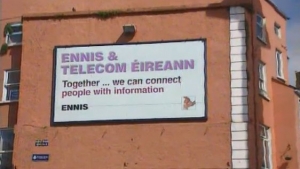 It is planned that every home in Ennis, will have access to an advanced phone system and a computer; every business ISDN and internet access, and every student will have access to computer learning.
The major proposal put forward by Ennis involves all sectors of the community and some of the projects are already up and running. President of Ennis Chamber of Commerce, TJ Waters explains what the win will mean for people living in Ennis. "You will find that you can access every business, every community, every sports group, or almost anybody who has an internet line or who has a webpage once you turn on your television or your computer."