A Newmarket-on-Fergus housing estate was the subject of three motions at the March meeting of the Shannon Municipal District.
32 recently constructed housing units in the Gleann Cora estate in Newmarket-on-Fergus have been acquired for social housing following a purchase by Co-operative Housing Ireland (CHI).
One condition of the extension of the estate included a contribution to cover additional traffic calming measures and Clare County Council officials have assured local representatives that this will come to pass.
Cllr Pat McMahon (FF)'s appeal for an extra pedestrian crossing on the Ballycar Rd was viewed as "not warranted" seeing as the entrance to both Gleann Cora and Goodwood is approximately 120m from the pedestrian crossing outside Fr Murphy Memorial Park, the grounds of Newmarket-on-Fergus GAA. "The Office will assess the existing crossing at the GAA grounds to ensure it is fit for purpose and we will also repair any bollards that have been damaged at the Gleann Cora and Goodwood entrance," senior executive engineer Tom Mellett confirmed.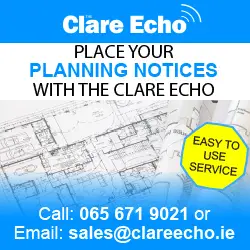 Both Cllr McMahon and Cllr John Crowe (FG) issued requests for traffic calming measures within Gleann Cora, opposite the green area and "at the older section" of the estate. The volume of traffic "has tripled in the last few months," Cllr Crowe outlined.
"A planning contribution to cover traffic calming measures was a condition of planning for the second phase of this estate. The Municipal District Office will use this funding to implement traffic calming measures within the estate," Mellett explained.
Use of Fr Murphy Memorial Park also strengthened the cause for improved traffic calming, Cllr McMahon stated. "It is a heavily used hurling field, there is huge work going on there with huge money spent and plans ongoing which will lead to more people using it". Proposals from Cllr McMahon were seconded by Cllr PJ Ryan (IND).
Including a condition of traffic calming for future planning applications of housing estate should become common procedure, Cllr Crowe believed. "In hindsight, it should have been part of planning condition to have money set aside to install traffic calming measures".
Over €10,000 is available for the traffic calming works, Cllr Gerry Flynn (IND) advised the meeting. He noted that the complexion of the estate "changed considerably" in recent times. "When estates change to include a lot of social housing, it brings with it a lot of activity whether we like it or not, it's the nature of social housing".