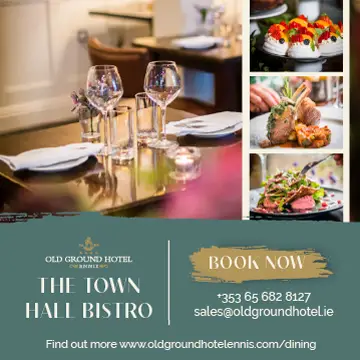 *Lorraine Carew. Photograph: Joe Buckley
A SHANNON RESIDENT says she feels vindicated after the announcement of a €2.5bn defective building remediation scheme.

Lorraine Carew said draft legislation to support the remediation of apartments and duplexes with fire safety, structural safety and water ingress defects, is an important first step.
Ms Carew lives at the Bru Na Sionna apartment complex in Shannon where fire safety issues were identified in 2017.
The estimated total cost of resolving issues was put at €4m.
She has campaigned for a number of years for the establishment of a remediation scheme.
"It's brilliant but we have a long way still to go. We have to make sure that everything is done right and that everyone who is entitled to avail of the scheme is able to do so. There's no point in rushing into it willy-nilly", Ms Carew told The Clare Echo,
She continued, "I feel it's a vindication of the work we have been doing. It's been a long road but we were right to protest and do what we had to do. I was at a protest in Dublin last Tuesday, outside the department. It was freezing! I was at a protest on Dublin in December when the weather was awful as well. It takes its toll. This is a very important issue to people around the country".
Ms Carew, who moved into Bru Na Sionna, in the summer of 2017, estimates the cost of rectifying issues at her own apartment to be between €27,000 and €28,000.
She said it is important that those entitled to remediation are kept informed about how the money is distributed and spent.
"There is a long road to go yet, we have to see the final legislation, but it is definitely an important step. We can't just sit down and stop. We have to keep the pressure on but it is a good victory. I would have concerns about how the money is going to be distributed. It looks like it is going to be distributed through owner management companies.
"I don't know if there are qualified people on these committees. Are there accountants? Do they have financial expertise? I'm certainly not qualified either but it's very important that we know how the money is going to be spent and how it is going to be distributed. We should be told when it is going to be spent and kept up to date at all stages about what is going on. I know there is some talk that the housing agency would oversee all of this and I would welcome that".
According to the Minister for Housing, Local Government and Heritage, Darragh O'Brien (FF), the draft legislation will provide a statutory basis for the establishment of a remediation scheme aimed at protecting the safety and welfare of those living in apartments or duplexes with such defects that occurred during construction.
The government says a 'whole building' approach will be taken, ensuring common areas and shared spaces are also remediated where required to the relevant standard.
It's envisaged that the Housing Agency will play a central role in the administration of the scheme and that Owners' Management Companies will be funded to carry out the necessary remediation works, with specific limitations or exemptions on certain commercial owners.
The Working Group to Examine Defects in Housing estimated that between 50% and 80% of apartments and duplexes (or associated common areas) constructed between 1991 and 2013, may be affected by one or more fire safety, structural safety or water ingress defects.
This equates to between 62,500 and 100,000 apartments/duplexes.
The average cost of remediation is approximately €25,000 per unit, which means the scheme could have a potential cost to the Exchequer of between €1.5 billion and €2.5 billion.
Welcoming the scheme, Deputy Cathal Crowe (FF) said, "Today marks a major step in ensuring that the owners of the apartments in Bru na Sionna receive the remediation that they have long asked for. In 2017 inspection, an inspection of the development identified serious defects, which caused serious concern among the owners about how the €4 million bill would be footed".
"The scheme approved today will help to protect the safety and welfare of the residents of the 240 apartments there, and others around the country like them", he added.
Deputy Joe Carey (FG) said the €4m bill "was both unfair and upsetting for homeowners who purchased their properties in good faith and I am delighted that this nightmare scenario will finally be remedied."