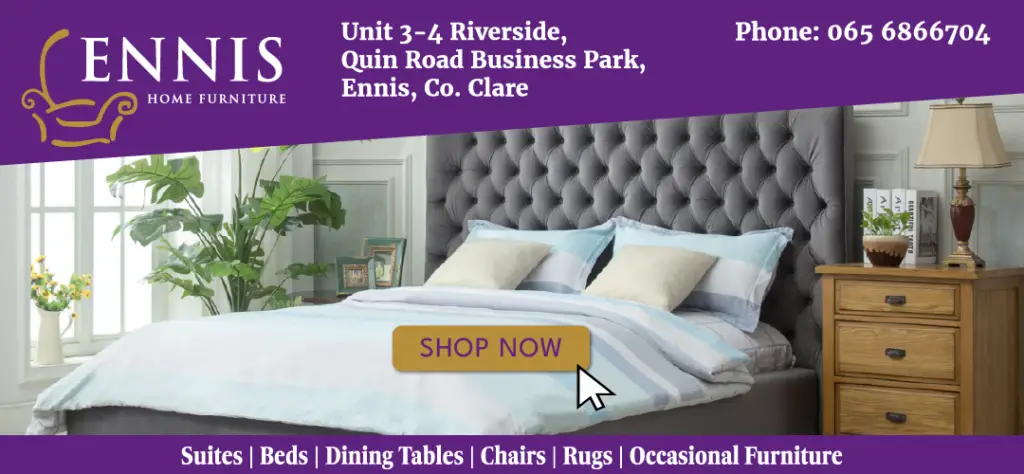 *Photograph: Joe Buckley
AN APPROXIMATE 300 asylum seekers will be accommodated at a State owned property in the Shannon Industrial Estate.
A lack of information on the plans has fuelled concerns of Shannon residents over the past month but the Department of Children, Equality, Disability, Integration and Youth have this weekend confirmed that an approximate 300 international protection applicants will be accommodated within the Shannon Free Zone.
Work continues between the Department and the Office of Public Works to develop proposals and designs to use the property.
Providing clarification on the matter, a spokesperson for the Department in correspondence to Clare TD Cathal Crowe (FF) obtained by The Clare Echo outlined, "This engagement is ongoing and final details will be disclosed when designs and contract with a provider to operate the facility is finalised. Timelines are indicative but it is anticipated that the property will come online later in the year".
Clare TD, Cathal Crowe (FF) made an official complaint to the Ceann Comhairle's office after a response he received from Minister for Integration, Roderic O'Gorman (GP) to a parliamentary question.
Deputy Crowe's initial attempts to get information from the Department saw the Minister describe the matter as "commercially sensitive".
Ukrainian refugees have been housed at a former Shannon Development building in the Town Centre of Shannon.
Last March, Clare TD Michael McNamara (IND) called for the establishment of a reception centre for refugees at Shannon Airport. It followed instances of Ukrainians arriving in Shannon on flights from Poland then having to wait hours for transportation by taxi minibus to take them to the reception centre at Dublin Airport.