*Featured image by Sean Rowe
FOR the first time, Burren Cycling Club will be represented by two teams in Rás Mumhan this Easter Bank Holiday weekend.
The four-day stage race which takes place in County Kerry will see two teams and a total of 10 riders don the blue and white of Burren CC, with athletes from every corner of Clare flying the flag for the Banner County.
Rás Mumhan attracts some of the most elite riders in Ireland and the UK and it comes ahead of Burren CC's participation in Rás Tailteann, the showcase event for competitive cycling in Ireland.
Club member Gearóid Howard, of the team's main sponsor Crimmins Howard Solicitor's, tells The Clare Echo that this weekend is new territory for Burren CC with two teams competing in the Castleisland-based Rás Mumhan while in June, they will be back in Rás Tailteann for only the second time after their debut outing last year.
Burren CC is at the forefront of driving standards in Clare – both competitive and leisure cycling – and has run a very successful sportif called Tour De Burren for a number of years. Gearóid explains, "It's a very well supported and well-run event, we're looking forward to bringing that back next year.
"The Burren CC has always had a very strong leisure side to the club with some very active members. In more recent years there has been a push towards the competitive side. There would be a group of 10-12 very strong racers in the club and they are the group around which the likes of this weekend are being targeted for."
The Shannon-based solicitor contends that Rás Mumhan is the second biggest race in the Irish calendar only behind Rás Tailteann. "There are only three clubs in Ireland with two teams in Rás Mumhan and we're one of them and we're looking forward to it. We have some young competitors who have joined the club recently and we're looking forward to seeing how they progress. We also have some seasoned campaigners who have ridden a number of Rás so there's a good mix there and it's quite exciting for the club."
Among the local riders competing this weekend are Jarlath Hassett (Ennis), Enda Murray (Newmarket), Senan Tubridy (Under 23 – Mount Callan), Gerald Troy (Cooraclare), Sam Moloney (Under 23- Clonlara), Mark Shannon (Bellharbour), and Derry McNamara (Lissycasey). Gearóid says that Burren CC is proud to be at the forefront of continuing a tradition of strong cyclists from Clare who compete in Ireland's showcase events, following in the footsteps of Barry Sutton, Philip and John Colleran of Clarecastle, and Sean McIlroy from Shannon.
Gearóid stresses that Burren CC riders train in the region of 20 hours a week and earlier this season, they engaged in a training camp in the Spanish cycling Mecca of Calpe.
"You're going to have international teams coming over to compete with the top Irish cyclists. There is no room for error when you're riding Rás Mumhan and if you manage to get inside the top 15-20 on a stage of Rás Mumhan, that is a fantastic result. The roads in Kerry, there's no hiding on them. These cyclists will go up these climbs faster than a leisure cyclists would cycle on the flat and that's how fit and strong these guys are, they dedicate their lives to it.
"One of our own team members, Mark Shannon from Bellharbour, would have ridden the Rás before with other teams and last year he rode the race for the first time with the Burren Cycling team. That's the development that's there, there is great talent in Clare," says Gearóid, noting club member Danny MacDonald's two top-10 finishes in last year's Rás Tealtainn.
"Only a handful of cyclists will ever manage to ride in Rás Mumhan, and to ride the Rás [Tailteann], that's the top 1-2 per cent. It's the top end of cyclists who will manage to achieve that so it's fantastic for the club, fantastic for the members of the club who will ride the Rás for Burren this year. We have a stage finishing in Ennis this year which is going to be fantastic and it'll be great for a local team to be riding on Clare roads and be supported by friends and family and neighbours."
Club treasurer Paddy O'Donoghue was among the founders of the club two decades ago and Gearóid stresses the importance of those supporting the club's efforts in recent years. "As well as myself being involved in the sponsorship side of things, we're also very lucky to have the likes of Monks, Paddy O'Donoghue's business in Ballyvaughan, and James Flanagan, Jafco Construction, who have been there long before I ever arrived on the scene and they've been stalwarts of the club for many years." Pactimo Clothing also support the club through gear sponsorship.
Find Burren CC on Facebook for more information.
Burren CC
Michael Gammell (U23 – Kilmallock)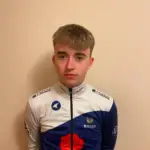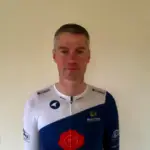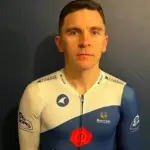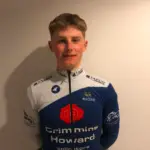 Crimmins Howard Burren CC