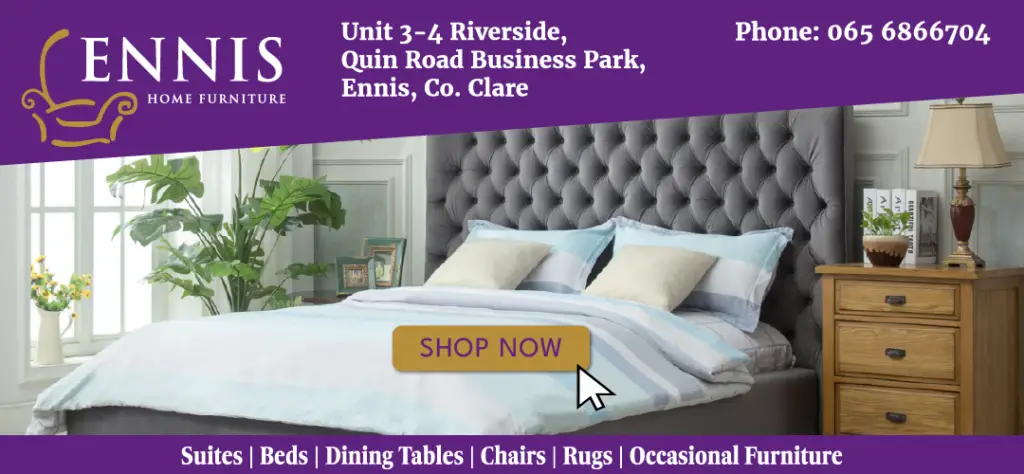 *Sean Withycombe is choked up by Éanna Doyle. Photograph: Gerard O'Neill
Action continued in the Clare intermediate hurling championship (IHC) over the weekend with six of the quarter-finalists vying to win the Paddy Browne Cup now known.
The intermediate championship in Clare has always been noted for producing great games and plenty of excitement and so it proved again at the weekend.
Having suffered a shock first round loss, Tulla have bounced back and booked their place in the quarter finals where they will be joined by St. Joseph's Doora/Barefield and Ogonnelloe.
Tubber, Parteen and Sixmilebridge have already advanced to the knockout stages with the last two spots to be decided in the final round.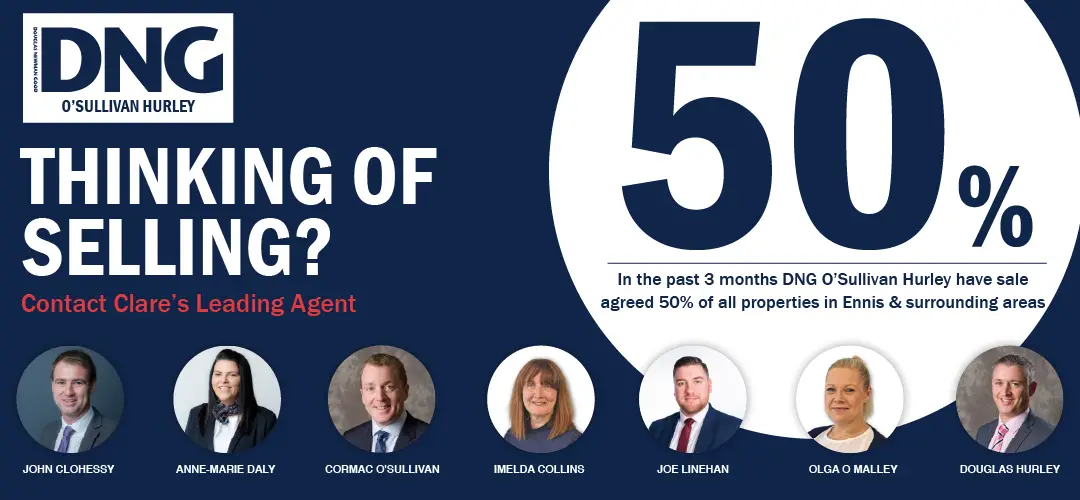 In probably the most exciting game on Saturday, Ogonnelloe finished strongly to claim victory over Inagh/Kilnamona and top their group. A last minute goal gave them a two point win, Inagh/Kilnamona looked likely winners leading by seven points at half-time but are now in the relegation battle.
(Additional reporting by Páraic McMahon)
Doora/Barefield power past Newmarket-on-Fergus
St. Joseph's Doora/Barefield 2-23
Newmarket-on-Fergus 1-7
Venue: Wolfe Tones GAA Grounds, Shannon
St Joseph's Doora/Barefield recorded a comfortable victory over Newmarket-on-Fergus in a tie played at Shannon on Saturday.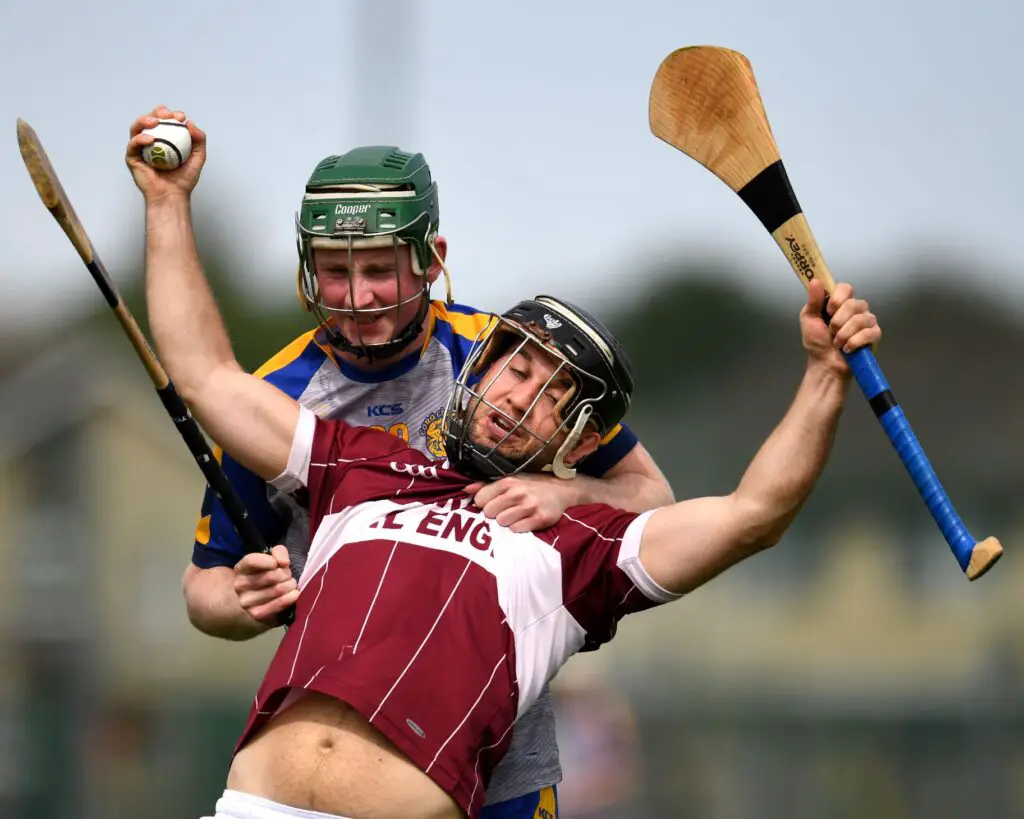 They dominated from early and had opened a ten point lead by half time when the score was 1-12 to 1-2, the goal coming from David Conroy. David McNamara, grandson of thirteen time Clare SHC winner Paddy got a flick on the sliotar to raise the green flag for Neil Ryan's Newmarket.
Cian Barron struck for the Doora/Barefield side's second goal as they continued to dominate.
Matters could have been worse for the Blues were it not for brave goalkeeping from former county minor Adam Enright on several occasions, particularly in getting to grips with Barron.
Michael Guilfoyle's side have sealed their place in the quarter-finals as they aim to go one step further than last season when they were defeated by Smith O'Briens in the county final. Though much stiffer tests lie ahead, they will be pleased with how they moved the ball through the lines, their support running paved the way for the bulk of their scores.
Both sides finished with fourteen after Shane O'Brien and Conor Tierney were sent off. O'Brien will miss Newmarket's must-win encounter against O'Callaghans Mills while Tierney will be unavailable for The Parish's quarter-final.
St. Josephs Doora/Barefield: Paul Madden; Fionn Kelleher, Jarlath Colleran, Brian Clancy; Adam Mungovan, Alan O'Neill, Darragh McMahon; Brian Guilfoyle, Donal O'Halloran; Jack Hannan, Cian Barron, Tom Hannan; Eoghan Thynne, Eoin Hanrahan, David Conroy;
Subs: Conor Tierney for Thynne; Dara Nagle for O'Neill; Cian Lahiffe for Guilfoyle; Eoin Talty for Barron; Cathal Ruane for Hanrahan;
Newmarket-on-Fergus: Adam Enright; Shane O'Brien, Alan O'Flanagan, Jamie Power, Alan McInerney, Shane Lynch, David Frost; Sol Frost, Ronan Good, Cathal Finucane; Seadhna Liddy, Darren Duggan, Feidhlim Barry; Cathal Hayes, David McNamara
Subs: James Power for S Frost,
Referee: Joe Mullins (Clonlara)
O'Callaghans Mills still in the mix
O'Callaghans Mills 2-21
Killanena 1-16
Venue: Dr Stuart Park, Ogonnelloe
O'Callaghans Mills are one win away from making the knockout stages of the Clare IHC.
Fergus Donovan's charges who were crowned Junior A champions in 2020 were winners over Killanena on Sunday. The final margin was eight points.
Inside the opening ten minutes, the Mills led 0-06 0-02 with the experienced Adrian Flaherty pointing alongside Macauley Murtagh and wing-back James McNamara.
A monster score from Adrian Donovan closed out the half to see the Fireballs hold a 0-15 0-07 advantage.
Keith Smyth goaled within ten minutes of the restart to cut the deficit to three points.
Approaching the final ten minutes, a single score separated the sides until Darragh Moroney stepped up with a vital green flag to give the Mills some much needed breathing space by the shores of Lough Derg at the picturesque setting of Dr Stuart Park in Ogonnelloe.
Killanena brought the gap back to two points only for Sean Murphy and Mark Pewter to finish the scoring with a combined 1-01.
Having fought back well, Martin Smyth's men will feel the eight point differential does not give a full account of how tight they ran their opponents. Keith Smyth finished with 1-12 to his name while Ian MacNamara was impressive in the middle of the park.
With a mix of youth and experience, it is all in the hands of O'Callaghans Mills as a win against Newmarket-on-Fergus in their final group game would see them qualify for the knockout stages.
Scorers Killanena: Scorers Keith Smyth (1-12 10f), Ian MacNamara (0-02), Darren Keehan (0-01), Gearoid Keane (0-01)
O'Callaghans Mills: Johnny Cooney; Ronan Kelly, Keith Donnellan, Stephen Donnellan; Mikey Mc Mahon, Adrian Donovan, James McNamara; Mike McGrath, Darragh Moroney; Mark Pewter, Barry Heffernan, Rory McNamara; Adrian Flaherty, Macauley Murtagh, Seanie Murphy.
Subs: Jamie Keane, Christy Phillpott, Conor Cooney (Elmhill)
Killanena: Todd Kelsey; Jamie Canny, Jason Keehan, Darren McMahon; Aidan McMahon, Donal Moloney, Seamus Keane, Micheál Smyth, Ian MacNamara, Shane Broderick, Martin Glynn, Steve O'Brien; Gearoid Keane, Keith Smyth, Darren Keehan.
Subs: Ryan Keane for G Keane.
Referee: Aaron Hogg (Clonlara)
Ruan secure status
Ruan 1-17
Clonlara 1-15
Venue: Fr Murphy Memorial Park, Newmarket-on-Fergus
Ruan eased their relegation worries when they overcame Clonlara at Newmarket-on-Fergus on Saturday.
Having contested last year's semi-final, Ruan will ultimately be disappointed to have regressed in their aspirations when consolidating their status rather than fighting for promotion became the objective.
This was nip and tuc all the way with little between the sides at any stage. They were level at 0-10 each at the interval and the second half continues with points been exchanged on a number of occasions.
Michael Barrow struck for Ruan's goal near the finish and while Clonlara replied with a like score just before the final whistle, Ruan just about deserved their narrow win,
Ruan: Kealan Mounsey; Ashley Brohan, Michael Lyons, Jasopn Power; Tpom O'Halloran, Killian Ryan, Darragh McInerney; Patrick O'Halloran, Robin Mounsey; Ryan Power, Aidan Lynch, Thomas O'Halloran; Jack Mcdonagh, Shane Punch Michael Barrow;
Sub: Patrick O'Halloran for McInerney
Clonlara;
Referee: Johnnie Healy (Smith O'Briens)
Parteen progress to knockout stages
Parteen 1-23
Corofin 0-14
Venue: Fr Murphy Memorial Park, Newmarket-on-Fergus
Parteen kept their unbeaten run in this year's championship intact when they emerged deserved victors over Corofin.
Denis Barry's side currently sit top of Group 2, though on the same amount of points with Sixmilebridge they are superior when it comes to scoring difference and their meeting in the final round will determine who heads the group.
Twelve points was the final margin as the South Clare side continue to go about their business, nice and quietly but keep in the mix for honours. Their chances of securing top spot were boosted over the weekend with three Sixmilebridge players – David Kennedy, Leon Kelly and Luke O'Halloran – making their senior debuts which makes them ineligible for the remainder of the championship.
Corofin though disappointing thus far in this year's campaign can still qualify for the quarter-finals if they defeat Clonlara in the final round. If that scenario does occur, group form will quickly be forgotten about with all to play for when it comes to knockout.
Parteen: Alan Murnane; Damien Moloney, Phil Lavin, Kevin McGleenan, Gavan Rackard, Nathan Fox, Tom Collins; Daragh McDermott, Daniel Cooney; Gearoid Reddy, Evan Fitzgerald, Martin Moroney; David Small, Joe O Connor, Jack Kirwan.
Subs: David O' Sullivan for Rackard, Oisin Hickey Moroney, Evan Higgins for Collins, Cian McCarthy for Cooney, Eoin Phelan for O'Connor
Corofin: Darren Malone; Marc O'Loughlin, Damien O'Loughlin, Shay Malone; Damien Ryan, Killian O'Connor, Cillian McGroary; Fionn Clancy, Mikey Kelly; Kevin Heagney, Gearoid Cahill, Gearoid Kelly; Diarmuid Cahill, Jamie Malone, Shane O'Brien.
Subs: Kevin Keane for O'Brien (HT), Seán O'Brien for Heagney (inj)
Referee: Jarlath Donnellan (Wolfe Tones)
McNulty's goal sends Ogonnelloe into quarter final
Ogonnelloe 4-17
Inagh/Kilnamona 2-21
Venue: Wolfe Tones GAA Grounds, Shannon
Teenage substitute Donnacha McNulty was amongst the heroes for Ogonnelloe when they picked up a last-gasp win over Inagh/Kilnamona.
His goal in the final minute saw the East Clare side claim victory and a place in the quarter finals of the championship. He also assisted with a couple of other key scores for the winners. The green flag sees the Martin Conlon coached outfit claim top spot in Group 4.
Goals from Jamesy McConigley who was particularly outstanding in the opening half and Keith Barry helped the mid Clare side to lead at half time, 2-11 to 1-7.
Rory Skelly continued his impressive form for the winners, contributing 2-5 of their tally while Dan Cunnane hit 1-1 with Cian Fitzgerald Bradley firing over 0-4
Ogonnelloe: Rob Dreelin; Thomas Condon, Sean Kikkers, John O'Brien; Brian O'Mara, Colm Quinn(0-1), Peter English; Aaron Fitzgerald-Bradley, Adam Sheedy (0-2); Barry Kiely (0-1), Gearoid Sheedy (0-2), Dan Cunnane (1-1); Rory Skelly (2-5), Henry Vaughan, Cian Fitzgerald-Bradley (0-4);
Subs; Colin Harte (0-1) for Kiely; Donnacda McNulty (1-0) for A. Fitzgerald-Bradley; Adam Cunnane for O'Mara (inj);
Inagh/Kilnamona; Niall Glynn; Milo Keane, Colm Pilkington, Podge Devitt; Eoghan Fpudy (0-3), Ricky Wynne (0-2) Austin Kerin (0-1); Mark Barry, Stephen Foudy (0-1); Jason Griffin (0-3), Paul O'Looney (0-1), Shane Vaughan (0-2); Keith Barry (1-4), Jamesy McConigley (1-4), Tomas Kelly;
Subs; Dean Power for K. Barry; Sean Devitt for T. Kelly;
Referee: Jarlath Donnellan (Wolfe Tones)
Tulla bounce back into contention
Tulla 4-17
Bodyke 0-16
Venue: O'Garney Park, Sixmilebridge
Tulla bounced right back into contention for intermediate honours when they proved too strong for Bodyke at Sixmilebridge on Saturday afternoon.
Helped by a first half goal from Niall Bolton they led by four points, 1-9 to 0-8 at the interval before holding the upperhand in the second half. Daniel Vaughan saved a penalty in the opening half to further erode Bodyke's confidence.
Andrew Conheady and Darragh Corry with two were the goalscorers in the second half as the claret and gold outfit booked their place in the quarter finals of the championship.
Bodyke needed a goal or two but they coud not break down a strong Tulla defence and while Seanie Doyle kepts them in touch with some good points, Tulla were the betterbalanced side.
Tulla; Dan Vaughan; Liam McInerneyk Paul Lynch Kevin Conlon; Sean Torpey, Tony eydon, Fergal Kearney; David Meehan, Padraic Mulconry; David McInerney, Darragh Corry, Jimmy O'gorman; Sean Withycombe, Niall bolton, Andrew Conheady;
Subs: Dan Withycombe for Mulconry; Conor murphy for Conheady; Shane Hunt for Conlon; Conlon for Torpey; Mulconry for Bolton
Bodyke: Seamus Quigley; Eanna Doyle, Tiernan Slattery, Caimin Treacy; Cathal Doyle, Sean Wley, Cathal McKenna; Sean Browne, TShomas Wiley; Thomas Minogue, Seanie Doyle, Jamie O'Donnell; Patrick Fitzgerald, Willie Fitxgerald, Ian Murray;
Subs: Peter Flower for Browne; Sean Cooney for W. Fitzgerald; Jamie Howard for Murray;
Referee: Chris Maguire (Wolfe Tones)