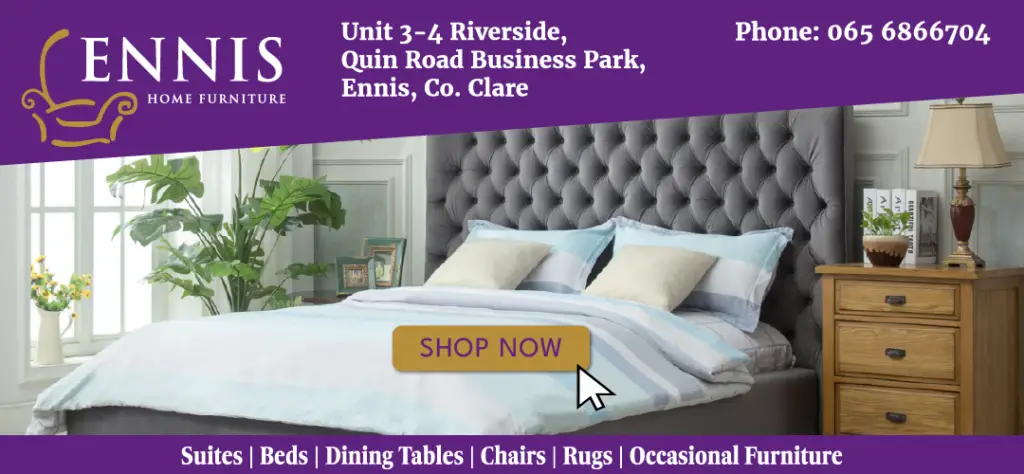 *Ruan's Shane Punch with Corofin's Damien O'Loughlin. Photograph: Burren Eye Photography
The race for the intermediate hurling championship is down to the last four and two of the strong favourites, Tulla and St Josephs Doora/Barefield are still in the hunt for a return to senior ranks and they are joined in the last four by Ruan and Smith O'Briens.
Crucial penalty save by O'Donoghue
Ruan 0-13
Corofin 0-11
Venue: O'Garney Park, Sixmilebridge
There was huge interest in the meeting of neighbours Ruan and Corofin in the quarter final of the intermediate hurling championship on Saturday afternoon.
The fact that the clubs have formed an amalgamation at underage level in recent years, winning the Minor A title two seasons in a row added to the interest.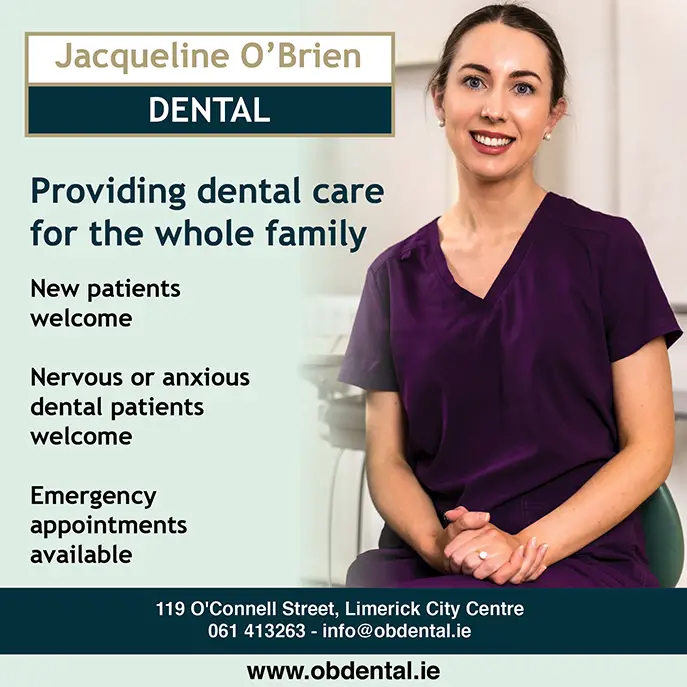 Corofin who are chasing the intermediate double with their footballers also through to the quarter final stage, entered the game as slight favourites but there was strong support also for Ruan who had the better of the opening half which saw them lead by double scores, 0-8 to 0-4, at the interval.
They were 0-6 to 0-2 up at the first waterbreak and should have been further in front at this point but they had filed to capitalise on two excellent goal opportunities.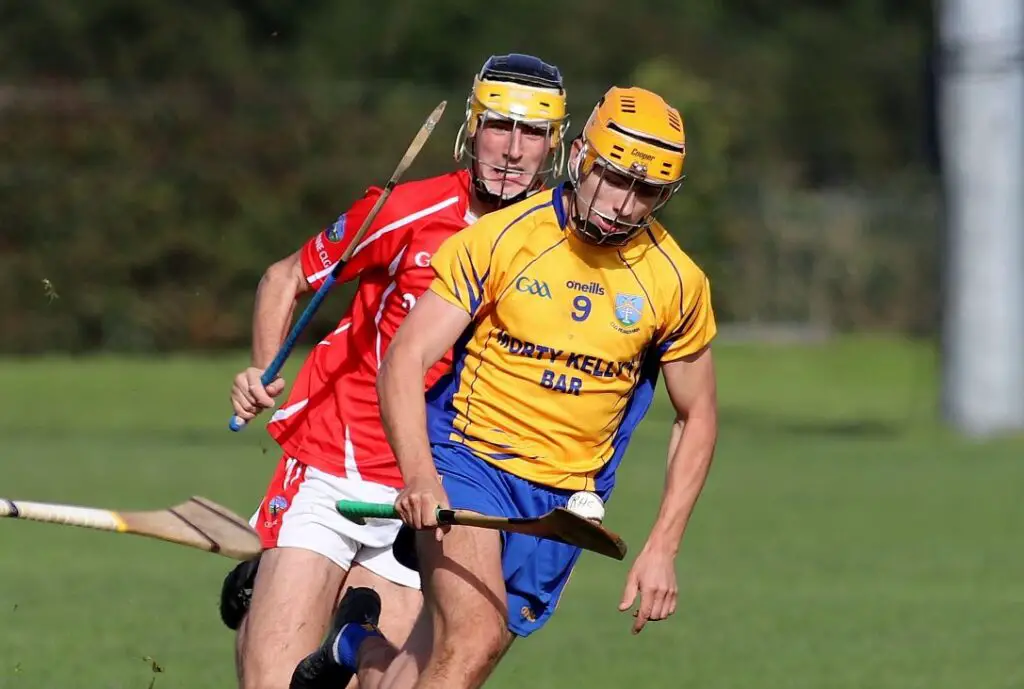 Corofin came storming back at the start of the second half and shot four unanswered points to level the tie. They then won a penalty when Diarmuid Cahill was fouled but Cian O'Donoghue in the Ruan goal followed up on his excellent first half save with an another outstanding stop from a Gearoid Cahill effort.
Ruan launched an attack immediately and midfielder Darragh McInerney fired over a superb point from out on the sideline to put his side back into the lead and the Cyril Lyons coached side retained the lead from here to the finish.
Ruan: Cian O'Donoghue; Jason Power, Conal Ó hÁiniféin, Michael Lyons; Colm Rice, Killian Ryan, Ashley Brohan; Darragh McInerney, Robin Mounsey; Patrick O'Halloran, Aidan Lynch, Ryan Power; Shane Punch, Darragh Roughan, Jack McDonagh;
Sub: Mark Corry for Roughan
Corofin: Darren Malone; Marc O'Loughlin, Cian O'Dea, Shay Malone; Damian O'Loughlin, Fionn Clancy, Damian Ryan; Micheal Kelly, Killian O'Connor; Killian McGroary, Shane O'Brien, Gearoid Kelly; Diarmuid Cahill, Kevin Keane, Gearoid Cahill;
Sub: Kevin Heagney for O'Brien
Tulla go marching on
Tulla 1-18
Sixmilebridge 0-15
Venue: Gurteen
Tulla moved a step closer to regaining senior status when they overcame the challenge of a capable Sixmilebridge side.
David Meehan scored the all important goal in a tie in which Tulla raced into an early lead. Sean Withycombe was the team's top scorer with 0-9 to his credit, seven coming from placed balls. David McInerney contributed 0-2, one coming from a free, while Darragh Corry also landed a brace. The remaining points came from Padraic Mulconry, Ronan Molloy, Shane Hunt, Andrew Conheady and David Meehan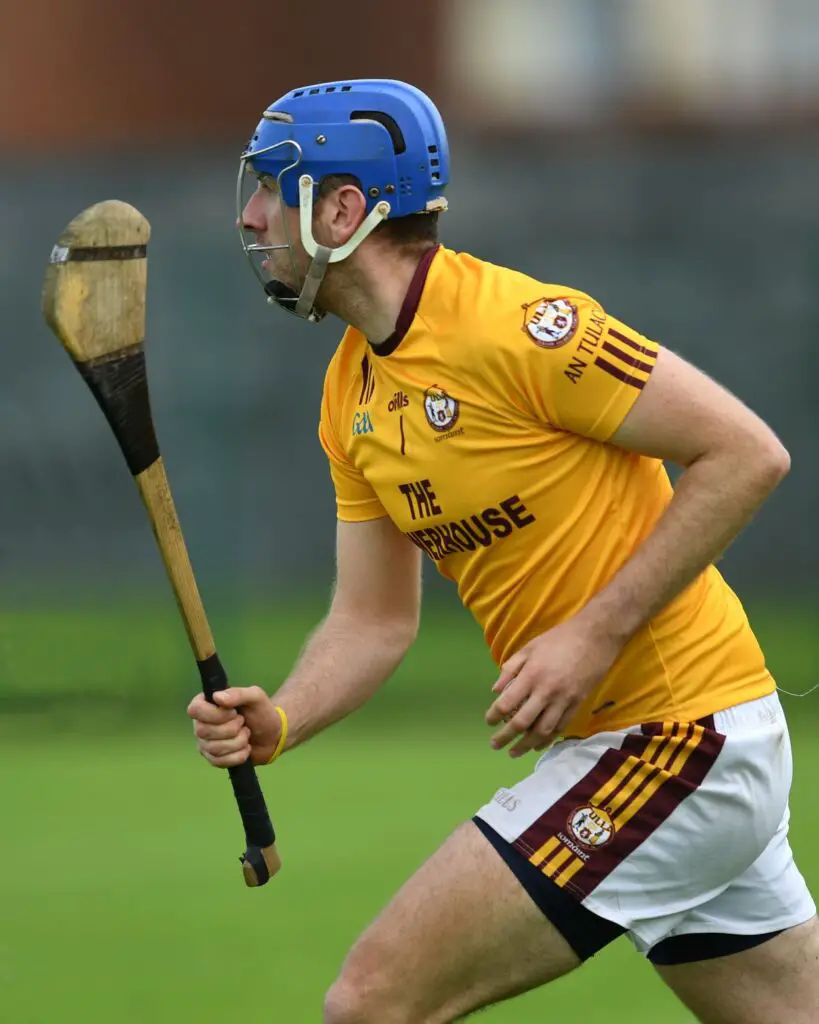 Sean Lynch top scored for Sixmilebridge with 0-9 to his credit, eight from frees and one from a '65. Paul Corry scored four from play while David O'Connor and Jack Corry were the other scorers for the Bridge's second string outfit.
Tulla: Dan Vaughan; Kevin Conlon, Paul Lynch, Liam McInerney; Jimmy O'Gorman, David McInerney, Sean Torpey; Padraic Mulconry, Dan Withycombe; Ronan Molloy, Shane Hunt, Darragh, Corry; Sean Withycombe, Andrew Conheady, David Meehan;
Subs: Willie Halpin for Torpey; Cathal Dinan for D. Withycombe; Niall Bolton for Conheady; Colm McInerney for S. Withycombe;
Sixmilebridge; Colm Fitzgerald; Adam Breen, Leon Kelly, Jordan Downes; Cillian Custy, Kevin Lynch, Danny Morey; Luke Keogh, Jack Corry; Sean Lynch, Cathal Lynch, Sean MacNamara; Stephan Mulready, David O Connor, Paul Corry
Subs: Aidan Quilligan for Leon Kelly (Inj); Caithaoir Agnew for Sean McNamara; Ciaran Hassett for Danny Morey; Rory Shanahan for Steve Mulready
St. Josephs take control in second half
St. Josephs Doora/Barefield 2-18
Bodyke 1-10
Venue: O'Garney Park, Sixmilebridge
A strong second half showing steered St. Josephs into the last four when they accounted for Bodyke in a repeat pairing of last year's quarter-final.
Ahead by three points, 0-11 to 0-8, at the interval, the Doora-Barefield men stepped up a gear after the break and helped by goals from Cian Barron who contributed 1-5 of their total and Donal O'Halloran they emerged as deserving winners.
The winners were a stronger side physically and this helped them get the upperhand in key positions.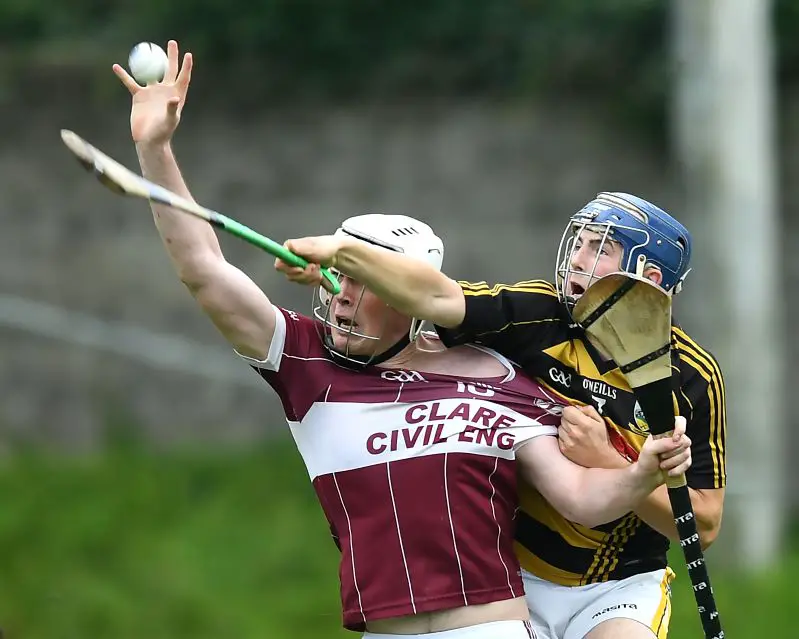 Bodyke followers were happy at the interval as their favourites were turning over to play with the aid of the breeze but Cian Barron's goal ten minutes into the new half gave the winners a grip on proceedings and they held the upperhand from here to the finish.
Paddy Fitzgerald was the game's top scorer, contributing 1-6 of his side's total, one point more that Cian Barron for the winners.
St. Josephs Doora/Barefield: Paul Madden; Kevin Meaney, Adam Mungovan, Joey Keane; Alan O'Neill, Fionn Kelleher, Aaron Landy; Donal O'Halloran, Seanie Keane; Brian Guilfoyle, Tom Hannan, Jack Hannan; Conor Tierney, Cathal Ruane, Cian Barron;
Subs: Jarlath Colleran for S. Keane; Eoghan Talty for B. Guilfoyle;
Bodyke: Seamus Quigley; Eanna Doyle, Willie Fitzgerald, Tiernan Slattery; Kevin Drost, Cian Minogue, Sean Wiley; Cathal Doyle, Seanie Doyle; Cathal McKenna, Paddy Fitzgerald, Tommy Minogue; Peter Flower, Fionn Slattery, Jamie O'Donnell;
Subs: Liam O'Donnell for T. Minogue; Sean Browne for McKenna; Gavin Moroney for W. Fitzgerald; Oisin Slattery fort Flower.
Smith O'Briens finish strong to see off Tubber
Smith O'Briens 0-17
Tubber 1-10
Venue: O'Garney Park, Sixmilebridge
Smith O'Briens qualified for a fifth Clare IHC semi-final in seven years when accounting for the challenge of Tubber.
Fancied as two of the sides capable of winning the Paddy Browne Cup at the beginning of the year, their pairing in the quarter-finals meant that one of the strongest contenders would bow out before the last four stage.
It was Tubber, beaten finalists on three occasions in the last five years that saw their championship bid terminated.
A return of three scores in the second and third quarter stands out as one statistic from the tie that the North Clare men will lament when reflecting back on what went wrong. This coming after they led 0-05 0-04 at the first water break following a period in which they worked the ball quite well.
Their opponents can rightfully point to the lack of physical tests to date in this championship excluding of course their final round win over Tulla, a game that it must be said was a dead rubber with both sides having already secured their place in the knockout stages.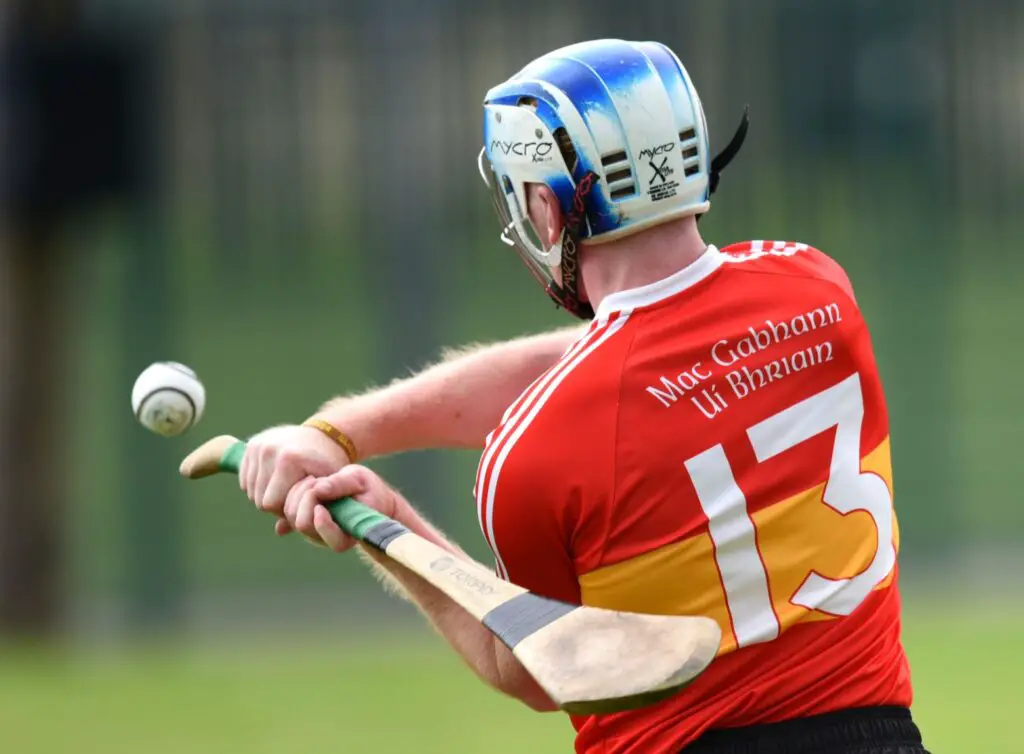 When Smith O'Briens grew into proceedings, they dominated and while Tubber amassed 1-02 in the second and third quarter, the Killaloe outfit tapped over 0-08. Throughout the tie, they kept the scoreboard ticking through the reliable Tommy Reddan, ex Clare intermediate hurler John Cusack and Mikey O'Shea. Indeed it was O'Shea who fired the last point of the opening half as Smith O'Briens hit three scores without reply to hold a 0-08 0-06 advantage.
Cusack was first off the mark on the restart but Tubber received a much needed boost when Ronan Monahan was electric to pick up a break from a ground strike and he tore through the Smith O'Briens defence and stuck the sliotar past Mark McInerney.
Despite Monahan's equaliser, Tommy Reddan cancelled out his green flag with three pointed frees in succession, all in a five minute window to put the East Clare men back in the driving seat as they retreated for the final water break.
Iarla Tannian's Tubber needed to come out swinging, they hit four of the first five scores of this period to get back on level terms with fifty two minutes on the clock. Crucially their fourth score, a Blaine Earley placed ball would be their last as Smith O'Briens rallied with four points in a row to deservedly advance to the semi-finals.
Patrick O'Connor's absence through injury was truly felt by Tubber on this occasion as their aspirations to return to the senior ranks came undone once again. In the dying moments, as their defence was under siege, they lost both of their corner backs to injury and at the other end lacked a collective attacking threat, their return of 1-03 from play indicative of this. Ronan Monahan, Lorcan O'Grady and James Howard did best in their lineup.
Defeating both Tulla and Tubber, two of the top teams in this grade will fill Smith O'Briens with confidence as they look ahead to the semi-finals. Whenever questions were asked of them in this clash, they duly answered them and their ability to respond will need to be clear in abundance in two weeks time. Their recent semi-final record leaves a lot to be desired but an improved performance from this spirited display could just change that for Tony Gleeson's side. Eddie Bourke, Cian Nolan, Keith Stritch, Michael O'Shea, Cathal Stritch and Michael Gough stood out for the winners.
Scorers Smith O'Briens: T Reddan (0-09 7f), J Cusack (0-02), M O'Shea (0-02), D O'Shea (0-01), C Stritch (0-01), K Stritch (0-01), M Gough (0-01)
Scorers Tubber: B Earley (0-07 6f 1'65), R Monahan (1-00), D McMahon (0-02), L O'Grady (0-01)
Smith O'Briens: Mark McInerney; Dwayne Sheedy; Cian Nolan, Mark Stritch; David Gough, Cathal Stritch, Eddie Bourke; Evan Connolly, Marc O'Halloran; Keith Stritch, Michael Gough, Michael O'Shea; David O'Shea, John Cusack, Tommy Reddan.
Subs: Patrick Ahern for D O'Shea (42), Micheál Ryan for Connolly (54), Jason Monaghan for Cusack (62).
Tubber: Ronan Taaffe; Joey Droney, James Howard, Declan Ryan; Mark Earley; John Fawle, Pappy Taaffe, Lorcan O'Grady; Ronan Monahan, Cathal Droney; Aidan McNamara, Domhnall McMahon, Blaine Earley; Clive Earley, Aidan Forde.
Subs: Jonah Culligan for McNamara (HT), Francis McCormack for Forde (46), Cathal Murray for Ryan (54) (Inj), Fergal O'Grady for J Droney (56) (Inj)
Referee: Wayne King (St Josephs Doora/Barefield)