*Chisom Ugwueru. Photograph: John Mangan
Without doubt, Chisom Ugwueru is an all-rounder, she'll turn seventeen in November and already has represented her country in rugby and athletics.
On Sunday, she was part of the Munster U18 side that won the Womens Interprovincial Championship. "We weren't expecting to win it, we started off the first three matches and had lost the three of them. Myself, Méabh McElligott and Marlese Flynn were part of the 7s squad so we missed all three matches. We had a little bit of faith that we could do it but we were really nervous but we weren't expecting to win. After we beat Leinster two weeks ago, we were confident that we could beat Ulster and we did".
In their 37-7 win over Ulster, Chisom crossed the line with two tries. "It was so good, I was just ecstatic". Her rise in the rugby ranks is pretty impressive, two years ago she took up the sport and has since gone on to shine for her club, Ennis RFC, her province and the Ireland 7s side.
Last month, the 7s side won four of their five Home Nations Games in Swansea lining out against England, Wales and Scotland. Although Ugwueru was one of four newcomers to the side, it didn't faze her as she scored three tries over the weekend.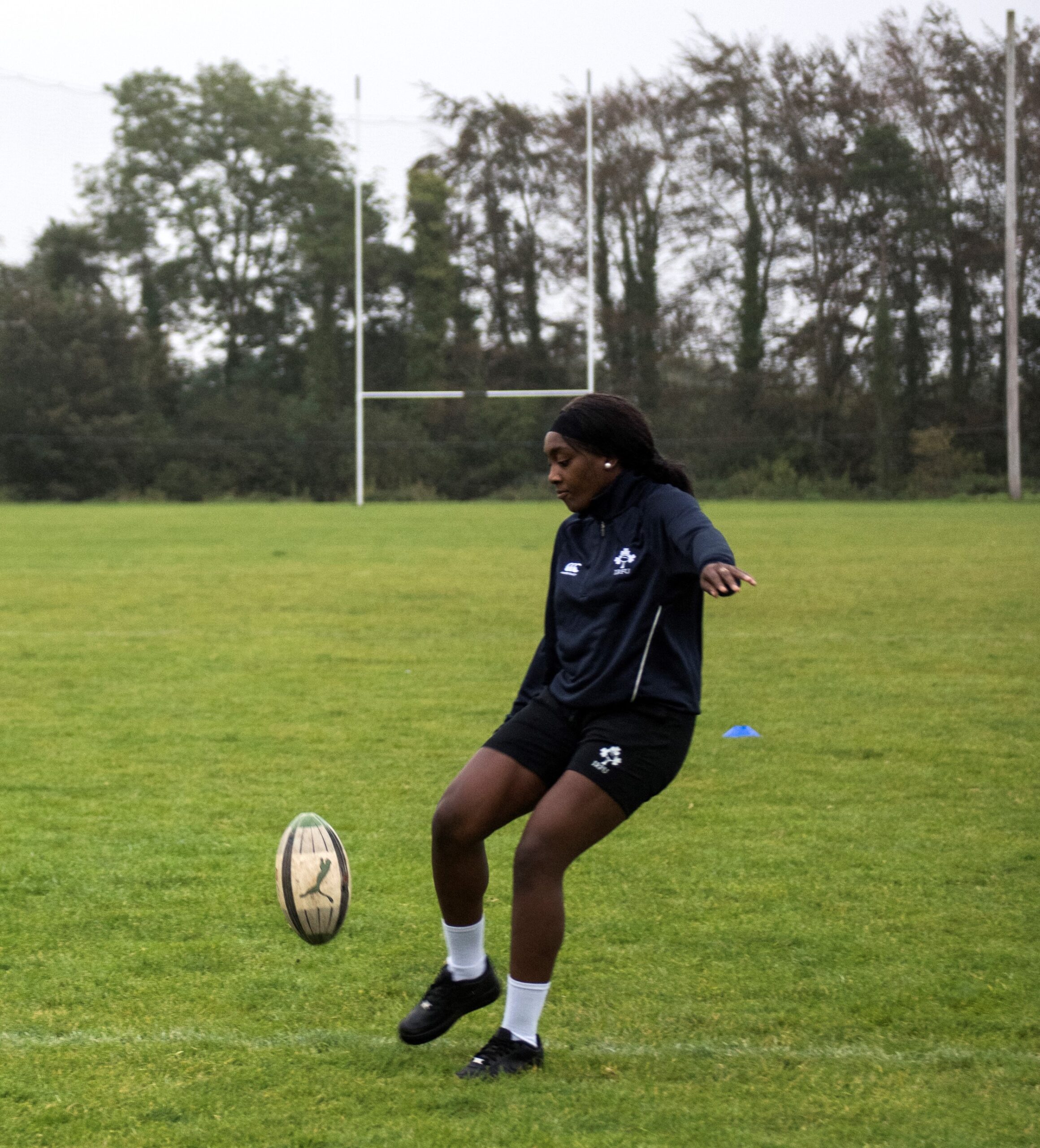 At the beginning of September, she was in Jarocin, Poland as the national side competed in the Rugby Europe U-18 Women's Sevens Championship. After losing their last-eight clash with eventual silver medallists England, they regrouped to secure a fifth place finish thanks to victories over Czechia (29-10) and Scotland (21-7). Chisom's tackling was praised in the Scotland win while in the duration of the tournament, the winger added two further tries.
Though still 'sweet sixteen', Chisom's sporting exploits are already inspiring the generation below her. "When we came home from Poland, there was this little girl, I don't know who she was but she came up to us and was like 'I always wanted to play rugby' and she said she would love to be like us when she was older". She is hopeful more girls from Ennis and the entire county will continue to stand out on the rugby field over the coming years.
Keeping up with her schedule isn't easy but catching Chisom in an 80m sprint on the track is a much more difficult task. "I love the athletics but I love the rugby because it's in a group, athletics is individual, the quite is nice but sometimes you need the fun and the friends to be bouncing off".
Her earliest sporting memory is indeed athletics which she has been doing since the age of "eight or nine" and maintained it has been very beneficial to her rugby career. In July, she was part of the Irish Schools Team competing at the SIAB Track and Field Championships in Swansea.
Injury hampered her preparations and the St Flannans College student had to settle for a sixth place finish in a time of 12.17 seconds in the 80m hurdles. "I had been injured so I wasn't sure I was going to perform. I finished sixth but I was still happy with it because I was injured". She also regularly competes in the long jump and triple jump.
When it comes to building up max speed, her advice is simple. "Always train but you shouldn't be training too hard all the time because you will tire yourself out, you need to look at your technique and focus on that then over time you will get better".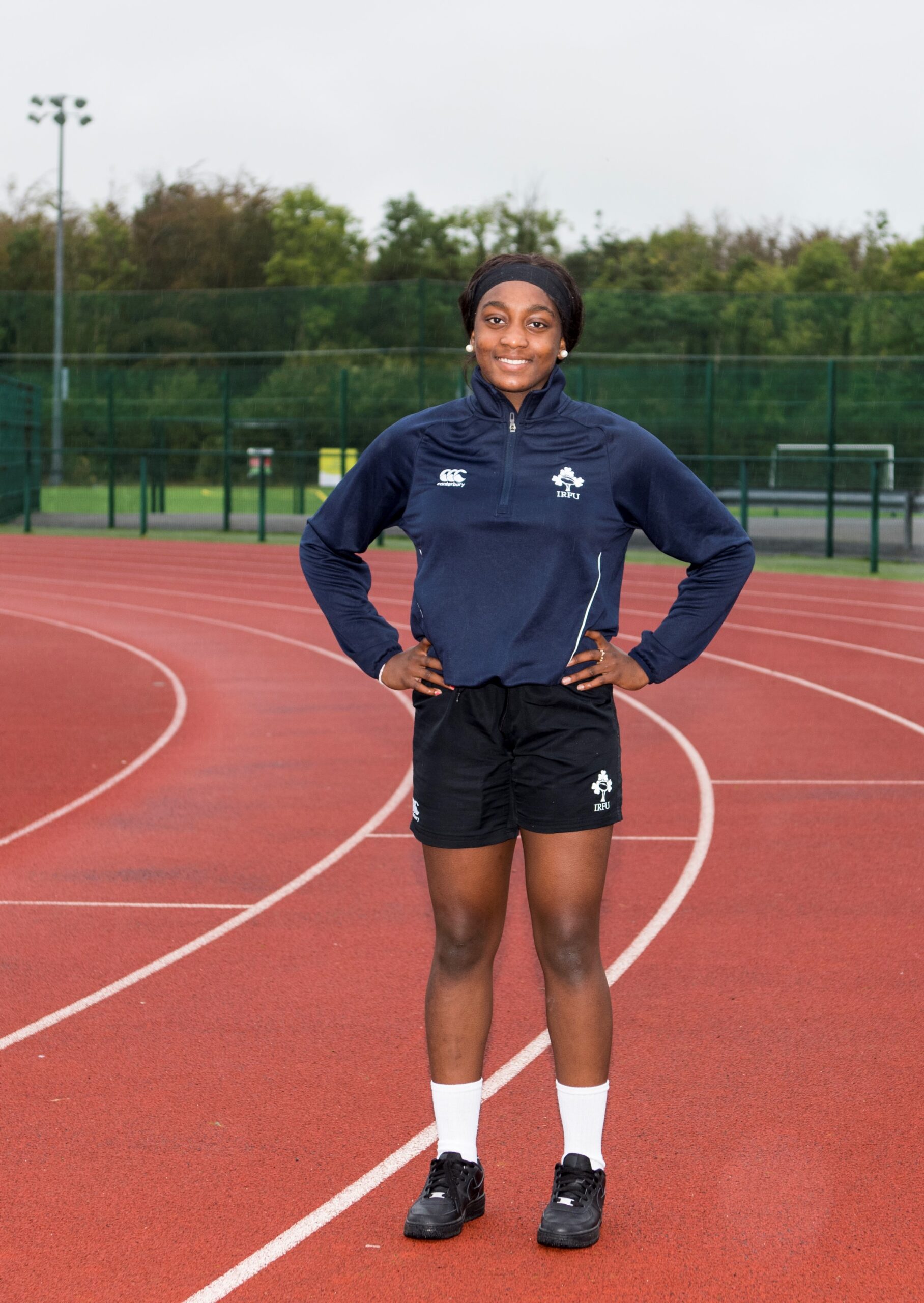 Now a Leaving Certificate student, Chisom admitted staying on top of schoolwork can be difficult with so many sporting commitments. "It's been tough, it's hard to fit in the study and the training but we get there".
Balancing the books can be problematic but so too can the different rules of the various sports she juggles. "It's hard to remember the basic rules of all the sports, I remember starting off rugby, I would run in front of the ball because I used to that with ladies football, now I've the hang of it but at the start it got me".
Future aspirations include securing a sport scholarship, "I'd love to be a professional athlete," she confessed. On the career side, helping people is a priority, "I'd like to do something that provides a service and helping out children or people with disabilities".
Getting the chance to represent her country, province and country is an honour the Scoil Chríost Rí past pupil is very proud of. "It's so good, people are saying 'it must be so cool to represent Ireland' and I like sharing the story with people and I feel it inspires them to do the same, especially for girls, most of them tend to drop out at the age of fifteen so we need to show them it is doable and you can achieve your dreams with hard work".
Her devoted parents Ifeoma and Festus play an invaluable role in facilitating Chisom's quest to achieve her sporting dreams but it is her older brother Ikem, himself a talented sportsman at gaelic football, rugby and soccer, that she looks up to most, "He has probably inspired me the most, he tells me to keep going".
Ikem is the oldest of six children, Chisom is next in line with four behind them, if it's a case of the next child surpassing the achievements of the one previous then the Ugwuerus are set to create many more unforgettable sporting memories.