*Donald Trump. Photograph: Julian Behal. 
DONALD TRUMP's status as a West Clare hotelier could be on the line, depending on the outcome of a civil fraud trial.
A Manhattan court case which began on Monday will decide the future of Donald Trump's New York real estate business, the empire by which he made his name. Managing Director of the West Clare resort owned by the Trumps, Joe Russell has said there is "no suggestion" the case could impact on business matters in Doonbeg.
The New York attorney general, Letitia James, is taking Trump to court after a three-year investigation found that he and others within the Trump Organization repeatedly used false or misleading financial statements to broker deals, obtain favourable loans and bolster the appearance of his net worth.
The judge presiding over the trial, the New York supreme court justice Arthur Engoron, already found Trump guilty of financial fraud in a pre-trial judgment. The trial will be dedicated to determining whether, and how much, Trump will have to pay for the verdict.
James has argued that the Trump Organization should owe at least $250m for profiting off loans that were awarded based on false and misleading financial statements. Trump's lawyers have appealed the judgment, though it is unlikely to affect the trial's proceedings.
Trump, his two adult sons and the wider Trump Organization are accused of massively inflating the value of their properties by over $2bn in order to secure favourable loans.
On the trial's first day, Mr Trump made a surprise appearance at the courthouse where he lambasted the judge and the New York attorney general who brought the case. He has denied any wrongdoing, calling the case a sham.
A defeat would mark a significant blow to the real estate empire that propelled him to national recognition long before he ran for the White House. Those holdings constitute a significant chunk of his personal fortune and self-image.
Earlier this year, Forbes Magazine estimated that his New York properties alone are worth $720m of his estimated $2.5bn.
Mr Trump has repeatedly pointed to his achievements in the New York real estate market as a source of personal pride.
In a 2015 interview with Bella NYC magazine, he touted the "many great buildings" that he has built and owns as his greatest accomplishment outside of his family.
A victory for prosecutors would mean that Mr Trump and his company would have to pay a $250m fine and be banned from doing business in New York, prising Trump Tower and the rest of his holdings from his grasp. His presence in court suggests that he knows how high the stakes are.
Such an outcome would pose major questions for his future ownership of Trump International Golf Links & Hotel resort in Doonbeg. The sale of the West Clare resort is understood to be unlikely but remains a possibility. Donald values five star resort at between $25 million and $50 million (€22.8 million to €45.7 million).
An operating profit of €509,892 was recorded in Doonbeg in 2021 after sustaining operating losses of €1.98m in 2020, a positive swing of €2.49m. Revenues increased by 90 percent or €3.4m from €3.76m to €7.17m. The figures also showed that the numbers employed at the resort jumped from 112 to 137 though remained off the 230 employed in 2019.
Joe Russell, Managing Director of Trump International Golf Links and Hotel Doonbeg stated, "I'm aware of the trial but there is no suggestion in relation to Ireland".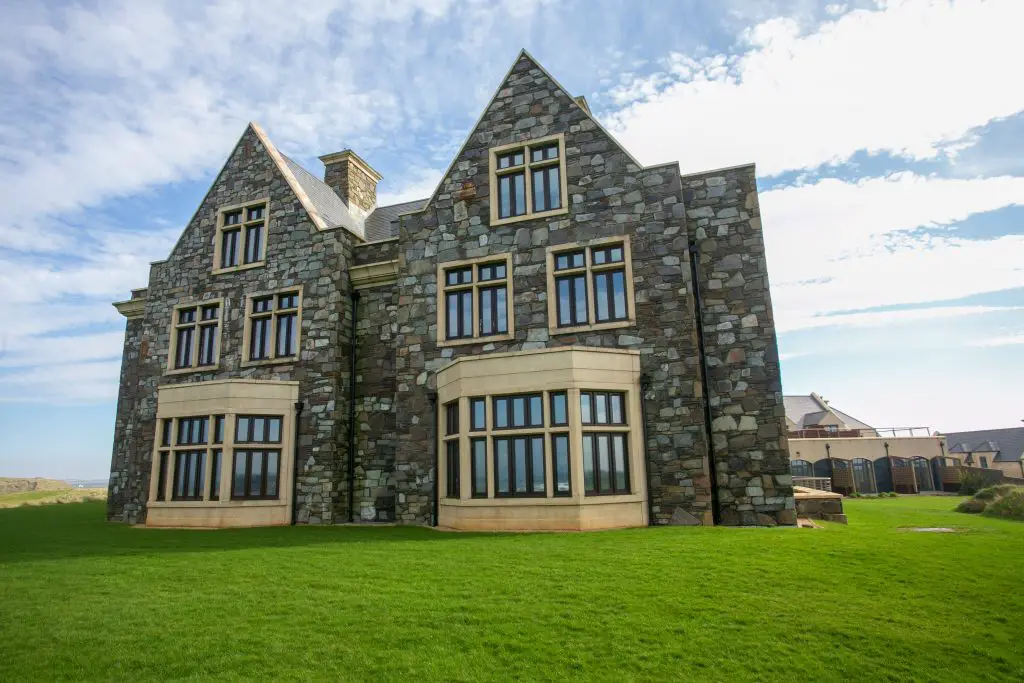 During his last visit to Co Clare in May, Trump told The Sunday Independent, "If you're in the world of politics and you're doing what I'm doing, you want to make the world great again. In the world of business, you want to become very successful and do a wonderful job — like what we've done with Doonbeg.
"I have bought this and rebuilt it and it has become a tremendous success. I bought it when it was a distressed property many years ago and now it's one of the best pieces of property in Ireland… It's been great. You know this community loves me because I have done such a good job".