A lack of political representation has resulted in the failure to highlight the shortage of affordable rental accommodation in parts of North Clare, Noeleen Moran has claimed.
Moran will contest May's local elections for Sinn Féin in the Ennistymon electoral area having previously represented the party in the 2014 local and 2016 General elections. At present, she and Roisin Garvey of The Green Party are the only declared female candidates in the North Clare region, this she felt was because "It's a very demanding job to be in and it's a very male dominated job. There is need because it is the only way women's interests are going to be addressed. There isn't a women's homeless shelter in Clare, there is for victims of domestic abuse but they can only stay short term, there is a homeless shelter for men in Ennis but there is none for women and if you're a homeless woman that isn't put up in emergency accommodation the old way of doing things was to send them to the women's shelter in Limerick or Galway, we didn't have that facility in Clare.
"We've seen the maternity services are shut down in Clare, crèche facilities and childcare for working women it's very difficult unless you have family members that are going to support you in that respect to work because of the high costs of childcare. For women joining politics it's an important job to be involved in, you have to give it a lot of time and for women raising families it's very difficult to give your time and be there at the time meetings are held if you have children to put to bed and it depends on the family situation and setup to get that support from your partner to be able to do it".
Speaking to The Clare Echo, Noeleen flagged how some landlords in parts of North Clare are inclined to offer properties for short periods of time only. "For women there is no representation in the North Clare area. There is distinct issues in the areas, for the people of Ballyvaughan there is a big issue about affordable rental accommodation because we would have a lot of vacant houses, holiday homes but it is very difficult for local people to rent at affordable rates there because it is far more profitable to rent properties at more short term to holidaymakers than to rent them long term and that is an issue that would be a common thread across any of the areas in North Clare but it is particular to Ballyvaughan. In Ennistymon, the housing issue is more around social housing and there is a big demand for them there but we have a lot of vacant houses in the North Clare area and yet we have very few affordable rental accommodation and a growing number of homeless people, there is people going into emergency accommodation because they don't have the social housing or they are competing with the high rental prices because of the beauty of the area and the demand for tourist accommodation".
When running for the 2016 General Election, party headquarters incorrectly stated in leaflets distributed across the county that Ms Moran was a county councillor. The Ballyvaughan native must secure her election in a four seat constituency where she predicts a difficult challenge competing against sitting councillors Bill Slattery and Christy Curtin, the latter has yet to confirm that he is running.
All current elected representatives in the West Clare Municipal District have agreed to a voluntary charter of election posters. The charter does not apply to new candidates and Moran outlined she intends to have posters in the area. "For new candidates coming on stream it is the only way you can make yourself known to people, it's traditional and it is part of the election campaign to use posters so I imagine we will still be using posters, it's different if you're an established councillor and your name is known, for new candidates it's necessary and part of the tradition of campaigning".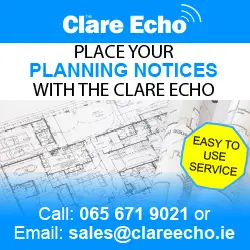 In 2004 she joined Sinn Féin while doing a PLC in Cork City. Both Noeleen and Cllr Mike McKee are on the party ticket for the next General Election. When asked whether she was in favour of the two candidate strategy, she replied, "That's something that is out of my control, of course any candidate running would prefer to be the only candidate in the field but we have to trust the structures that they have called this right and they know what they are doing, I trust in the party to make this call correctly and in fairness Mike is very well got in the Shannon area and we will have to see how that will pan out".
May will see the Mary Lou McDonald led party run candidates in every part of Clare, three months out from the election Noeleen felt it was the best way to gauge the level of support for Sinn Féin across the county. "It's the only way to find out and test the support and see how we're getting on. The last time around we had three candidates so it shows how the party is growing in Clare to have a full lineup this time round, we're hopeful but it comes down to the mix and the campaign that is put in, I think the appetite is there for change so we'll have to wait and see".