Ennis resident Dr. Suzanne Parkinson has been presented with the 2020 Psychological Society Award for Contribution to Professional Practice Psychology.
The prestigious award is in recognition of the development of the 'My Learner ID' series, which was deemed by the Society to represent a distinguished and significant contribution to professional practice psychology.
Dr. Parkinson began her career as a primary school teacher and worked in schools in Dublin for two years before coming to Co. Clare to play the harp in Bunratty, Knappogue and Dunguaire Castles.
Later on, she completed an M.Sc. in Developmental and Educational Psychology in Queen's University and a professional doctorate in educational psychology. Following this, she took up her current position in Mary Immaculate College, heading the development of the Bachelor in Education and Psychology undergraduate degree and postgraduate professional training in psychology.
Dr. Parkinson has worked in twenty-eight schools from Barefield through to St. Munchin's in Limerick and was the first educational psychologist appointed to Co Clare.
My Learner ID is all about learner empowerment and equipping children with the language, skills and strategies for learning to be a learner. Learner Identity as a construct is defined as the process of becoming and being a learner. The series is for use in primary schools and offers a unique, child-centred and innovative framework to track and support children becoming and being learners.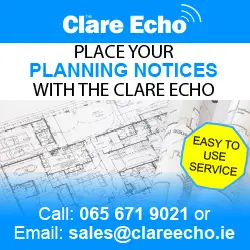 Touching on sentiment, Suzanne states, "I have had parents coming up to me at funerals and in shopping centres thanking me for the contribution it has made to their lives. Having introduced My Learner ID to twenty-five schools in 2017 at a pilot level, the series is now in use in over one hundred schools nationally and in international schools. I am indebted to the school leaders around the country but particularly in County Clare for sharing my vision for My Learner ID and embracing the series in busy, overloaded and ever competing school systems."
Suzanne expresses gratitude to the early pioneers – Barefield NS, Clarecastle NS, Holy Family SNS, Knockanean NS, Newmarket-on-Fergus NS, and Gaelscoil Mhichíl Chíosóg. School leaders and teachers in these schools supported the very early trialling of the series and offered meaningful feedback that shaped the refinement and the further development of My Learner ID. Suzanne is also grateful to Pat Hanrahan and Ray McInerney in the Clare Education Centre, who offered, "support on countless occasions and in so many ways."
My Learner ID works by offering a record book for each child from preschool to sixth class. The record book is owned by the child and invites customisation of learning strategies by each child. Open-ended assessment techniques are used throughout, and the record books are designed, using process art, to invite full ownership by the child. Each class level is accompanied with Teacher Guides, Implementation Videos, Parent and Child Information Videos and online teacher training. To date the series is developed from first to sixth class and it is also available in Irish as 'Mise mar Fhoghlaimeoir'.
Suzanne notes that the use of the series in schools speaks for itself. The response by children and parents has been overwhelming which has prompted other schools to introduce the programme. She was delighted when EDCO Publishers took on the programme in 2019 and Aladdin, a software database for schools, embedded My Learner ID in their system so that schools could maintain a yearly record of each learner's preferred strategies for learning.
"It's great to feel that the loudest supporter of My Learner ID is the key stakeholder – the child. I have had numerous conversations with children around the country and with parents and children and the message always emphasises the response of the child to My LID – they love it. Too frequently theoretical concepts are difficult to translate into actual practice. I think My Learner ID is reasonably successful in this regard and the series offers a practical and tangible framework for children, parents and teachers."
On the future of the project, Suzanne states, "I am hoping to complete the My Learner ID series at preschool level and at junior and senior infant level. Thereafter, I have been asked to consider developing the concept at a non-verbal level and that no doubt will represent a challenge."