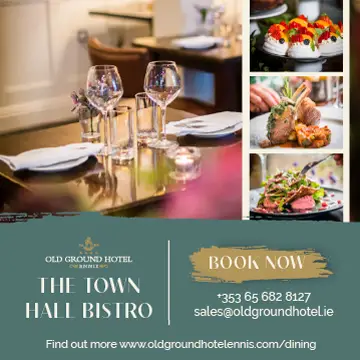 This week is Cyber Security Week. As part of our Click For Clare initiative, in association with Local Enterprise Office Clare, we endeavor to inform and educate the public on shopping online safely. Shopping with Clare businesses gives shoppers added security as you are dealing with reputable local companies, but what else should shoppers do to safeguard their purchases? Here, we explore the best way to shop safely online this Christmas.

AVOID PUBLIC COMPUTERS AND NETWORKS
Avoid shopping online outside the home where possible. If doing so, it is advisable to use your own mobile data. It is never a good idea to use a public computer or network when you're shopping online. Using a public WiFi or your Bluetooth poses genuine safety concerns as hackers can intercept and view the data you send and receive on the public networks.

BUY FROM REPUTABLE RETAILERS
A quick background check on the website you are buying from will reveal any negative feedback in consumer reviews on Google or Facebook for example. Particularly if you are unfamiliar with the website, research the trader's name, full contact details and business registration number if possible so you know who you are dealing with. An e-mail address or PO box won't do.
A dot.ie address does not mean the trader is based in Ireland. Your consumer rights will depend on where the company is based. If this information is not clearly available consider shopping elsewhere. If you do shop from websites based outside the European Union, be aware that you may face unexpected customs bills.
Private individual sellers are not necessarily fraudulent, but there are no legal instruments to call upon if something goes wrong so pay special attention to informal commerce marketplaces on social media and websites such as ebay and etsy.
Read the Terms & Conditions of sale and purchase on all websites before engaging in purchases and check the delivery and shipping conditions before you pay.
It is recommended you record all steps that have been taken to complete the transaction via screenshots and keep copies of all your correspondence such as order confirmation, receipts etc.

PAY SAFELY
When shopping online, you usually have more protection if you use a credit card so it is best never to send a cash or bank transfer. When completing a transaction online, make sure you use a secure website to enter credit card information. Look for a locked padlock icon in your searchbar which indicates a secure internet connection. A secure website will have a URL website address that begins with https:// – the 's' stands for secure. This detail indicates that the website uses an encrypted protocol in order to increase security of data transfer.
This article is brought to you as part of Click For Clare, an initiative by The Clare Echo supported by Local Enterprise Office Clare.