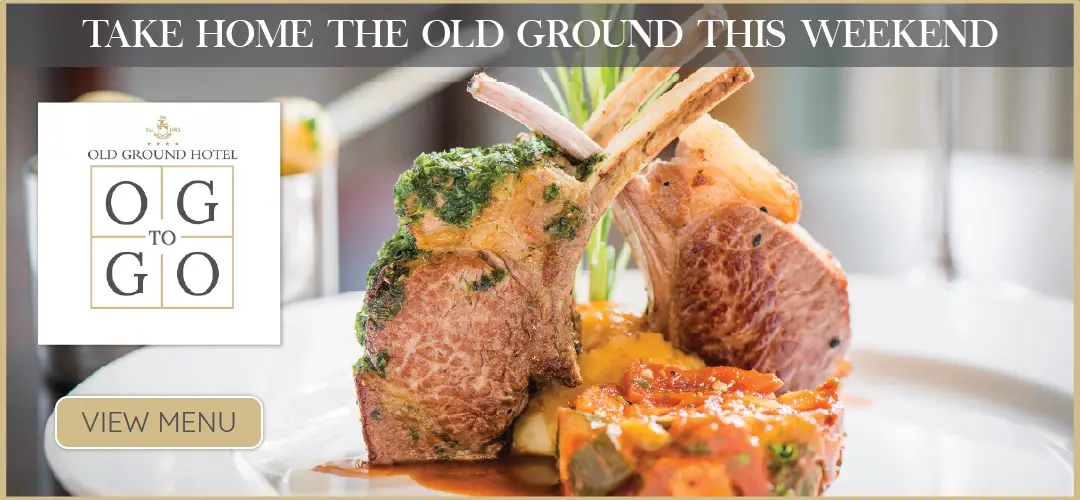 HUNDREDS of thousands – possibly millions – of locals and tourists have crossed the threshold of Alexander Knox's in Ennis since it was first established in 1864.
This writer first visited as a child with his mother when it was a supermarket run by Michael O'Grady, and many more times since for a drink when not accompanied by a responsible adult.
In the 19th century the building was first used as a pub and wholesalers and was later taken over by the Knox family and renamed Alexander Knox's – the current sign over the door dates back to 1902 (Alexander himself was killed in a bicycle accident on his way to work in the 1930s).
Fast forward to 1994, businessman Kieran Gleeson came in and "basically gutted the building and made what you see now, it was a very innovative and brave thing to do. He made it into one of the finest pubs in Ireland I'd say," says Mike Dennehy, owner of Knox's Bar & Storehouse Restaurant. Gleeson would sell the business to Michael Lynch before Dennehy took over in 2001 and he has had it ever since.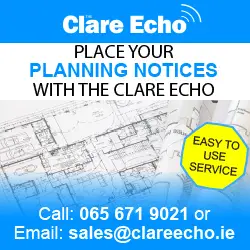 With businesses now emerging from the global pandemic's forced hibernation, restaurants and pubs are next in line. However the conditions of reopening a food & drink premises have been exhaustive. Forced to contend with a number of strict Government guidelines, Mike is dealing with a business crisis instead of enjoying a bumper 2020 tourist season as he counts down the months to celebrating 20 years at 18 Abbey Street.
Knox's is one of Clare's best-known venues for live entertainment with a booming weekend local trade however it has been growing its reputation as a must-visit for tourists in the summer months. Mike – who also counts JP Clarke's and Gallagher's Seafood Restaurant in his business portfolio – had identified a growing trend towards the traditional Irish pub to tap into that tourist market which had become a vital part of his model.
Mike explains, "We noticed a trend that the traditional Irish pub was the way to go so a lot of the features were here anyway because it's an old building. The building dates back to 1864 so it was a case of adding onto it all the time so we started that process in 2013 and we almost finished it last year. Last year we did a major job on the place, we had it designed by Paul Haffey in Belfast.
"So that's where we were. We had an extremely successful tourist season last year, the pub worked very well and the tourists liked it. We saw tourism as the way to go in Ennis as well as our local business. It was a great early-week filler for us, we could be busier on a Monday than it was on a Friday. We were ready for this year and then Covid struck and we are where we are at this stage."
Knox's Bar & Storehouse Restaurant is arguably among the best-placed pubs to deal with the new restrictions set to come in next Monday, with an operational kitchen and four levels of floor space between the bar and restaurant with plenty of nooks and crannies to accommodate small groups.
One of the most contentious points of the guidelines is that customers must purchase a meal to the value of around €9 and will only be allowed to spend one hour and 45 minutes in the establishment before having to move on, while customers are to stay at their table unless they are using the toilet facilities. There had been a lot of concern amongst publicans that the two-metre rule would affect their ability to trade however Failte Ireland have said that a one metre rule may be implemented in a controlled environment and if other requirements are met.
"We thought long and hard how we're going to deal with that with our customers and staff coming in and there was a lot of talk of screens. We didn't want to ruin the building so we sourced some old doors and we've installed them to give people extra protection and we've made more little booths while not ruining the authentic atmosphere of the pub," says Mike.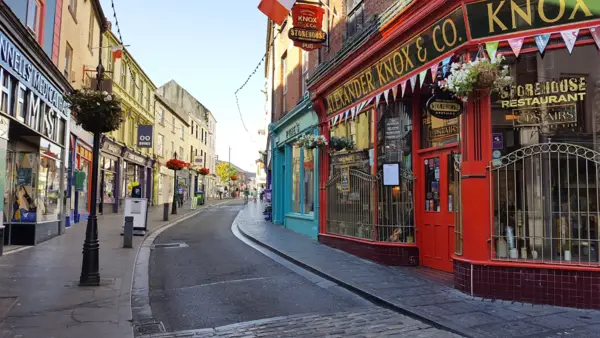 On the incoming restrictions, Mike says that all safety precautions will be introduced by Knox's while anything after that will come down to the common sense. He admits that they won't stringently police the €9 rule to allow customers come in for their bowl of soup or sandwich at lunchtime, adding, "Pre-lockdown, 90 per cent of our customers didn't stay for longer than one hour forty five minutes anyway so I don't think it's going to be an issue. People come in, have a meal, move onto the next place. We'll be using common sense; common sense on our part and common sense on the customer's part. People know the risks, they know how to protect themselves at this point. We'll be providing everything here; sanitation stations, signage, we're in the business a long time. We know what to do to keep staff and customers safe and we're operating on limited capacity so we'll be fine."
Due to limited capacity issues, Mike judges that Knox's will operate at about 30 per cent capacity during the first phase so his focus is on making sure the visitor experience is second to none for those who have waited almost four months to enjoy a meal and a drink in a comfortable setting. "People can come in, sit down, relax, have a meal, have a nice cocktail – our manager Declan Kelly is doing up a nice new cocktail list. We just want people to get out. They've been locked up for three months now, it's time for you to come out and relax, have a few beers, have a bite to eat and enjoy themselves in a safe environment."
During the enforced period of closure, Knox's continued to operate a takeaway menu and take-out pints which he envisages will now be part of the business going forward. Other areas where Knox's could diversify include extended use of outside space, dependent on permission being granted by the Council.
The 52-year-old businessman believes Government has more to do to protect the famous Irish pub trade by implementing a VAT revision or break however he points to the resilience of the local industry as an indicator that Clare won't witness mass closures.
"For the first few months with social distancing it's going to be very difficult. Even at a metre it's not good, at a sit-down basis you're operating on 30 per cent capacity and with standing up it's 50 per ccent capacity, from what we were at our turnover will be down probably 50 per cent on that but we'll get through it," says Mr Dennehy.
He adds, "We're always positive. We spent a lot of money here and we know when the tourists do come back it will still be a great draw. We have fantastic loyal business too, we've the best of entertainment and music here and when we get all that back we'll be back to normal. The pubs in Ennis are very resilient, they're all good operators who know what they're doing and when it's safe and the social distancing is gone, we'll be good."