*Tim Crowe with his Cratloe supporting grand-children Iarla & Maeve Hawes. Photograph: Joe Buckley
Tomorrow the Clare SHC final takes place and Sixmilebridge manager Tim Crowe finds himself living with the enemy.
Cratloe's Michael Hawes is the father to two of Tim and Bernie's grand-children, Iarla and Maeve, both he and his wife Bernadette Crowe live in one quarter of the Crowe household in Cappa South making for an interesting week in the household.
"An unwritten pact" between both men means hurling talk is prohibited. "It was a match I was hoping would never come to pass but at least it hasn't come until the final hurdle. Both myself and Mikey were happy to avoid each other up until now but it just happened that there was no back door open to us. We have an unwritten pact that we don't discuss anything about hurling, we might discuss football because I know nothing about it and he's prepared to tolerate that. From the time Cratloe and Sixmilebridge qualified for the semi-final, both of us out of respect decided we'd park the analysis within the house just in case it was misinterpreted or there was secret information given to one, there's an acceptance of anything other than hurling being discussed".
Reports that Hawes was evicted from the house are incorrect but the defender has been keeping a watchful eye on whoever is preparing meals. "Bernie was feeding the two children during the week and Bernie said to Mikey 'I'm not sure if you should eat this or not because you could be poisoned'. He told her, 'I've seen you feed the children already so I think I should be ok', that relieved Michael's concern about being food poisoned but maybe, now we wouldn't," Tim laughed.
Although the house is located in the parish of Sixmilebridge, the majority of its inhabitants will be hoping for a Cratloe win on Sunday as Crowe outlined. "Maeve and Iarla are in no doubt they're going for Cratloe, I don't think I believe Bernadette, she is sitting on the fence but I've no doubt her heart is in Cratloe, she won't be shouting but I think underneath it she'll be hoping for a Cratloe win which is normal because for some reason women when they marry into a new parish don't have any difficulty in adopting to their new parish. I don't think the same applies to the male, if you're a Newmarket man you're a Newmarket man and if you're a Bridge you're a Bridge man no matter where you're living. My own wife Bernie is a real Bridge woman but she was born in Scariff, women don't have the same attachment to the parish that the male has, I've accepted that Bernadette is a Cratloe person from now on".
Bernadette is not the only one of the Crowe family to have switched allegiances from The Bridge with other Crowe grand-children such as the McMahons, Buglers, Counihans and Sheehans based elsewhere. Of the possibility that none of his grand-children will play for his beloved club, he said, "That's getting serious. It doesn't look like there will be any in the future unless Timmy decides to come and produce something for us. It's not good, I think I could be excommunicated from the club for providing so many talented hurlers in Kilmaley, Whitegate, Cratloe and Broadford, it's not looking good".
Their back-garden renamed Crowe Park has been home to some ferocious encounters in the past year or so. But getting The Bridge's senior side to Cusack Park on county final day comes as a surprise as Tim stated many personnel within the club and outside wrote them off following their quarter-final exit to Cratloe in 2018. Though he points out that they were fortunate to draw a Clarecastle side short of confidence, a Ballyea team that didn't look like retaining their crown, they "stumbled past" both Éire Óg and Inagh/Kilnamona "both probably should have beaten us because they were in a winning position". He lauds Cratloe for being the first to introduce a modern style to club hurling in Clare and felt The Bridge largely due to Davy Fitzgerald are one of the few "traditional hurling" clubs to adapt to it, "It has made a huge difference to the way Sixmilebridge are playing this year, they are able to vary between a long and short game, it's much more structured than the old hit and hope then let the full forward beat the full back, I think that is gone, I don't say it's a good thing but if you are to win the championship you have to embrace it".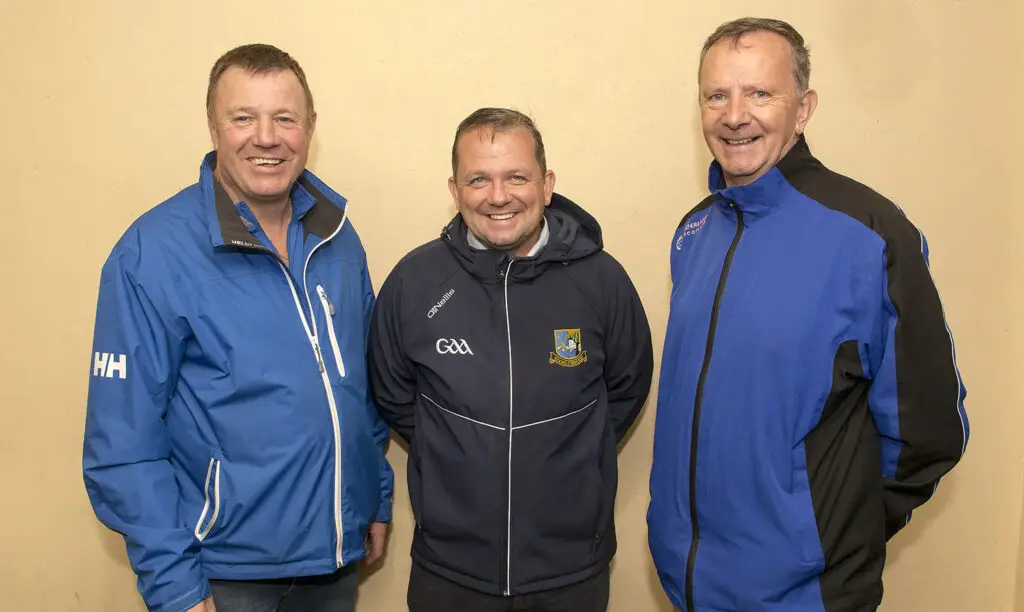 Trainer of the first Sixmilebridge team to win the Clare SHC in 1977, Tim came in as manager this year with Davy as his coach, a man with whom he had a falling out in 2007 as Fitzgerald's inter-county playing career ended during Tony Considine's one year term as Banner boss, for which Crowe was a selector. "There was an opening that nobody wanted in February, Paddy Meehan the Chairman went to Davy and myself, it's well known we were in opposite camps for a long time but we felt our club needed us. The most important thing in one's life is your family, second most important thing is your job and the third is your club, if any of those run into difficulty you will do what you can to help them out, that's where myself and Davy where, we shook hands and we said we weren't going to go back and we rowed in to help the club".
"We met for the first time in eleven years, we shook hands, I said 'I'm not going back' and Davy said 'Neither am I' and we moved forward, that was it. I have fantastic respect for him, he is a brilliant coach. I was invited to a wedding that I wouldn't have been invited to twelve months ago. It's a lesson for every club where there are personality clashes, you can't put the individual first, the club has to come to first, you do whatever you can for your club to improve. We all have differences of opinion but we should never fall out over it, I did and I regret it, it's something that I'm very conscious of now and it won't happen again to anybody as far as I'm concerned".
A three time national champion in 400m and 400m hurdles, Tim predicted that his son Timmy their fitness coach, when he finishes athletics will be involved with inter-county teams. The former secondary school teacher has been involved with teams for the past four decades and has found learnings with each of the crews he has been a part of. Of them he found Declan Kidney to be "the greatest man-manager" during their time together with Munster schools rugby, Kevin 'Trixie' Toomey to be "ahead of his time" when they were over The Bridge seniors, "very conscious of appreciating people and what they could do for the club, he was the most generous person that I would have ever come across, he just wanted to help people". His latest high-profile colleague, Davy Fitzgerald "is an extraordinary, passionate man and when he is involved with you, he won't let you down, he will stick with you".
Regardless of the outcome to the county final, Tim's relationship with his Cratloe friends and in-laws will not be affected. "Some of my best friends are in Cratloe, if I'm looking for a fourball I'd ring my friends in Cratloe, we have a mutual respect for each other and my friendship with my Cratloe friends will be the same on Monday as it is tonight, that's the way it should be".