In the midst of Brexit and Britain's expected departure from the European Union, Shannon Airport will be without connectivity to the continent which has "concerned" airport management.
Matthew Thomas, CEO of Shannon Group plc briefed elected officials of Clare County Council on Monday where he presented an update on their activity so far in 2018. "Since we were separated from the DAA in 2012, Shannon has been by far the fastest growing airport outside of Dublin, this is our sixth consecutive year of increase in passenger numbers". He stated Shannon has recorded a growth of 33 percent since 2012 in comparison to 60 percent at Dublin, 11 percent at Knock and just 2 percent at Cork.
"One of the things I love in Shannon is that we are rooted in the community that we serve. We want our customers and the Mid West to be proud of our airport. We're in the middle of a spike in our investment cycle. We don't receive any grants or taxpayers money but we're moving in the right direction," the South African native said.
He added, "This is the first time I've worked in the public sector, before that it was always the private sector and the opportunity to make a difference just isn't the same. We have some very special working in the Shannon Group". To describe the company's performance, he used the analogy of "a car moving through the gears".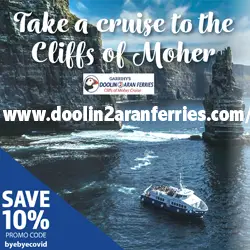 Of their negotiations with airlines to establish routes from Shannon, Mr Thomas outlined some of the feedback they have received and stated Shannon Group is working closely with Clare County Council on the development of a tourism strategy. "The Wild Atlantic Way has been a phenomenal success and we need to ensure it doesn't plateau, we need to enhance the tourism experience and need to identify Shannon as the Wild Atlantic Way airport. We spend too much time speaking with airlines, we're the biggest salesmen for how beautiful the region is and their response is the tourism is grand but it's not compelling. We need to invest in a very smart way, we need top flight attractions in the West of Ireland".
The forty five year old revealed he was "concerned" by Brexit and confirmed their priority is to establish another European hub for Shannon Airport which he said was "critical". "Our connectivity is going to be outside the EU in early 2019 and it's just not right that one half of a country doesn't have connectivity to a European hub". He continued, "We are a young company in many ways and have been independent for four years now but we need Government support. The more we invest in our heritage attractions, the more tourists that will come to our region".