*Photograph: Gerard O'Neill
Clare's latest long séjour to Ulster was pockmarked by incremental alterations to the venue, surface and most significantly weather conditions but unfortunately no change of fortune as a late brace of goals ensured that Tyrone completed back-to-back victories on Saturday afternoon.
Tyrone 3-07
Clare 1-07
Venue: Garvaghey Centre of Eexcellence
The eleventh hour switch from Drumragh to Tyrone GAA's Garvaghey Centre of Excellence was accompanied by a rare outing on astro-turf as the Banner went in search of their first points of the Division 2 campaign. But while Clare rolled with the punches and dominated possession for large tracts of a testing contest amidst atrocious conditions, they would ultimately leave with nothing, save for the knowledge that for the second successive weekend, they competed admirably against senior opposition.
In truth, Tyrone were the more clinical side, evidenced by the fact that they led from start to finish but had James Murrihy's side been able to convert any of their three timely goals chances, the narrative could have been much different.
As it was, the home side got that rub of the green, with an early second half strike through Aoibhean McHugh subsequently bolstered by decisive strikes through Caitlin Kelly and substitute Chloe McCaffrey that ruled Grainne Nolan's breakthrough to be a mere consolation. The conditions had a major bearing on proceedings, with a strong crossfield gale dictating that handling errors were understandably commonplace while even keeping the ball in play proved difficult at times.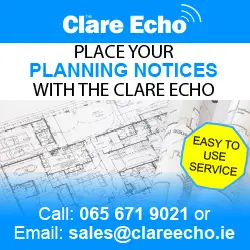 It was the same for both sides though and it was Tyrone that adapted quickest with three early wides matched by as many scores through Aoibhean McHugh, Emma Jane Gervin and a Caitlin Kelly free within the opening eight minutes.
Without injured chief target Niamh O'Dea, Clare's challenge appeared infinitely stiffer. However, their running game did turn the tide with wing-backs Roisin Looney and Caoimhe Harvey offering consistent support to Tara Kelly, Fidelma Marrinan and main beneficiary Grainne Nolan.
A difficult free drifted wide but from a poor kick-out, Orla Devitt fed Nolan to open the visitor's account in the tenth minute. Again Clare pounced on the wind-stifled restart, with Nolan presented with an open goal, only to see her effort agonisingly rebound off the butt of the left post and wide. The Banner Ladies forward did arrow over a free after Tara Kelly was fouled from the next kick-out but a succession of follow-ups either fell short or wide as the predominant gale wrestled back control.
Instead, Tyrone hit successfully on the counter-attack as a Niamh O'Neill free was almost capped off by a late goal, only for Emma Brennan's strike to lift above the crossbar to ensure a 0-5 to 0-2 interval cushion.
Determined to put the result beyond doubt, Tyrone went for the jugular on the restart but found Clare goalkeeper Micaela Glynn in inspired form as first she superbly repelled a Niamh O'Neill volley, then smothered Siobhan Sheerin's rebound before Siofra Ní Chonaill forced the full-forward to shoot wide.
Clare's luck would run out though as almost immediately, Brennan offloaded to Aoibhean McHugh to billow the net and the home side might have added a second only for captain Ellie O'Gorman to block another Sheerin shot.
Undaunted, Clare would actually lessen that six point damage to three by the turn of the final quarter as their slick passing and work-rate epitomised by Roisin Looney, Aisling Reidy, Grainne Nolan and Tara Kelly gathered momentum at the perfect time.
Fidelma Marrinan converted a brace of frees while Kelly and Nolan also found the target but their efforts to obtain an equalising goal proved more elusive. Grainne Nolan's teasing effort for a point dipped with the wind and had to be tipped away by Laura Kane while the home goalkeeper produced an even more impressive intervention to deny the overlapping Aisling Reidy entering the final ten minutes.
Caitlin Kelly responded with a free before Tyrone received a large dollop of fortune when Niamh Hughes' effort for a point held up in the wind for Caitlin Kelly to break and toe-poke to the net at 2-7 to 0-6 by the 53rd minute.

Grainne Nolan did grab an even more fortuitous goal of her own in the next passage of play when her high effort from the right flank dipped into the net. But not to be outdone, Tyrone substitute Chloe McCaffrey made an impactful entrance with a solo goal three minutes later to cement all three points.
Ciara McCarthy came off the bench to pull back a point before the finish but for Clare, there was an unfair slant on the final scoreline which failed to denote their sizeable contribution to a testing afternoon's work.
After three senior evaluations, Clare now have a two week recess before resuming their campaign against fellow intermediate side Meath at home where they will hope that this time their performance is matched by the result.
Scorers for Tyrone: Caitlin Kelly (1-3, 2f); Aoibhean McHugh (1-1); Chloe McCaffrey (1-0); Emma Jane Gervin, Emma Brennan, Niamh O'Neill (f) (0-1 each)
Scorers for Clare: Grainne Nolan (1-3, 1f); Fidelma Marrinan (0-2, 2f); Tara Kelly, Ciara McCarthy (0-1 each)
Tyrone
1. Laura Kane (Galbally Pearses)
2. Christiane Hunter (St Enda's Omagh)
3. Emma Mulgrew (Killeeshill)
4. Caoileann Conway (Sperrin Óg)
5. Slaine McCarroll (St Macartan's)
6. Tori McLaughlin (Sigersons Strabane)
7. Niamh McGirr (St Macartan's)
8. Neamh Woods (Drumragh Sarsfields)
12. Aoibhean McHugh (Aghyaran)
10. Niamh Hughes (Aodh Ruadh)
11. Emma Brennan (Trillick)
9. Emma Jane Gervin (Aodh Ruadh)
13. Niamh O'Neill (Sperrin Óg)
14. Siobhan Sheerin (Glenelly)
15. Caitlin Kelly (Cappagh)
Subs
17. Joanne Barrett (Drumragh) for Mulgrew (27)
30. Aileen Tuohey (Sperrin Óg) for (45)
29. Grainne Rafferty (Killeeshill) for Sheerin (53)
22. Emma Hegarty (Donaghmore) for Gervin (53)
21. Dearbhlie Gallagher (Trillick) for Hughes (53)
23. Chloe McCaffrey (St Macartan's) for O'Neill (56)
20. Aimee Daly (Badoney) for McCarroll (60)
Clare
1. Micaela Glynn (Kilmihil)
2. Siofra NI Chonaill (St Joseph's Doora/Barefield)
3. Ellie O'Gorman (Kilmihil)
4. Grainne Harvey (West Clare Gaels)
6. Roisin Looney (Cooraclare)
5. Aine Keane (St Joseph's Miltown)
12. Caoimhe Harvey (West Clare Gaels)
8. Aisling Reidy (St Joseph's Doora/Barefield)
9. Laura Egan (Kilmihil)
10. Roisin Considine (Liscannor)
18. Tara Kelly (Cúil Gaels)
13. Orla Devitt (Éire Óg)
21. Amy Sexton (Kilmurry Ibrickane)
15. Fidelma Marrinan (West Clare Gaels)
11. Grainne Nolan (Banner Ladies)
Subs
20. Eimear O'Connor (Cúil Gaels) for Considine (HT)
7. Eimear Keane (St Joseph's Miltown) for Sexton (HT)
25. Becky Mahon (Kilmihil) for Kelly (54)
30. Ciara McCarthy (Kilmurry Ibrickane) for Devitt (57)
Referee: Gus Chapman (Sligo)