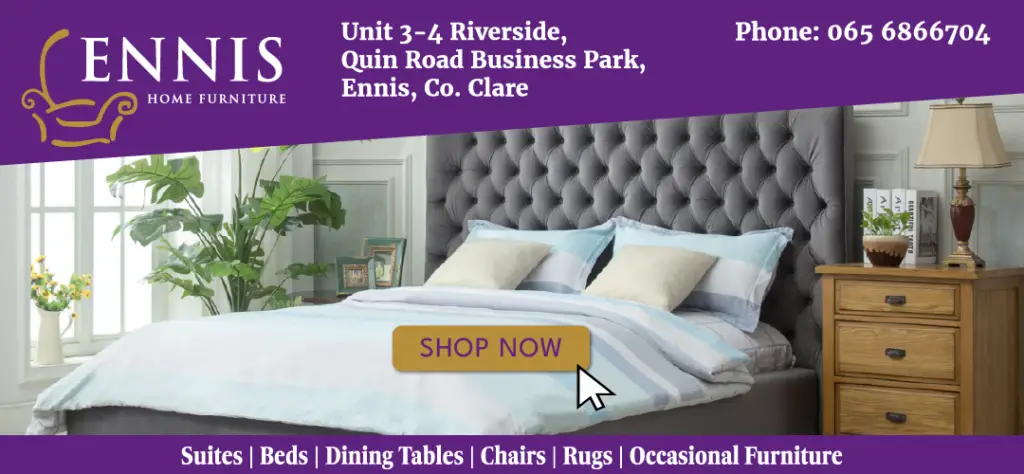 'I'm not in Laochra Gael, I'll put it that way' – Tony Griffin on life, becoming an author, and his legacy in the saffron and blue.
The Clare Echo's Sunday read series begins with Clare hurling legend Tony Griffin.
AUTHOR, former All-Star hurler, founder of a youth organisation, a reluctant mental health advocate, and a friendship with arguably the world's most controversial athlete. It's been a life less ordinary for a man who grew up hurling on the boreens of Ballyea as a child, acting as piggy in the middle to his big brothers.
Geographically speaking, Tony Griffin was at a disadvantage as a child with ambitions to hurl for Clare. Ballyea had never been represented in the Saffron and Blue and to compound matters, his father was from Kilmaley while his mother hails from Falkirk, neither a hurling stronghold (incredibly, Tony's mother was one of four Scottish sisters to marry Clare men). While his dad Jerome didn't hurl, he was a keen spectator and such was his determination to attend Christy Ring's final game, he cycled from Kilmaley to Limerick to witness the spectacle.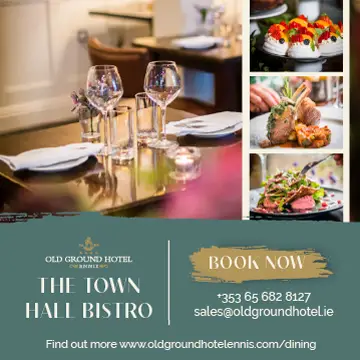 A brief examination of Tony's mindset as a 13-year old provides a windowed insight into his own determination to carve out his destiny.
"I went to first year in the CBS and then changed to St Flannan's," explains Tony, who recently celebrated his 41st birthday. "We played Flannan's in a first year match and they hockied us. I couldn't get over the fact they had matching tracksuits and we were like the League of Nations, we had Avenue United socks and Lifford shorts and a few Ballyea shorts thrown in there.
"I remember going home to my mother saying, 'I'm changing schools' and she said 'that's not the way it goes, we tell you where you're going' and I said, 'I'm going to that school. I'm not going to get to play for Clare if I'm in the CBS'."
After some back-and-forth, his mother agreed to young Tony's demands on the condition that he meet with the St Flannan's principal, Fr John Jones, and "sort it out" himself. That's just what Tony did. "He asked why I wanted to move and I said for hurling. He sat back in the seat and burst out laughing and said, 'at least you're honest'."
Looking back on the slightly comedic exchange, it turned out to be a crucial intervention as Tony went on to win two All-Ireland colleges with Flannan's, learning about "what it would take to get to the top level of the game". Tony believes he has always possessed a knack for making instinctually positive life decisions. "Imagine being 13 and writing on your wall, 'I want to win an All Star, I want to play for Clare, I want to win an All-Ireland. Imagine getting two of those, from a place where no-one had ever played for Clare, where it wasn't done and people said 'it won't happen if you play for Ballyea'."
Tony Griffin, the author
His recent culmination of life decisions has led Tony to a cottage in Ballymore-Eustace, close to the Wicklow Mountains, where he lives with his wife Keira-Eva and two sons, seven-year old Jerome and Jessie, who will be two in May. The move came soon after Tony had just finished writing his best-seller, The Teenager's Book of Life, the night on which he would suffer a collapsed lung for the second time in his life. Tony was forced to undergo surgery to seal the lining of his left lung and remained unwell for some time, "but the book had been finished thank God so by the time I was fully fit and healthy, the book was launching in February last year and from then on, it's been a bit of a runaway train."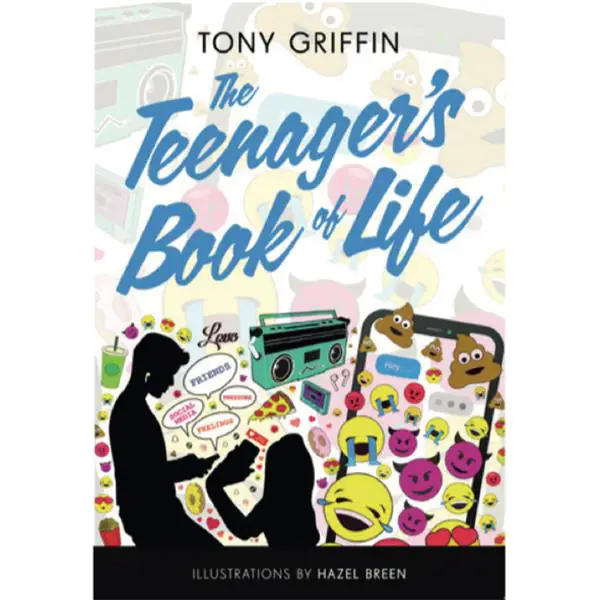 Tony's career move into full-time writing came after his time with Soar, a youth organisation he co-founded in 2012. It was that experience of working with teenagers over a seven-year period which helped Griffin pen his best-seller. "I met thousands and thousands of teenagers and I see myself at 15 in them with their insecurities and that's why it draws me to it," explains Tony, adding "I had a lot I wanted to say to them".
As a self-published author, Tony spent months stocking shelves of bookshops across the country himself, with a team of friends, family and on occasion strangers forming part of his unique distribution network. "My mother was putting the books on the shelf in Ennis and Limerick, and probably will do that today at some point," he adds. The book sold an incredible 16,000 copies in 2021.
Admittedly, the pandemic afforded him time to pour his focus on the project and the book was written in just nine weeks. Another "upshot" was enjoying more time with his family. "Sometimes Jerome and I, when Keira was pregnant with Jessie, we'd go for a walk to places that were around us like a field across the road and I remember this one day in particular, it was late April early May, it was sunny and I remember Jerome just grabbed my hand and said, 'will we lie down in the grass?' And we just lay down in the grass, looking up at the sky. And he still talks about it. It's just those moments that perhaps in the past we just were too busy for, or addicted to busyness, thinking this is the way we need to be, rather than doing something different."
Screaming At The Sky
The Teenager's Book of Life wasn't Tony's first foray into writing. His autobiography Screaming at the Sky, published in 2010, was based on diaries he wrote between 2006 and 2010, a time in which Tony famously cycled 7,000km across the width of Canada to raise money for the Irish Cancer Society, Ovarian Cancer Canada and the Lance Armstrong Foundation, in honour of his father Jerome who sadly passed in late 2005 following a battle with lung cancer. The book also detailed his dramatic exit from intercounty hurling, and broached subjects such as depression and an unplanned suicide attempt.
The Ballyea man's relationship with Canada began when he went to University with the encouragement of his best friend, chiropractor Travis McDonagh. "He was the guy who told me when I was 21 that I could do anything if I put my mind to it," remarks Tony, who received a text from Travis on his hardest day in the saddle that he would remember forever. "We're like brothers… I was in the back of a campervan trying to pluck up the will to go out into the lashing rain in Northern Ontario to do a day of the cycle. I was like 'Jesus, I can't do today.  I have to do today but look at that rain, I'll be out for seven hours'. And I got a text from Travis to say 'our son was born, how would you feel about us calling him Griffin?' I was like, 'ah, this is the best day ever'. I had no problem getting on the bike then!"
Tony re-read the book, ghost-written by TJ Flynn, recently amid plans to turn it into an audiobook and admits being struck by how brave it was, "In 2010 people weren't talking about suicidal thoughts and depression and things like that, which we did. They weren't talking about the insecurities or uncertainties of being an athlete and the mental struggle to perform and the doubt. I am proud of it even now. There are certain parts that, looking back, I talk quite a bit in it about '09, '10, and just how poorly structured our training structures were. Looking back, I probably would have been more respectful to people who were in charge of that because I'm sure I'm not on their Christmas card list."
Interestingly, the foreword to the book was written by Lance Armstrong, who invited Tony to his home in Texas ahead of his mammoth cycle, which also included a leg in Ireland from Dublin to Ennis where Tony was welcomed home by 5,000 people at the Height. Tony remains pragmatic about the disgraced cyclist's association with his first publication. "I've thought about that recently because if it's republished, which it might be in the next year, do I leave [the foreword] in? I haven't come to the answer to that one yet.
"I know he treated, from what I've read anyway, people in a certain way. It's not right to treat people that way but it was a different time, their culture was different. All I know is, when I needed help, he gave it to me and he wrote a lot of letters for me that people would ask me for, for loved ones who were dying…So I've seen two sides to him. I kind of still think it's cool [that he wrote the foreword]."
Tony recounts of an invite into Armstrong's home, "I remember him showing me the seven [yellow] jerseys in the room of the Tour de France and through the hallway you could see his girls' rooms…they were covered in pink wallpaper, these two little girls' rooms. I remember thinking, there's two sides to everyone, here's the athlete but here's a dad who is also doing the school run. Then when I needed bikes and Trek wouldn't ring me back, he got them for me in 24 hours and said, take what you need for the whole cycle. I was the best kitted out fella to ever cycle across Canada."
'Oh, you played hurling with Clare?'
During our interview, a framed picture hangs on the wall behind Tony of him contesting a ball with Cork great Seán Óg Ó Hailpín. "I just always admired Seán Óg and usually he out-caught me but on that one, I out-caught him. Rare," he laughs. "I just have huge respect for the guy and I don't have many hurling photos at all but that one, Diarmuid McMahon who is a good friend and played with Clare as well, is in the photo. It's kind of a reminder because sometimes I forget that period of my life even happened, so it's kind of a reminder that it did."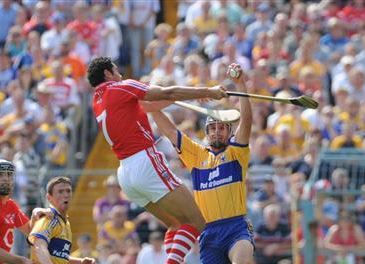 Tony's admission raises the question, have his achievements on the pitch been forgotten, or at least overlooked, by not just him but the public when reflecting on the greats of Clare hurling over the last 25 years. The three-time All-Star nominee admits, "It's actually a really interesting question. I was at a wedding recently and [Wexford senior hurlers] Diarmuid O'Keefe and Liam Og McGovern were there. We were chatting about this as well and they were saying somewhat similar to what you just said.
"Sometimes I meet people and they might not know me through sport and they'd say 'oh, you played hurling with Clare?' and they'd be into hurling. It's an interesting one. Someone sent me a stat recently that I scored 99 points in my championship career, and I was like 'really?'. I was saying to myself, I might have done better than I thought I did."
When pressed on whether it bugs him that his service to Clare hurling may be overlooked at times, he adds, "It probably doesn't piss me off but I have been pissed off by it a bit in the past. Not anymore, I've gone on and done other things but I'm not in Laochra Gael, I'll put it that way. The reason I mention it is because one of the lads at the wedding said, 'I've written to them. I've written to TG4 and asked, why haven't you covered Tony Griffin? He's done so much more than just hurling, you've got to.' And I said, 'you didn't waste your time writing to them!?'
"I don't think about it too often but the things I've done outside of hurling is what I'd like to be remembered for more than the hurling but yeah, I suppose the deadly honest way of answering your question is, I think I was better and contributed more than maybe is appreciated."
Tony forged lasting friendships with the likes of Gerry Quinn, Frank Lohan and Diarmuid McMahon during his time in the Clare jersey, which at the time adorned the Vodafone logo when he broke onto the scene. Some memorable moments include his debut, a six-points-from-play display from centre forward against Tipperary in the 2002 Munster semi-final which he considers his proudest moment.
As a youngster, Tony recalls breaking the VCR at home from re-watching tapes of DJ Carey in action and copying his sidestep. Later that season he would get to witness that greatness up close as the Cats laid waste to Clare in the All-Ireland final, and Carey left poor Ollie Baker in the background of the highlight reel with one of those trademark side-steps. "Beautiful. Like, beautiful," recalls Tony. "It's funny because now, my little fella plays Gaelic football because we live in a football area, and a bit of rugby, and I've been saying to him if you can master a sidestep, you'll open up so much space."
Ballyea's greatest Tony…
These days, Tony shows his son Jerome footage of Tongan rugby players to master the sidestep. Like an excited commentator, he adds, "So he's playing this match U7s and he gets the ball, and there's this big crowd and he just runs at them, takes a sidestep, opens the space and sticks it into the corner. Well, we were more happy about the sidestep than anything else after the game, he said 'it actually worked!' Frank Lohan sold the same sidestep to corner forwards for 10 years and got away with it."
Tony has stepped away from hurling, his last game coming for the Ballyea junior hurling side just two nights before his second lung collapsed. However his involvement in GAA continues in the form of a performance coach alongside Jack O'Connor, who he has followed to the Kerry set-up having worked with him over the last two years in Kildare while he continues to work as a leadership trainer with the likes of company CEOs and athletes.
Tony gets home to his family in Ballyea every couple of months and one of his visits home last summer he enrolled his son Jerome in Tony Kelly's GAA Camp. "I think it was my favourite week of the whole summer, it was so lovely to be home for more than a night and my mother's still there and I have four brothers and sisters still there, so it was really lovely to be there for some time. It's a great place, I love Clare."
Is it hard to come to terms with no longer being the greatest Tony to have hurled with the parish? "It's not hard at all when he plays for us," laughs Tony. "He'll be up there with Christy Ring, Mick Macky, Brian Lohan, any of the greats to ever play the game and maybe he'll be the best forward we'll ever see. He's a better forward than Jamesie was, he's a better forward than Niall Gilligan was – now they were different in their own ways – and definitely a better forward than I was but he's just on another level and what I love about him is he's so hungry to get even better, he's a Michael Jordan."
For his part, Tony is exploring finding a US publisher to bring The Teenager's Book of Life across the pond. "I'd love to spend the rest of my life writing and talking to people about the things I care about."