A WEST Clare woman has described the aftermath of yesterday's extensive bog fire as a battlefield without the bodies.
Kilrush and Kilkee Fire Service spent more than eight hours fighting a blaze that engulfed hundreds of acres across bog, forestry, gorse and a wind farm.
Monmore resident Rita McCarthy, who walks the bog road every day, was horrified when she came across the fire.
Speaking to The Clare Echo, she recounted what was before her eyes. "As I turned the corner I was just met with a blaze. It was a fire in front of my eyes. I was so shocked because the day before I had been taking photos of the bog coming back to life after winter. What I then saw was complete devastation".
Rita dialled 999 to discover that Clare Fire service was already at the scene of another fire at the other end of the bog.
"I was just completely and utterly horrified, is the only way to describe it. I was devastated really because it was obvious now the whole bog was on fire," Rita added.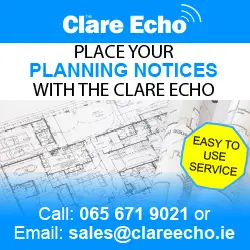 A spokesperson for Clare's Fire and Rescue Service confirmed that three units of the fire brigade from Kilrush and two units from Kilkee dealt with the blaze which they were first alerted to at 11:43am on Wednesday. An investigation is underway into the cause of the blaze. Both stations left the scene at 20:12 with all fires extinguished.
Rita has been living in Monmore all her life and the bog is very dear to her. She walked back along the bog today to assess the damage.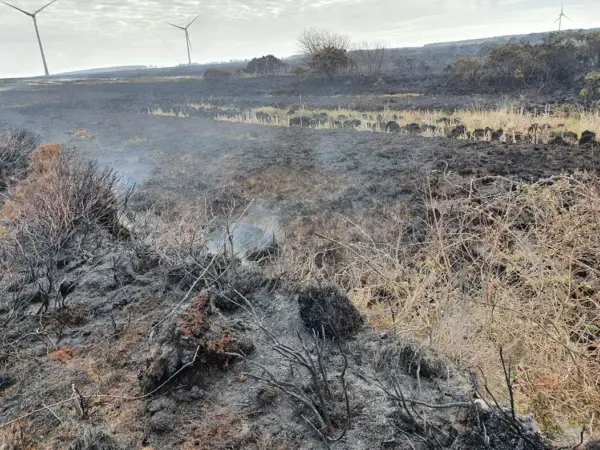 "It was a waste land this morning, like what a battlefield might be like after a battle. It was just black. There was smoke. There was the stench of the burning vegetation. And obviously the nature that had been destroyed. The nests and the birds nests, everything.
"There was an old tree that probably has stood there for many, many years, that was knocked and burned to the ground. There were a few daffodils that had grown, they were just on fire. The smoke was still rising up. It was what I would imagine a battlefield to be like after a battle. The only thing that was missing was the bodies," Rita said.
Rita praised the work of Clare Fire Service who risked their personal safety to put out the blaze.
"If the fire service hadn't been there to come out and do what they did it could have been incredibly dangerous from the point of view of the forestry and from the point of view of people as well because a fire like that could spread.
"There are houses quite close to it. The greatest of credit is due to the Fire Service. They did an amazing job. They had to risk their lives to put out that fire, especially under the current crisis circumstances," she added.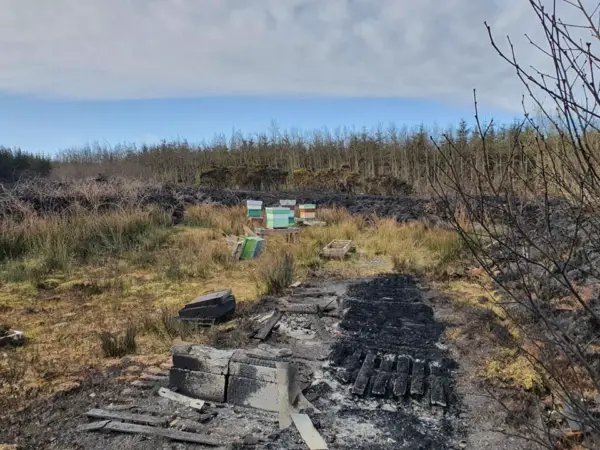 Three beehives belonging to local honey supplier Eamonn Troy were also destroyed in the fire.
"I am very grateful to the Fire Services for their efforts in saving remaining hives. I will build it back up again and I wish everyone to keep safe in these times," Troy said.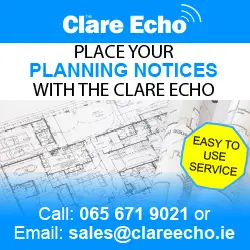 Clare Chief Fire Officer Adrian Kelly warned land owners against controlled burning in an effort to reduce the demands placed on Emergency Call Operators and the Fire Service during the ongoing COVID-19 public health emergency.
"In light of the ongoing Covid-19 National Emergency and in the lead up to vegetation fire season, Clare County Fire & Rescue Service wishes to advise all landowners that controlled burning will no longer be accepted by the Fire Service," he explained.
Mr. Kelly said controlled burning should not take place "under any circumstances, until further notice is given."
Should landowners ignore this notice and proceed to carry out any burning and a 999 emergency call is received relating to a fire on their property, the Fire Service will be mobilised to attend and extinguish the fire.
All costs associated with the attendance of the Fire Service will be invoiced to the property owner.

Mr. Kelly commented, "Landowners and the wider public need to be mindful of the significant risks of fire at this time of year and also be aware of the damage to land and habitats caused by illegal burning. It is very disappointing to see that some people will continue to flout the Department of Agriculture regulations around illegal and controlled burning, particularly during a public health emergency. These people are knowingly drawing on limited resources at this critical time for our country.
Department of Agriculture guidelines for landowners state that it is illegal to burn land between March 1 and August 31.