Calls for a controlled plastic waste collection systems at "key waterways and strategic locations" in the county are not in the "immediate plans" of the local authority.
Climate and biodiversity change has featured less in conversations since the outbreak of Covid-19. Prior to this the matter was flagged at a meeting of Clare County Council by Cllr Joe Garrihy (FG) "in light of the catastrophic consequences of single use and other plastics on our waterways".
Garrihy sought countywide controlled collection system for plastics to be located at "key waterways and strategic locations" such as Ballyvaughan, Doolin, Fanore, Kilkee, Lahinch, New Quay and Spanish Point. "Alongside the collection points we should also establish a direct linkage with the community groups of the area and the vision of Take 3 for the Sea involving and facilitating the entire community to participate and be involved in the initiative".
Take 3 for the Sea is a global initiative to reduce plastic which asks members of the public to bring three pieces of plastic waste home with them when they visit the sea and recycle appropriately.
Director of Physical Development, Carmel Kirby pointed out that there was fifty bring bank stations in Clare with recycling facilities at blue flag beaches during the bathing season. Active work is carried out in conjunction with An Taisce with assistance also provided to Tidy Towns groups, she highlighted. "While we have no immediate plans to introduce a collection type service due to the significant investment we have already have in recycling facilities, we are planning to enhance our beach communities and we will discuss this issue further in that forum".
€181,000 has been the bill paid by Clare County Council for recycling plastic, Kirby revealed. "I am cognisant of the huge effort put in by community groups but I am not sure if we have the resources to put a permanent collection point in place".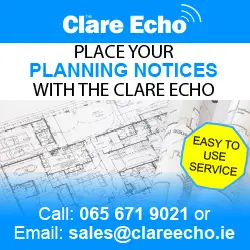 Work on the Council's message was acknowledged by Cllr Garrihy, "We know what damage plastics are doing". He felt if the proposal was acted upon, it would serve as "a very strong message that we could send as a county".
In seconding the motion, Cllr Roisin Garvey (GP) stated, "The problem of plastic is never a simple one". She said soft plastic was not being recycled in Ireland currently. "The biggest thing teenagers worry about is plastic being dumped in the sea," Garvey claimed.
Reference to Make Kilkee Plastic Free was made by Cllr Cillian Murphy (FF). "When talking about access places, we need to think differently. Let us take the stuff out of the place is better than us leaving it there in the first place".
Cllr Gerry Flynn (IND) felt Garrihy's call was "a very good motion". He continued, "The harm being done to our environment not just the sea by plastics is unbelievable".
NOTE: This meeting and discussion took place prior to the outbreak of Covid-19.