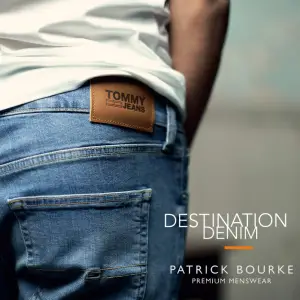 Eimear Kelly dodges the tackle of Deanna Considine. Photograph: David Dillon
Action has begun in the McMahon Cup with the race underway to crown the 2021 Clare senior camogie champions.
By Brid MacNamara
Strong finish sees Blues past Kilmaley
Newmarket on Fergus 1-13
Kilmaley 1-08
Venue: Tubber
Newmarket came on out top in a very tight affair in the opening round of the senior championship on Friday night under lights in Tubber. With just two points between the sides at half time, it looked as though it could go either way. Ultimately Newmarket had the stronger final quarter and ran out winners by five points.
Annmarie Hayes raided for goal for the Blues on the restart only for Kilmaley to respond with a similar effort from Aisling Cahill.
With forty eight minutes on the clock, just a single point separated the sides. From here, last year's beaten finalists lifted their performance adding further scores through Zoe McInerney and Kaci Toomey.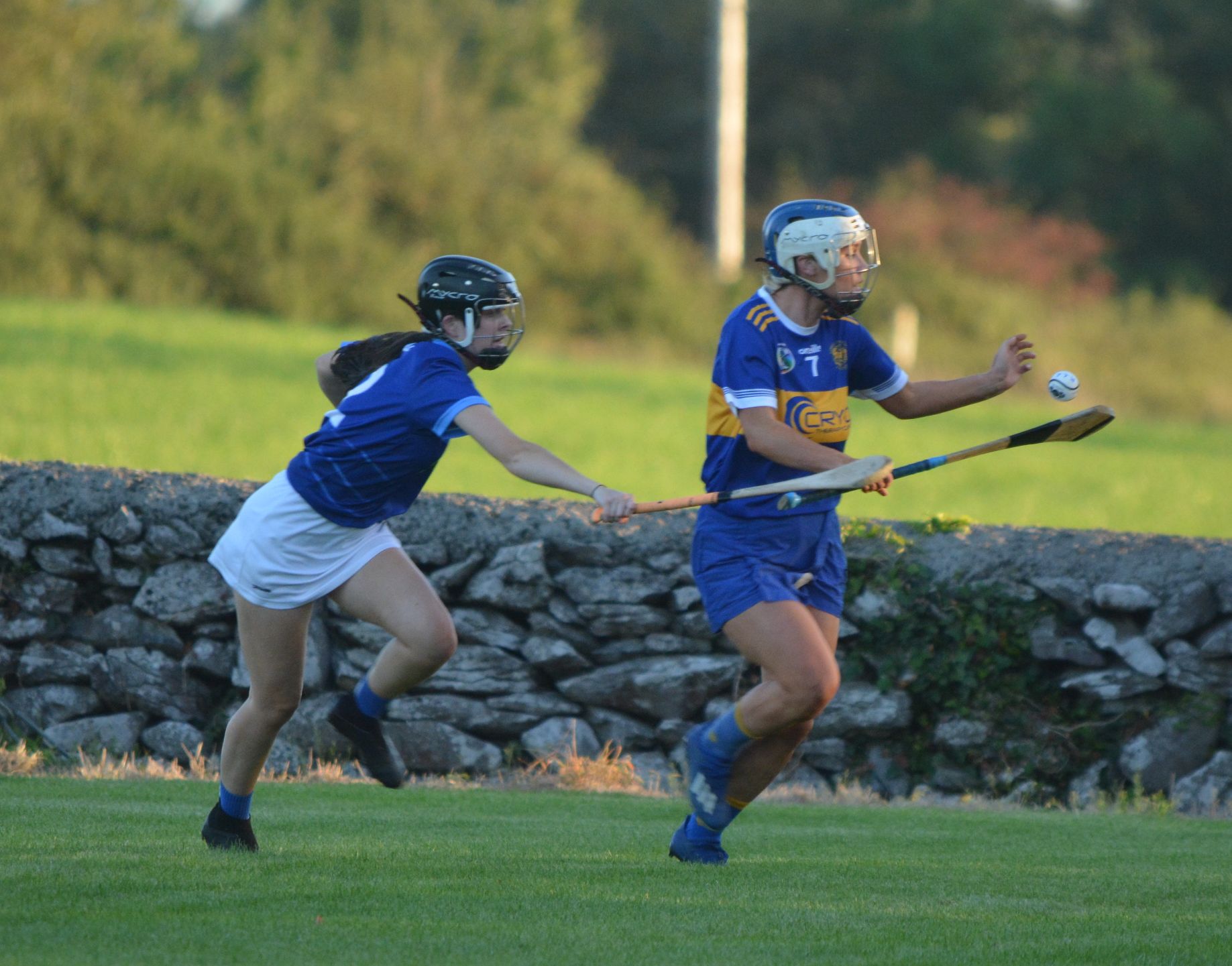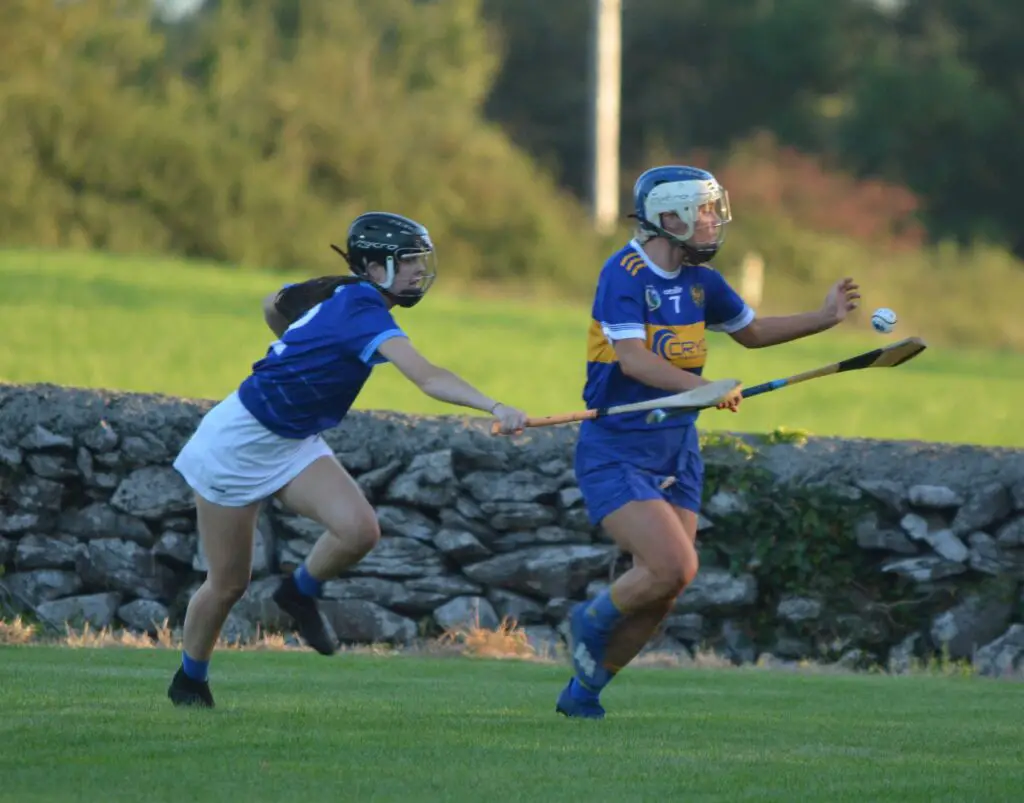 Kilmaley have a chance to regroup as they have a bye in the next round, whereas Newmarket are back in action again on Saturday against Kilkishen/Bodyke.
Newmarket on Fergus: Ciara McCarthy; Aine O'Brien, Caoimhe Lally, Aoife Crimmins; Tara O'Neill, Laura McMahon, Aimee McInerney; Aoife Griffin, Katie O'Flanagan; Kaci Toomey (0-3F), Roisin McMahon (0-4), Michelle McMahon; Annemarie Hayes (1-0), Zoe McInerney (0-4 2F, 1'45), Jenny Kelly (0-2).
Subs: Clodagh O Halloran for Roisin McMahon (42mins), Kate Clancy for Tara O'Neill (55mins)
Kilmaley: Chloe Mc Aleer; Rebecca Cahill, Sarah Reidy, Molly Casey; Emily Cahill (0-1), Niamh O'Dea, Sarah Ni Cheallaigh (0-1F); Megan White, Shonagh Enright; Caoimhe Carmody (0-4 3F), Aisling Cahill (1-1), Martina Keane; Grace Carmody (0-1), Sinead O'Keeffe, Chloe Neylon.
Subs: Caoimhe Cahill for Keane, Jodie Cahill for Caoimhe Carmody, Claire McMahon for O'Dea, Caoimhe Carmody for Grace Carmody.
Referee: Fintan McNamara (Killanena)
Sharp Scariff/Ogonnelloe prevail in East Clare derby
Scariff Ogonnelloe 1-16
Kilkishen/Bodyke 1-7
Venue: Fr McNamara Park
As expected a tough physical encounter ensued in the meeting of East Clare sides, Scariff/Ogonnelloe and Kilkishen/Bodyke but a win for the 2019 champions never looked in much doubt.
Aisling Corbett's dismissal on a second yellow card left Scariff/Ogonnelloe with fourteen players for the final twenty five minutes but it didn't deter their cause having led for the majority of the encounter.
Mairead Scanlan, Jennifer Daly, Corbett, Amy Barrett and Alva Rodgers all contributed to Scariff/Ogonnelloe scores in the opening half to see them lead 0-09 0-04 at half-time.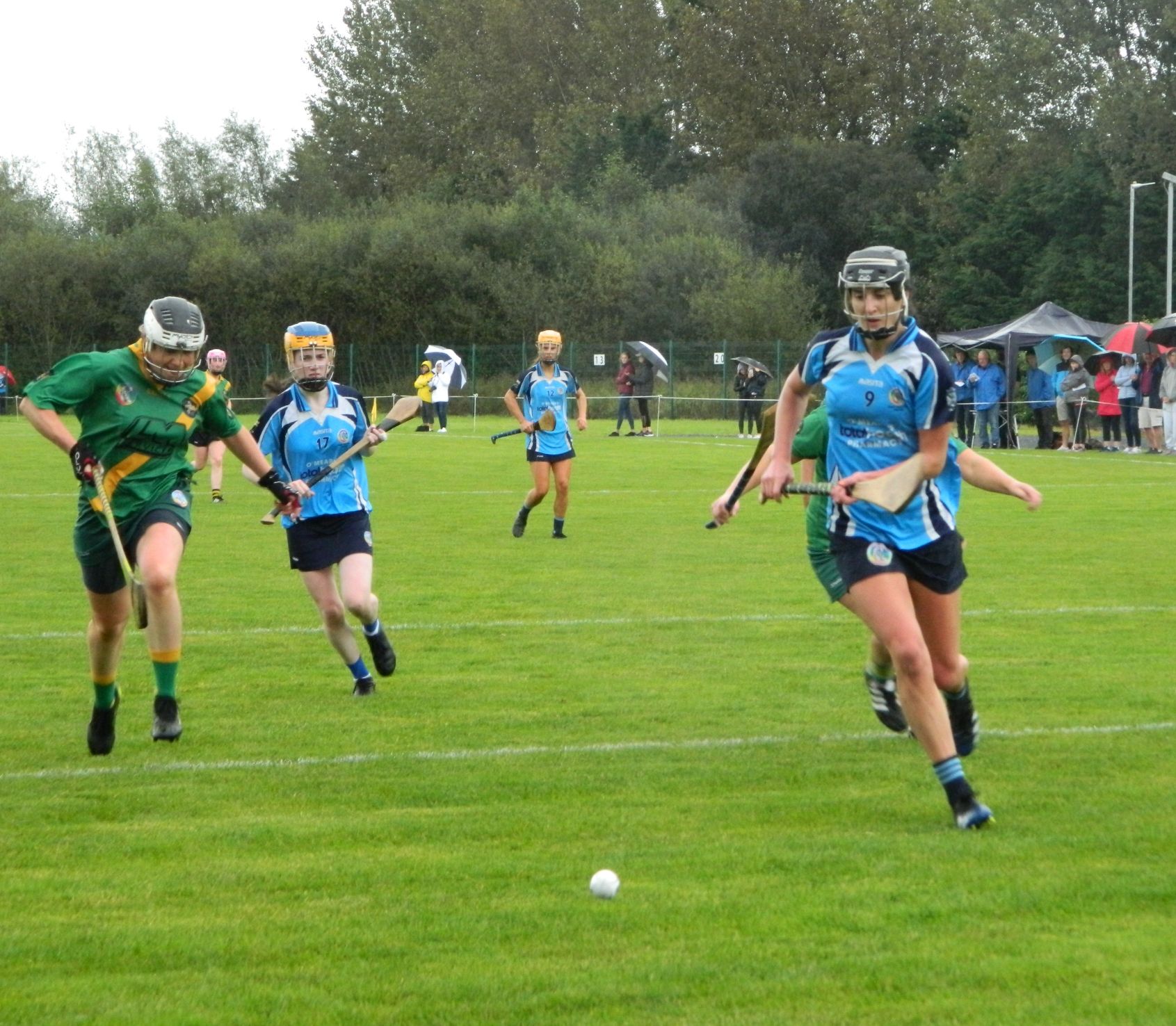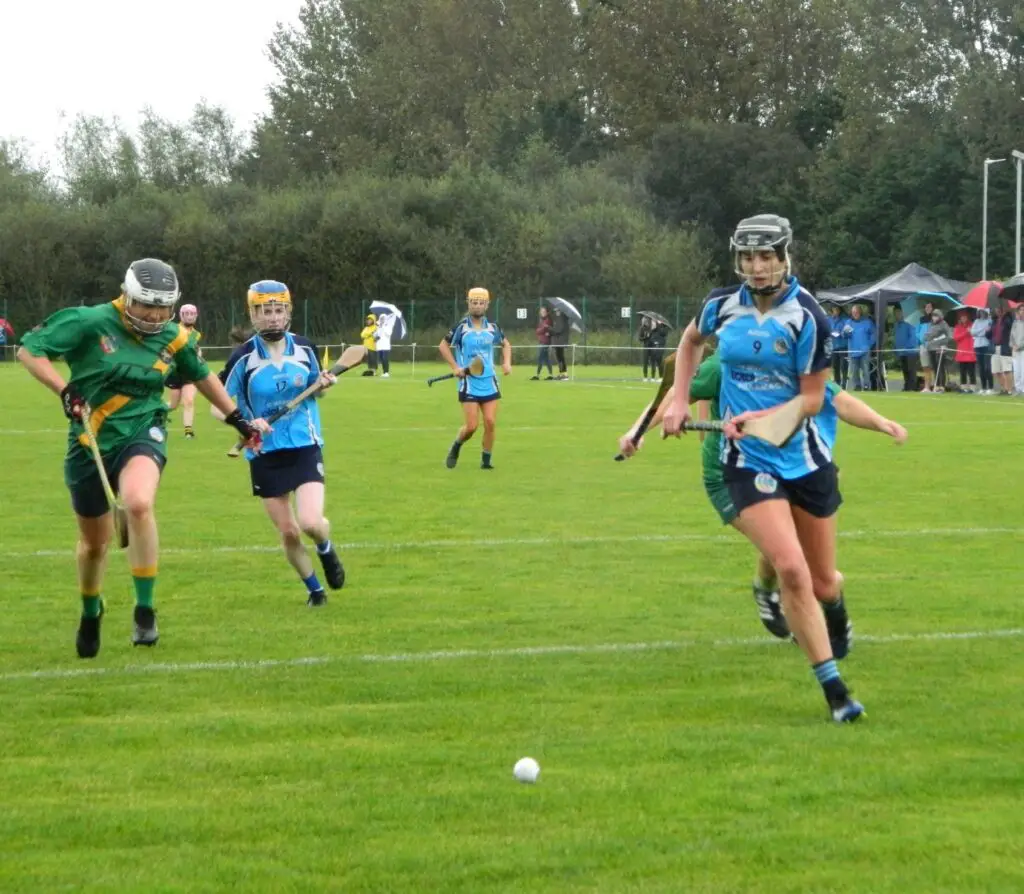 Alva Rodgers flicked the sliotar to the net after an Edel McNamara save to bring their advantage to nine points and leave Kilkishen/Bodyke with a sizeable gap to claw back.
Corbett's sending off was timely for Jim Lynch's side as they fired two points without reply with centre-back Alannah Ryan beginning to come into the play more.
Strong defending from Scariff/Ogonnelloe was par for the course throughout the second half, an excellent Roisin Minogue finish breached their backline to register a goal but it was not sufficient to overturn the damage from earlier on.
Best on the day for Scariff Ogonnelloe were Susan Daly, Abby Walsh, Lynda Daly, and Alva Rodgers, with Alannah Ryan, Edel McNamara and Siobhan Lenihan best for Kilkishen/Bodyke.
Scariff Ogonnelloe: Rachel Daly, Abby Walsh, Ciara Doyle, Bonnie Wiley Murphy, Rachel Minogue, Susan Daly, Alison McGee, Alva Rodgers (1-1), Mairead Scanlan (0-8, 5F), Labhaoise O'Donnell, Amy Barrett (0-2), Lynda Daly (0-1), Jennifer Daly (0-1), Lorraine Grady, Aisling Corbett (0-2, 1F)
Subs: Cliona McNamara for Lorraine Grady, (0-1)), Danielle Beston for Labhaoise O'Donnell
Kilkishen/Bodyke: Edel McNamara; Hannah Minogue, Nollaig Baker, Ciara Ryan; Orla O'Brien, Alannah Ryan, Eimear Murphy; Kate Lynch, Caoimhe Kelly; Kate O'Gorman (0-1), Siobhan Lenihan (0-5 4fF, Niamh O'Gorman; Shauna Doyle, Roisin Minogue (1-0), Aoife Ryan (0-1)
Subs: Eilish Whitney for Ciara Ryan 50 mins
Referee: Noel Quinn (Gort)
Champions pass stern test from Feakle/Killanena
Inagh Kilnamona 0-13
Feakle Killanena 1-9
Venue: Clooney
Senior debutants Feakle/Killanena made reigning champions Inagh/Kilnamona work all the way for their victory in the opening round of Group 2 in the Clare senior camogie championship.
Aoibhin Ryan stepped up with a vital free to see Inagh/Kilnamona get their title defence off to a winning start. She was also the first person on the board, straight from the throw in to kick off a lively period in the contest.
It was Ryan that finished the first half with a brace of 0-04 to leave Eugene Foudy's charges one point clear. Laura McGrath struck for goal after receiving an excellent cross-field ball from Lorna McNamara to keep the pressure on Inagh/Kilnamona.
A blistering start to the second half saw Feakle/Killanena tip over four points without reply before Ryan responded through a placed ball.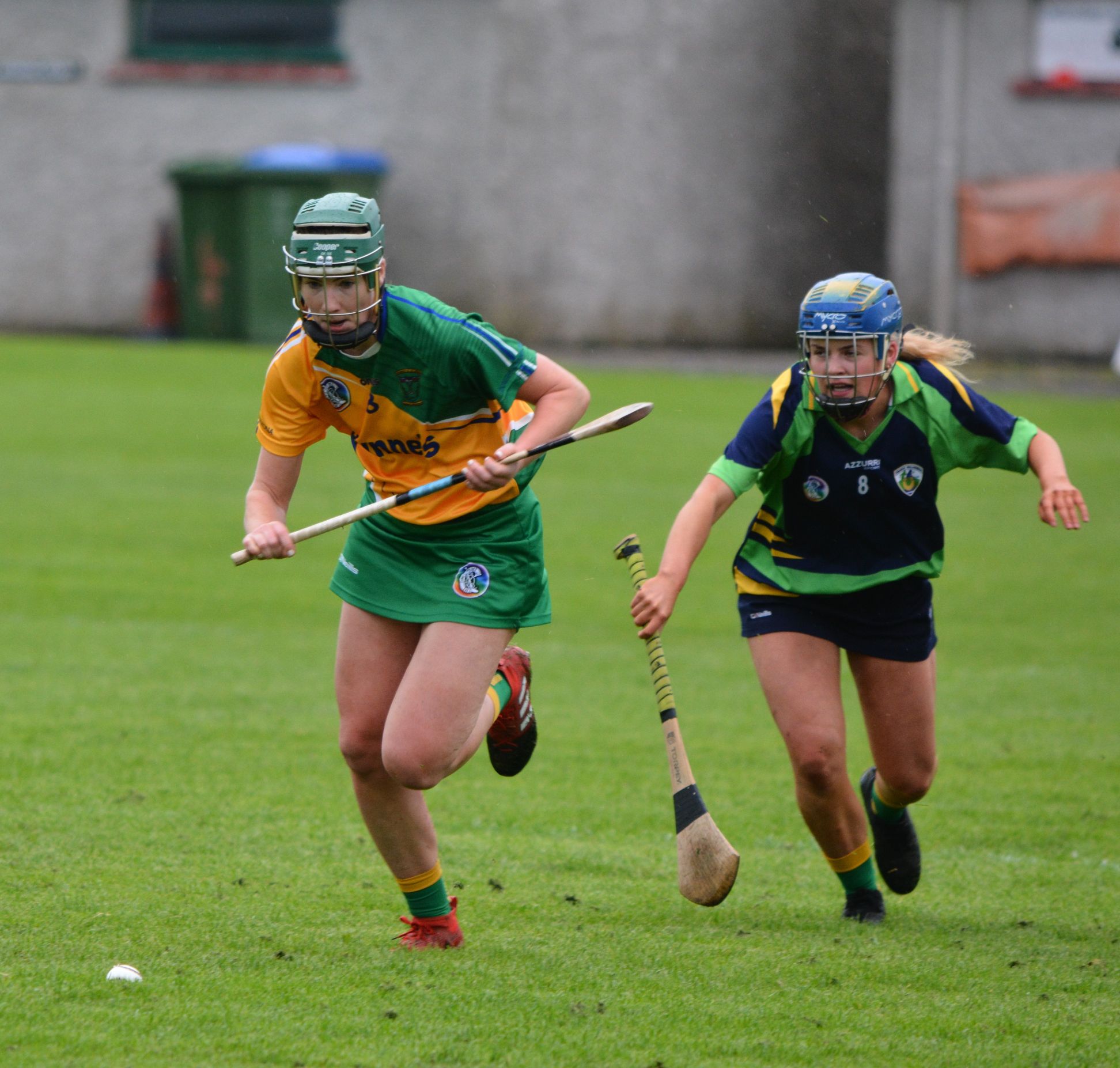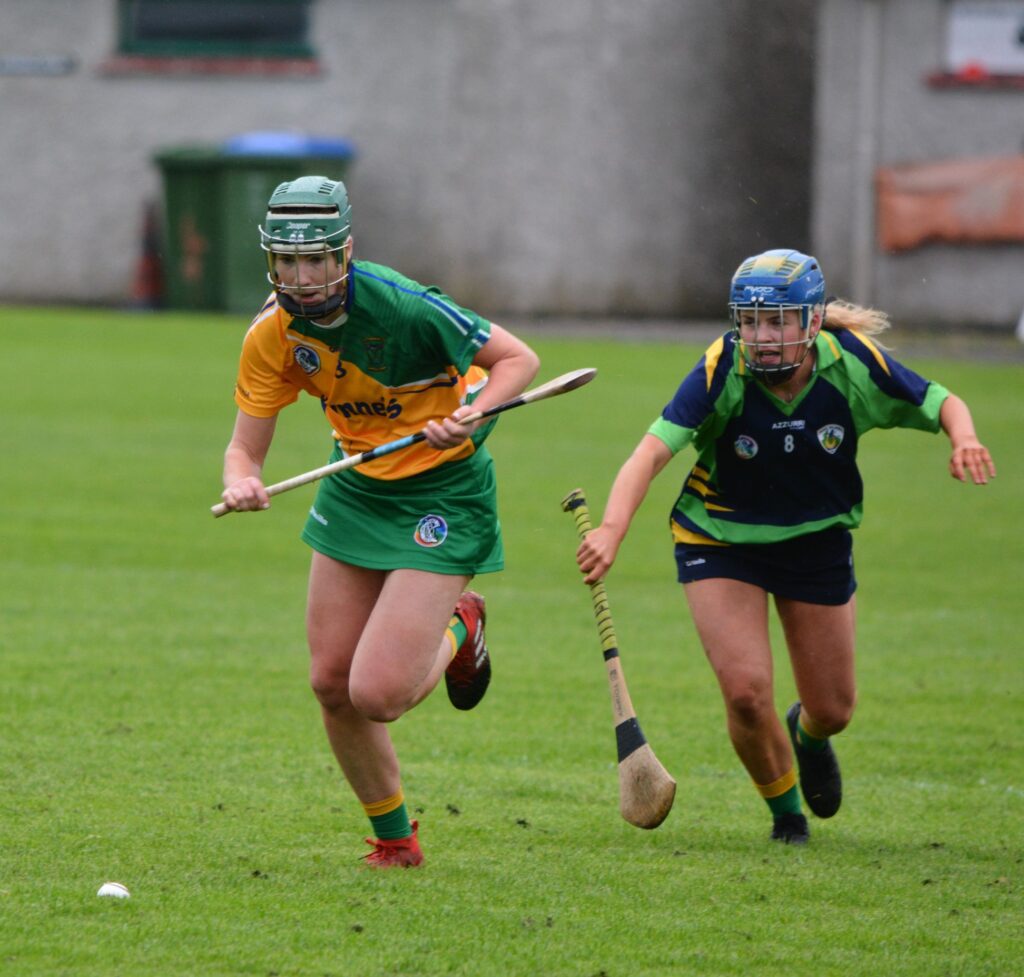 Claire Commane stepped up in the final quarter bringing her experience to the fore. Louise O'Callaghan put the East Clare side ahead in the final moments of the contest but Inagh/Kilnamona had other ideas with Ryan converting the last two scores to seal their win.
Inagh Kilnamona: Rebecca Keating; Laoise Ryan, Sinead Power, Michaela Roughan; Tierna Hegarty, Clare Hehir, Teresa O'Keeffe; Fiona Lafferty, Aoife Keane; Sinead Power, Aoibhin Ryan, Danielle Griffin; Helen Hehir, Amy Keating, Orla Vaughan
Subs: Claire Commane for Vaughan, Cathy Cullinan for Roughan, Jane Fitzgerald for Power.
Feakle Killanena: Roisin Quilligan; Aoife Tuohy, Eileen Daly, Ellie Edge O'Neill; ZiYan Spillane, Ella MacNamara, Rachael Mc Namara; Roisin Mc Mahon, Evelyn Duggan; Claire McNamara (0-1), Robyn Conway (0-2) Louise O'Callaghan; Laura McGrath (1-1), Shauna Canny, Lorna McNamara (0-5 3F)
Subs: Regan Conway for O'Callaghan (20 mins), Meave Brady for Rachael McNamara (H/T), Louise Keehan for McMahon (2nd half)
Referee: Andy McMahon (Cratloe)
Truagh/Clonlara hold off spirited Sixmilebridge
Truagh Clonlara 0-19
Sixmilebridge 0-14
Venue: Fr McNamara Park
Truagh/Clonlara's bid for county glory began with a five point win over Sixmilebridge. They started as they meant to go scoring 0-01 and having two goal opportunities, both of which were denied by Sinead Hogan.
By the first water break, Sixmilebridge had scored four points, three from play and a Chloe Morey free while Traugh Clonlara had five points on the board, Eimear Kelly contributing from placed ball through a free with the other four points all coming from play. At half-time the sides were level as The Bridge outscored Truagh/Clonlara three points to one in the second quarter.
When it came to the final water break, Sixmilebridge held a one point advantage with frees from Chloe Morey keeping their account ticking over.
From here, Truagh showed their capability with Eimear Kelly and Aine O'Loughlin on target as the side coached by Clare captain John Conlon recorded a five point win.
Truagh Clonlara: Liza Moloney; Sarah Sherlock, Michelle Powell, Sinead Hogg; Roisin Powell, Niamh Powell, Louise Egan; Ellen Horgan, Michelle Caulfield; Aine O'Loughlin, Rebecca Foley, Maire Begley; Eimear Begley, Eimear Kelly, Joanne Egan.
Subs: Alex Condron for E Begley & Sinead Ryan for Sherlock (45 mins).
Sixmilebridge: Sinead Hogan; Kiah Mellet, Deanna Considine, Aoife Hurley; Emma Kennedy (0-1), Rachel Kelly, Michelle Hurley, Maire McGrath (0-1), Saoirse Young, Niamh Lyons, Sarah Loughnane (0-1), Finia O'Brien (0-2); Rachael O'Halloran (0-1), Chloe Morey (0-8 6F), Aoibhín McNamara
Subs: Jessica Williams for McNamara (45), Ailise Rochefor O'Halloran (55)
Referee: Kevin Walsh (Wolfe Tones)
Intermediate:
Clooney/Quin overcame a tough test from Whitegate to seal a 2-12 2-09 win with substitute Niamh McGee netting their two goals with the bulk of their tally coming from Orlaith Duggan (0-07).
Éire Óg had ten points to spare over Corofin as it finished 2-14 2-04 in their favour. Full-forward Elizabeth Russell finished with 1-04 for the Townies while Orla Devitt chipped in with 0-05 as Corofin adapted to their first game back at the intermediate ranks.
Clarecastle/Ballyea and Tulla had to settle for a share of the spoils with their clash ending level at 1-10 apiece. County goalkeeper Doireann Murphy lined out at wing-forward, she finished the hour with 1-07 including the all-important equaliser to ensure Clarecastle/Ballyea didn't suffer a home defeat. Bridin Dinan accounted for 0-06 of Tulla's tally.
Junior A:
Broadford 2-12 Kilkishen/Bodyke 0-06
Ruan/Crusheen 3-18 Scariff/Ogonnelloe 1-03
Junior B Championship
Parteen 4-11 Sixmilebridge 0-6
Clooney Quin 2-7 Feakle Killanena 1-3
Junior C Championship
Whitegate 1-10 Cratloe 0-8
Clarecastle/Ballyea 6-4 Banner 0-0
Minor Championship
Minor B
Sixmilebridge 7-11 Broadford/Parteen 4-10
U13 Championship
U13C Cup Semi Final
Eire Og GAA: Eire Og 4-0 Wolfe Tones 0-4