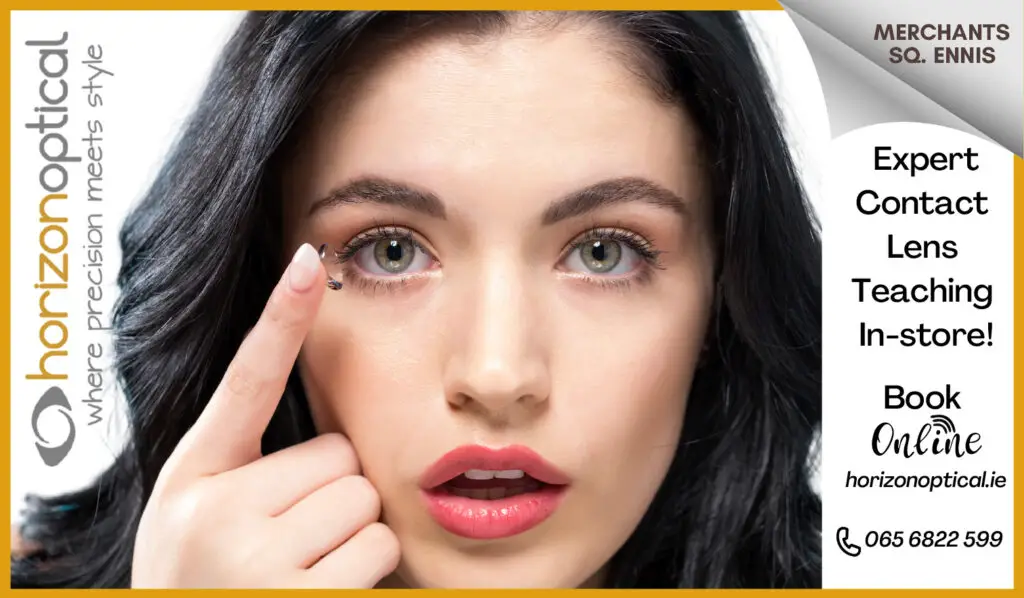 *Taoiseach Leo Varadkar was presented with cuff links from Katy Linnane & Junior Power. Photograph: Martin Connolly
Scoil Chríost Rí's €6.5 million school building was officially opened by Taoiseach Leo Varadkar on Friday morning.
Already used by staff and students since April 2018, the Cloughleigh school had hundreds of visitors as it marked a special day in its history. Taoiseach Varadkar was greeted by a guard of honour from sixth class students while Minister of State Pat Breen, Deputy Joe Carey, Timmy Dooley TD, Senator Martin Conway, Cllr Johnny Flynn, Cllr James Breen and Cllr Pat Daly welcomed the Dublin born politician to the county.
Bishop Fintan Monahan presided over a ceremony to mark the occasion which was attended by Bishop Emeritus Willie Walsh, students, staff, parents, elected representatives of the Ennis Municipal District, principals from around the county and past pupils. Musical talent was provided by students whose songs included 'We're so proud of our school' and 'We are the world, we are the children'.
Introducing Principal Gearoid Roughan, teacher and Clare FM football analyst, Joe Garry remarked "Every ship needs a captain, we're fortunate that ours is one of the best".
In his address, Roughan paid tribute to the building committee which included ex Board of Management Chairman, Cecil McDonough, Cllr Johnny Flynn and Larry Brennan. He extended thanks to former Labour TD Michael McNamara for initiating meetings with the Minister for Education to first progress the development and to Pat Breen, Joe Carey and Timmy Dooley. The Ruan man took a moment to remember deceased members of staff, Marie Keane and David McMahon who he acknowledged were "inspirational teachers".
"I appreciate the fact you've come to meet the plain people of Ireland who as Jackie Healy-Rae said 'eat their dinner in the middle of the day'," Board of Management Chairman Jim Cooney stated. He noted that Gearoid Roughan forgot to thank himself for his "unbelievable work" which received a round of applause from the estimated 250 people in the hall.
Cooney also spoke of their "immense regret" with Roughan's upcoming departure as he takes up a new post at Toonagh NS. "We hope to have a preschool up and running by 2020," the Ennis man outlined while highlighting "fourth class pupils in the town are unable to get second level places in schools in the town".
Taoiseach Varadkar spoke for eight minutes and began by assuring the crowd the Clare Oireachtas members are strong advocates for the county. "This school has been helping children to reach their potential for over forty years and these new school buildings build on the work that ensure a new generation of learners have an even better future, we can see it all around us from the enthusiasm of the students to the beautiful playing from your band. I know Clare is so well known as a county for its music and its trad so it's great to see many different instruments being played and dancing on the way in with all the other activities. That says to me that this school will be more than a school, it will be a community of learning where learning is enjoyable".
"Whether it's playing hurling, football, camogie, soccer or basketball, students here will learn something valuable about teamwork and working together, the same way once you've taken part in swimming or athletics you learn about endurance and excellence and always about testing yourself against the best".
Recent climate action protests by young students all over Ireland "inspired" the Fine Gael leader. "It reminded adults and politicians that we have only one planet and it is our responsibility to leave that planet to you in a much better shape than we inherited it and that's why as a country we're going to act decisively to protect our environment to reduce our carbon emissions and develop greener ways of doing things, many of our school buildings do exactly that being environmentally friendly buildings and I know this school embraces that by taking part in the greenfield project, amazing acorns and biodiversity projects underway in the school. Each of those environmental projects remind us the beauty and delicacy of our natural world and how we must preserve this heritage for future generations".
Responding to Cooney's comments, the forty year old said, "In a town like this with a growing population in a county like this when there is 10,000 more people living in Clare than there were ten years ago there is obviously going to be a growing demand for additional school places and demand for second level places as well so we need to make sure that issue is resolved long before any of the kids who are now in fourth or fifth class go looking for a secondary school place. It is a big investment and of course it's not the Government money, it is your money, the taxpayer's money but when it comes to education taxpayer's money is always well spent".
"When I think back of so many wonderful people who were educated in prefabs or schools with meeting rooms and outdoor toilets and I think of how well they did I think it's possible for us to expect wonders from the students educated here".
As he concluded, Varadkar had a message for some of the 250 students in attendance. "Study hard, learn from each other, learn new skills and become lifelong learners. You are lucky to be citizens of Ireland and citizens of the world, we want you to achieve your dreams. You have here an incredible campus with buildings that will stand the test of time and I think it's a testament to all involved parents, staff, management".
Locally crafted cuff links in the design of hurleys were presented to the Taoiseach by Junior Power and Katy Linnane. Music followed from Blackie O'Connell and Siobhán Peoples.