*Photograph: Arthur Ellis
Serious concerns over the future of Shannon Airport have been highlighted to the Taoiseach.
Oireachtas members within the Mid-West have been requested to join an all-party group focused on safeguarding the future of Shannon Airport. Deputy Joe Carey (FG) has written to every TD and Senator in Clare, Limerick and Tipperary appealing to them to join the group to establish a united front aimed at protecting Shannon's future.
Taoiseach Leo Varadkar (FG) has been contacted by the Clare TD who expressed serious concerns about Shannon Airport post COVID-19. He has also written to Aer Lingus and CEO of Shannon Group, Mary Considine. He has committed to do "whatever I can to protect and enhance our airport at these extraordinary times and has flagged the importance of retaining Aer Lingus' base within Shannon and "the need to reopen the Airport on 24-hour basis which will put us in a position to regain lost corporate jet business."
Aer Lingus' Shannon to Heathrow route has been temporarily suspended but the airline continues to operate daily routes to Heathrow from Dublin (3), Belfast (2) and Cork (1). Shannon remains closed from 10pm to 6am which has impacted on its corporate jet business operation and development. The Clare TD has appealed to the Taoiseach to encourage Aer Lingus to recommence the route from Shannon citing FDI demand.
By setting up the group, Deputy Carey said there would be "united leadership and support" for Shannon Airport. "We know the challenges in the wake of the Covid-19 pandemic are stark, and I believe we all have a role and responsibility as elected representatives to ensure this vital economic lifeline for our entire socio-economic well-being is protected".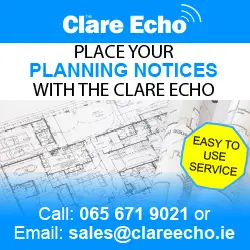 Carey is hopeful TDs and Senators in the Mid-West will accept the offer and plans to hold a meeting via conference call to discuss the challenges and to prioritise the actions deemed necessary to protect the airport and the region.
A more coordinated communications structure between the airport authorities and key local stakeholders, including local authorities, Chambers of Commerce, airport workers, hoteliers and other vested interested parties is needed, the Clarecastle native believed.
He stated, "Shannon needs to be an active responsibility of all of us in the region, not just a passive responsibility. This responsibility applies not just to political representatives, but also to business groups and industry leaders.
"I think it's fair to say previous governments have not fully understood the particular challenges facing Shannon as an international airport in the West of Ireland. It is our job to make sure these challenges are clearly understood and communicated in one clear and united voice to all in authority".