* Padraig Hession, Mary Cassidy, Timmy Dooley, Catherine Lillis, Dr. Pierre Yang, William-McLysaght, Angel Cheng, Maura-Brennan.
Taiwan Chambers of Commerce located in Ireland made a donation of personal protective equipment (PPE) to a Clare nursing home this week.
On Monday, a small donation of PPE was made to Raheen Community Hospital. The Tuamgraney facility has had no confirmed cases of COVID-19 but the act was carried out so that staff and patients are prepared should further risks arise.
Surgical masks, medical gloves, goggles, protective gowns and non-contact infrared thermometers were included in the donation.
Former Clare TD and Senator, Timmy Dooley was involved in orchestrating the arrival of the PPE on Tuesday. "Over the last number of weeks we've all recognised the difficulties nursing homes and medical facilities all over the country are having in getting this what is referred to as PPE to assist staff and patients in effectively transacting their business without the spread of COVID," he said.
Dooley according to some individuals is unrecognisable with his new beard, praised the efforts of those in Raheen for how they have responded to the pandemic. "The nursing home in Raheen has been very successful in that there hasn't been any spread of COVID, they have been working hard but I had some contacts in the Taiwanese deputation in Ireland, in conversation with one of them in recent weeks, it was mentioned that they might be able to source some of this PPE and that they'd be willing to make a donation to the facility there".
A handful of boxes of PPE and supplies were given to the East Clare facility on Monday afternoon. Although they are not under pressure at the minute, Timmy is of the view that the additions will only serve to help management of Raheen Community Hospital. "The hospital isn't under pressure for PPE, they have an adequate supply at the moment but when the donation was offered I thought on behalf of the friends of the hospital that it would be appropriate to accept this on the basis that there will be a continuing need for the use of this equipment for many months to come until there is such time that there is an end to COVID and that certainly isn't in sight, it is a small donation from the Taiwanese community in Ireland through their permanent representation".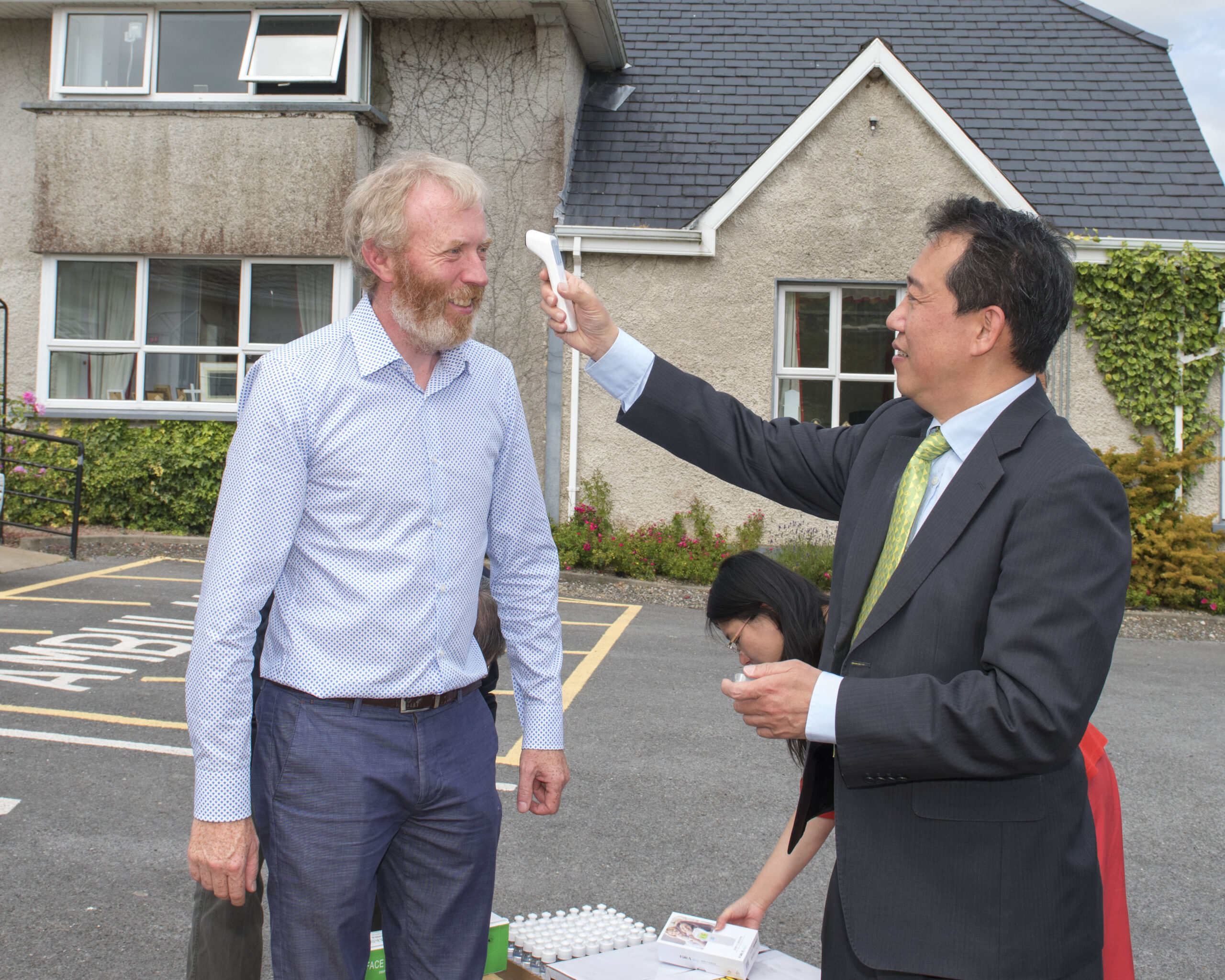 He described the donation as "a return gesture," and one which was done in appreciation for Dooley travelling to Taiwan in the past decade to "see how the country operates" when approached by diplomats.
Taiwanese Ambassador to Ireland, Dr Pierre Yang and Chairperson of the Ireland Taiwan Association, Angel Cheng who last month did a similar deed for Limerick based, Rathfredagh Cheshire Home travelled to Tuamgraney on Monday and were greeted by Timmy Dooley, Cllr Pat Hayes (FF), Chairperson of the Raheen Hospital Support Group, William McLysaght and HSE Director of Nursing, Catherine Lillis.