A healthy cafe/restaurant serving smallplates and tapas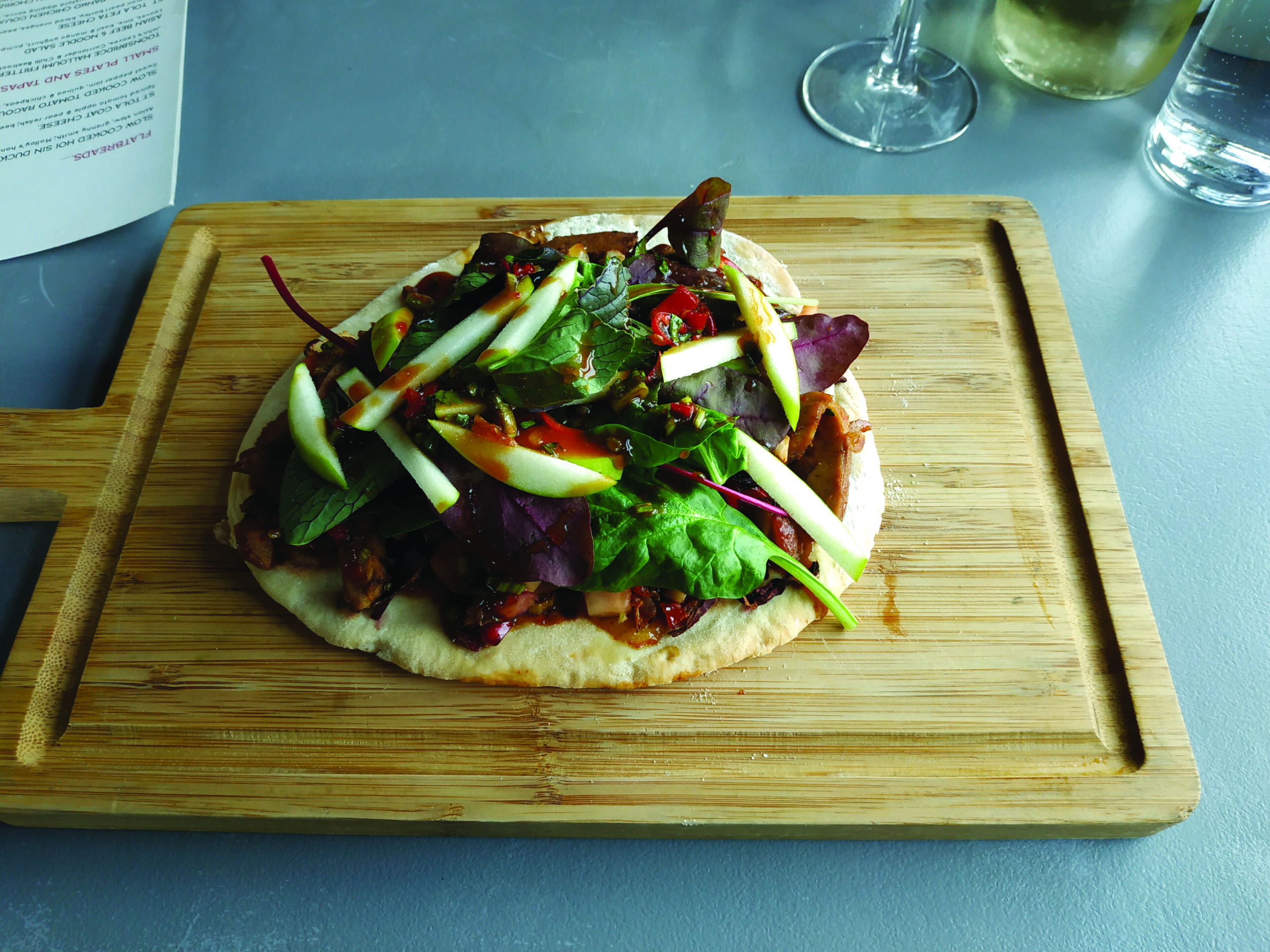 Hiding in the friary car park in Ennis SweetnGreen are a family run healthy cafe and restaurant with a twist. Sweet n Green by day are a healthy cafe offering healthy, tasty breakfast and lunch as well as some delicious deserts, hence the name. Friday and Saturdays however offer a little extra. Evening elegant small plates and tapas with amazing craft wine and homemade desserts that are to die for.
Being my first time in Sweet n Green I was surprised at just how big the restaurant is. Arriving at roughly 7pm, Sweet n Green had some traffic flowing in and as we were informed it can fill up quite quickly on a Friday or Saturday, so it is important of course to always book ahead. At reception we were greeted by Siobhán who owns the café/restaurant along with her husband who is head chef. The staff were extremely friendly and ran through everything on the menu which was very helpful.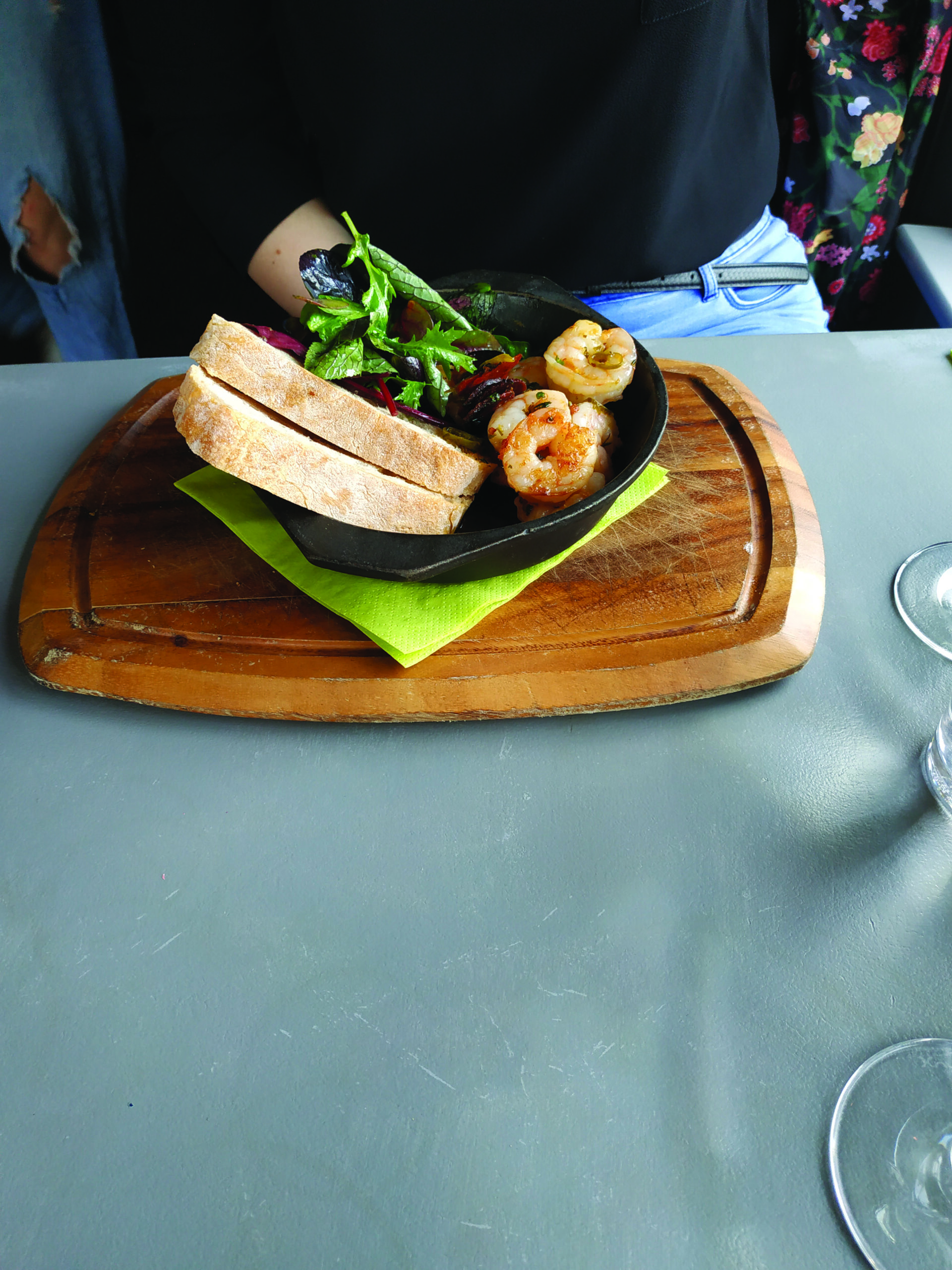 The menu has an array of flatbreads and small plates to choose from such as slow cooked Hoi Sin duck and buttermilk panko chicken goujons. All ingredients are healthy and locally sourced that will be sure to tick the box for your weekend eat out. You also won't go thirsty with Sweet n Green offering some amazing craft wine from different regions every week, non-alcoholic beer and wines are also on offer. The small plates are a great way to taste and chat, so this would make for a perfect place for a group get-together.
The dishes I tasted were the slow cooked Hoi Sin duck flatbread, Thai green coconut basil celeriac curry with Monkfish and sautéed prawns and cubeen chorizo on sourdough bread. Wow, were we impressed.
Flatbread was crisp and had a snap like a pizza base which was topped with the slow roasted tender duck and was drizzled with the sweet Hoi sin sauce. The fresh salad popped with citrus notes from the shears of apple and pomegranate. As duck is my favourite meat, I was of course in heaven with this meal and would most definitely order it again.
The second plate we ordered was fresh sautéed prawns coated in cubeen chorizo oil. The fresh prawns were cooked perfectly and accompanied with chorizo, you can't go wrong. The chorizo gave a nice salty contrast to the sweetness of the prawns. The homemade sourdough was perfect to tear, share and dip flavours left from the prawn and chorizo oil.
Two essentially very simple dishes but when done properly with fresh ingredients can produce great depths of flavour.
Dish of the Day: Thai green coconut basil and celeriac curry with Monkfish
My dish of the day is definitely the Monkfish Thai curry. This dish tastes as good as it sounds. While a lot of Thai curries typically use quite a bit of coconut milk and this can often drown out the primary flavours of the curry created by the paste. However this curry is different. While the taste of coconut is present the curry focuses more on bringing out the other Thai flavours as well as the basil and celeriac more without an overwhelming taste of coconut. While you can have the veggie option we opted to add the monkfish which any fish fan knows is such a great and meaty fish. The monkfish was very delicate and sweet which in my opinion added so much more to this already tasty dish. This curry is sure to hit the spot with anyone that is a fan of curry so make sure to give it a try.
I would recommend anyone thinking of dining out in Sweet n Green to go for it. You will not be disappointed but remember to book in advance for Friday and Saturday evenings. Even if you are popping in for a spot of lunch or grabbing a healthy snack and coffee on the go, Sweet n Green really does have you covered.