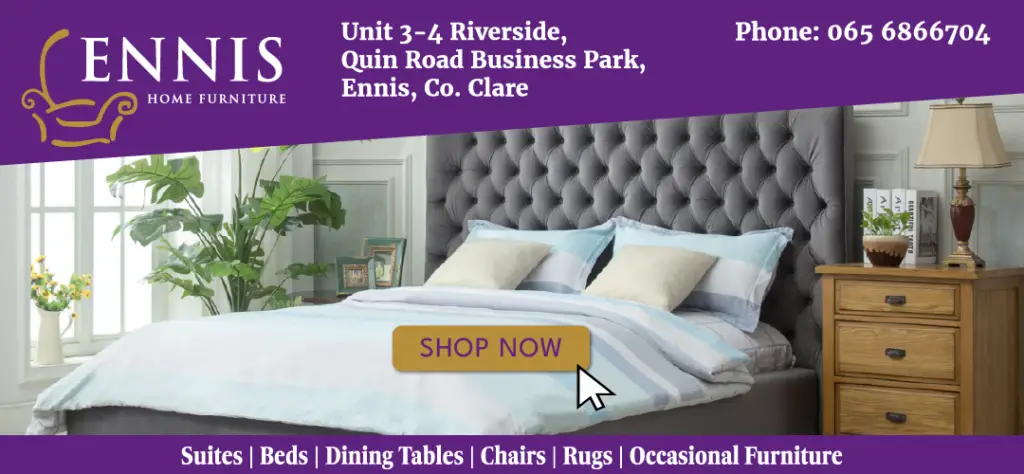 *O'Currys' determination was to the fore as they reached the semi-finals. Photograph: Gerard O'Neill
The race for the intermediate football championship title is down to the last four with two of the favourites eliminated over the weekend.
Kilrush Shamrocks who were relegated from senior last year were among one of the favourites for this year's intermediate title but they bit the dust on Sunday when O'Currys scored a three point win.
Another of the fancied sides for the title, Kildysart were put to the pin of their collar to progress, winning in a sudden death penalty shoot out against their neighbours Shannon Gaels.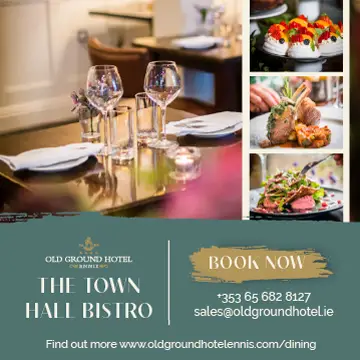 Wolfe Tones who were also highly fancied to progress to the semi-finals, bowed out on Saturday afternoon when they went under to Ennistymon.
Cooraclare and Kildysart who were also among the early favourites survived stiff tests.
Monday's draw pitted Cooraclare against Ennistymon and Kildysart versus O'Currys.
Kildysart prevail after sudden death penalty shoot out
Kildysart 0-13
Shannon Gaels 0-13
(Kildysart won 5-4 on penalties)
Venue: Lissycasey
The outcome of this meeting of Shannon Estuary neighbours Kildysart and Shannon Gaels was in doubt right to the final whistle.
The lead changed hands on a number of occasions in a tie which went all the way to a sudden death penalty shoot out.
Inter county man Emmett McMahon proved to be the winner's hero when he scored from the spot for a second time to seal their passage to the semi-finals but spare a thought for Shannon Gaels who looked likely winners for much of this tie.
Veteran David Neylon stepped up from junior B to line out in goals for the Gaels, taking over from Michael O'Donoghue who missed the tie due to a family bereavement. Neylon played his part in an exciting contest making some excellent saves both in normal time and in the penalty shoot out.
Kildysart led by the minimum at half time when the score was 0-4 to 0-3 before the Gaels looked to be heading for victory when they held a two point advantage towards the end of normal time. Kildysart got the last two points to tie up the contest at 0-9 each and sent the game to extra time.
Shannon Gaels again opened a two point lead in extra time but, again, Kildysart finished strongly to level at 0-13 each and force the game into a penalty shoot out.
Aaron Malone Smyth was first up for the Gaels but his effort was saved.
Fergal Kenny, Tomas Cleary, Darragh Bohannon and Eoin Keane scored for the Gaels while Luke McGrath, Rory McMahon, Conor Hassett and Emmett McMahon hit the target for Kildysart but Brian Eyers' saw his effort saved leaving the sides tied at 4 each at the end of the regulation 5 penalties.
In the sudden death shoot out Aaron Malone Smyth saw his effort saved while Emmett McMahon converted to send Kildysart through to the last four.
Kildysart: Conor Cusack; Mikey Eustace, Brian Eyers, Stevie Sheehan; Fergal Guinnane, Kieran Leahy, Rory McMahon; Keith O'Connor, Kieran O'Brien; Seamus Casey, Luke McGrath, Oisin Coyle; Conor Hassett, Emmett McMahon, Jamie Evans;
Subs: Ian Flanagan for Coyle; Coyle for Sheehan; Ryan Casey for Flanagan; Keith Murphy for Hassett;
Shannon Gaels; David Neylon; Tadhg Kelly, Jack Reidy, Eoin Keane; Tomas Cleary, Matthew Reidy, Aaron Malone Smyth; Darragh Bohannon, Darren Crehan; Barry Crehan, Thomas Kelly, Michael O'Malley; Fergal Kenny, Dylan Kenny, Gearoid Kenny;
Subs: Tom O'Gorman for G. Kenny; Thomas Kenny for D. Kenny
Referee: Pat Keane (Lissycasey)
O'Curry's take control in final quarter
O'Currys 3-12
Kilrush 3-9
Venue: Shanahan McNamara Memorial Park, Doonbeg
O'Currys caused a shock when they overcame a hotly fancied Kilrush side in Doonbeg on Sunday afternoon.
While the winners emerged as deserving victors on the day, Gearoid O'Brien's absence through suspension was a huge blow to their hopes.
At the end of an evenly contested first half the sides retired on level terms at 1-5 each the goals having come from Sean Murphy for the winners and Liam Madigan whose penalty was saved but he followed up to score from the rebound.
The teams continued to be evenly matched in the third quarter before a scrambled goal gave the winners an edge and they quickly opened a five point lead.
Kilrush pulled a goal back through Keith Crowley but O'Curry's responded with a like score from Seamus Keane.
Kilrush threw caution to the wind in the closing minutes and they had a goal from Niall Brennan but it wasn't enough and O'Currys held on for a merited victory.
O'Currys: Eoin Troy; Darragh Keane, Michael O'Shea, Stephen Kelly; Seamus Keane, Sean Haugh, Eoin Brew; Cathal Downes, Thomas Clancy; Sean Murphy, Michael Foran, Jim Marrinan; Danny Downes, Geroid Lynch, Shane Browne;
Subs: Ian Roche for S. Murphy; Patrick Clancy for G. Lynch
Kilrush Shamrocks: Thomas Moloney; Sean Purtill, Cathal McMahon, Niall Brennan; Sean Canny, Sean Madigan, Kieran Bermingham; Don O'Driscoll, Ewan Kelly; Liam Madigan, Dylan O'Brien, Ross Phelan; Cathal Carigg, Stephen Ryan, Keith Crowley;
Subs: Billy Clancy for Carigg; Mark Shannon for S. Madigan; Ewan Power for C. McMahon;
Referee: John O'Connell (Cooraclare)
Ennistymon lay foundation in opening half
Ennistymon 1-10
Wolfe Tones 1-7
Venue: Cusack Park, Ennis
Ennistymon laid the foundation for this victory over a fancied Wolfe Tones outfit in the opening half when they built up a seven point lead at Cusack Park on Saturday.
Leading 1-8 to 0-4 at the halfway point, they were in a strong position and while they only managed to add 0-2 to their first half tally in the second period they held firm against a Wolfe Tones outfit that battled hard to the finish.
Niall Canavan and Danny Rouine were the chief scorers for the North Clare side with Canavan striking for their goal.
To their credit Wolfe Tones battled hard in the second half when Darragh Lohan struck for their goal in a tie in which their top scorer was Billy Connors with 0-5.
In the end Ennistymon's mix of youth and experience emerged with a deserving victory with Josh Ryan and Cathal McConigley doing well along with Canavan and Rouine.
Ennistymon: Darren Torpey; Cathal Frawley, Lawrence Healy, Dara Rouine; Niall Hogan, Brian McNamara, Ciaran Vaughan; Michael Houlihan, Josh Ryan; Eanna Rouine, Cathal McConigley, Darren McNamara; Niall Canavan, Danny Rouine, Joe Dowling;
Subs: Rory Murphy for E. Rouine; Shane Kearney for Dowling; Micheal Vaughan for C. Vaughan;
Wolfe Tones: Shane Russell; Aaron Kelly, Jayme O'Sullivan, Shane Nihill; Eoghan Casey, Aaron Brennan, Jason McAuley; Dean Devanney, Darragh Lohan; Jack Ryan, Chris Dunning, Cian O'Rourke; Daithi Lohan, Billy Connors, Darragh Leahy;
Subs: Sean Brennan for A. Brennan; Brian Murphy for McAuley; Ben O'Neill for O'Rourke; Liam Murphy for Ryan; Craig Rordan for Dunning;
Referee: Barry Kelly (St Joseph's Miltown)
Favourites Cooraclare a step closer to a return to senior ranks
Cooraclare 0-12
Naomh Eoin 1-6
Venue: Shanahan McNamara Memorial Park, Doonbeg
Strong favourites Cooraclare were made to fight all the way by Naomh Eoin in this intermediate championship quarter final tie played at Shanahan-McNamara park in Doonbeg on Sunday afternoon.
Rank outsiders Naomh Eoin had the hot favourites worried for much of the tie in which the game's only goal came from Gavin Magner.
Cooraclare were boosted by the availability of US based Sean 'Yank' O'Donoghue who lined out at midfield for his first game in this season's championship.
Cooraclare's greater experience proved decisive in a tie in which they led by three points at half time, 0-8 to 1-2, a margin they held to the end.
However they will be disappointed with their big number of misses chances, particularly in the second half when their wides ran into double figures.
Naomh Eoin, it must be said, were also guilty of some misses in a tie in which the greater experience of Cooraclare was evident.
Michael Garry contributed 0-4 of his side's tally while James Chambers, Jack Morrissey and Ciaran O'Donoghue were amongst the scorers.
Cooraclare: Mark Lillis; Gary Donnellan, Gearoid Looney, Niall Kelly; Ronan Donnellan, Pearse Lillis, Micheal Garry; Sean O'Donoghue, James Chambers; Padraic O'Donoghue, Brian McNamara, Damian Burke; Ciaran O'Donoghue, Jack Morrissey, Eoin O'Driscoll;
Subs: Keith Marrinan for R. Donnellan; Mark Tubridy for Morrissey; Caoimhin Donnellan for E. O'Driscoll; Sean Browne for P.O'Donoghue;
Naomh Eoin; Sean Roche; Declan Keniry, Sean Bonfil, Conor Tevlin; Tomas Bonfil, Mark McQuaid, Odhran Lynch; Conor Downes, Gavin Magner; Fergal Keane, Owen Hanrahan, Conor Magner; Niall Bonfil, Seamus Boland, Owen Lynch;
Sub: Michael Liddane for Boland;
Referee: Niall Quinn (St Joseph's Miltown)
Kilfenora survive
Kilfenora will again play at intermediate level next season having sealed their status with a two point win over Coolmeen at Gurteen.
Coolmeen will play Michael Cusacks in two weeks time with the losers of that one dropping down to junior A for next season