ST PATRICK'S COMPREHENSIVE SCHOOL in Shannon are the first school in the country to partake in a new music programme.
Le Chéile Le Ceol: Ar Scoil is an initiative that was created by Damian O'Rourke of Cuppa Tea TV, the Shannon is a past pupil of The Comp. He has adapted the programme to work with schools and young people.
For the first music session of Le Chéile, Damian led a special music circle encouraging young people to show their voice in a safe and comfortable environment. One third year music class performed a selection of their favourite songs with further sessions planned at The Comp. It is hoped that other schools across Clare will express an interest in running the programme with Damien keen to form a collaboration with St Caimin's Community School in Shannon.
Damian explained, "Le Chéile Le Ceol is a music circle session I started in the courtyard of Hotel Doolin near the end of the summer this year as a once off to bring people together through music, sit in a circle and play an instrument, sing a song or recite a poem". It was then added to the schedule at the Doolin Folk Festival in September, "the seating was in a square formation at this which brought about the name music 'Squircle' (square and circle)".
After a number of sessions, Damian felt it would be a worthwhile exercise to conduct with young music makers. "Where better to start this only at my old secondary school St. Patrick's Comprehensive School, Shannon. After a quick chat with Jacquie Murphy at The Comp, the wheels were set in motion and a date arranged with the help of Jacquie, Ciara and Marguerite. Le Chéile Le Ceol Ar Scoil was born".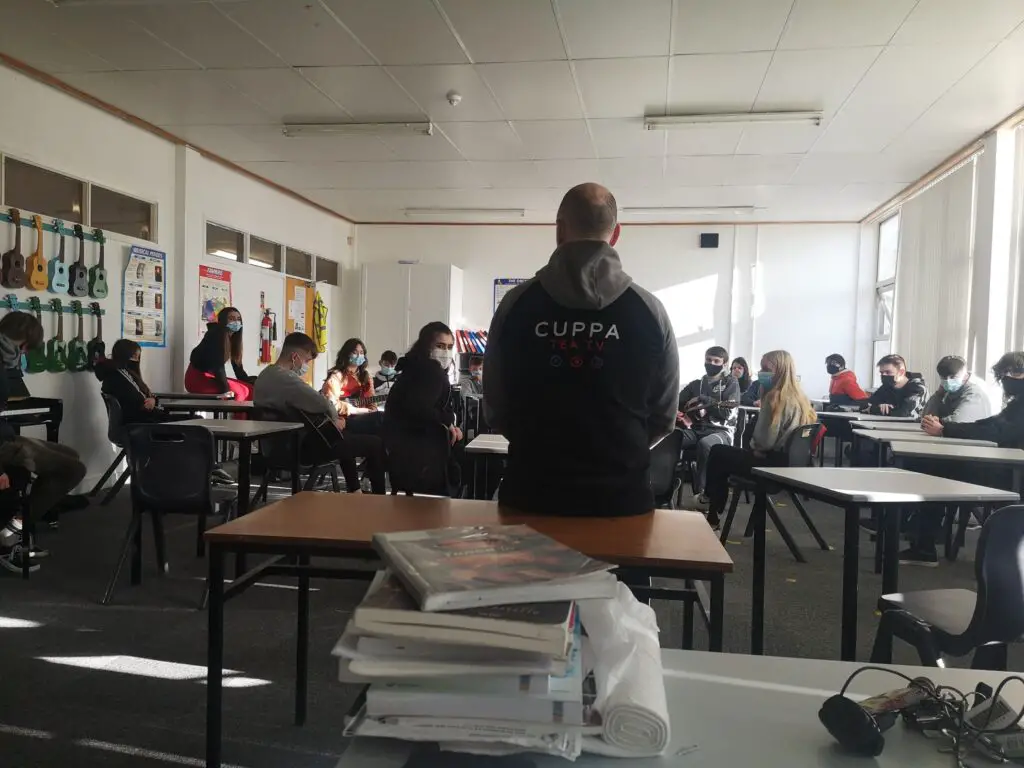 Music teacher, Ciara Golden expressed their delight at working with Damian once again having previously done so for the Youth in Music project. "The most important element of this project for me as a teacher is to see students, who might struggle with confidence or who might not usually feel comfortable standing in front of crowd, shine musically in this 'Squircle'. Going forward, we hope to work on having the 'Squricle' as part of our school community and being a part of our school's Wellbeing Programme.We really look forward to continuing on this wonderful initiative into the future and hope that it will become a part of our wonderful music culture here in The Comp".
"We are so proud to be the first school to take part in Le Chéile Le Ceol. Music has always had a special part of The Comp and to be able to welcome a past pupil back to lead this makes it even more special," teacher Jacquie Murphy noted.