In the past nine decades, Kilrush has seen businesses open and close, recessions come and go, speed limits go up and down but it fits the narrative of the market town having something special according to Patrick Bourke.
Bourke's Menswear in their ninety one years at Kilrush and twenty five in Ennis have shaped and tailored many special days for the people of the county and beyond. Patrick joined the family business in 1974 creating the third generation layer to it's history, changes down through the years can be equated to the varying situation at Moneypoint.
"I've seen many changes over the year from it being the typical rural town then becoming industrialised with Moneypoint and the maturity of Moneypoint and now the cutbacks in Moneypoint will bring changes again. It was predominantly a farming background to the business in town over the years and that changed a little bit, working people became more prevalent and on top of that tourism has improved so it had huge strings to its bow over the last couple of years. Through the recession things ebbed and flowed but they've been coming on very strong in the last two to three years so with a bit of luck that strength will continue".
West Coast Aqua Park in his view has provided a lift for the area and he's amazed with the level of work done by the Kilrush Tidy Towns annually. For Kilrush businesses, Bourke maintained the summer season in Kilkee and ferry traffic are priceless. "As the ferry traffic passes through it or the people from Kilkee come down shopping that gives it a twin spike, it gives it a spike in the summer time and then there is a local spike at Christmas. If you look at a lot of the towns, they don't have one or the other or any of those spikes. That in itself is helping Kilrush massively. A lot of business people in the town don't realise that. We have customers in the shop that come in year in year out to us because they know we have value in the summer time for the sale, if there's a wet day in Kilkee 'what will I do I'll go down shopping to Bourke's, I'll buy a pair of trousers or shoes', we make it attractive enough in terms of price that they find it hard to resist not buying, you have to tempt them into it".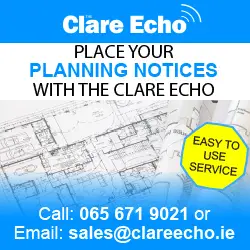 Appreciating the offering of West Clare is nothing new for the former Kilrush Community School pupil, of the fifty five students that graduated from his year, he was one of seven that opted to stay in this part of the county. "As a young fella I probably didn't realise what was keeping me in West Clare, the family business was one thing, I always had an interest in that, I'm behind the counter since I was seven years old so that's a total of fifty five years now. As the years went by and you began to appreciate what we had, I realised it was the best decision I could have ever made, we had everything going well for us in West Clare, the education system was good, the farming community was doing well, we didn't have crime, drugs or anything like that on the go at the time, on the overall scheme of things West Clare is a very good place to live and set up a business or family," he told The Clare Echo.
Married to Imelda who herself runs The Pantry in Kilkee, the couple employ fifty people between them. His time in business has been a roller-coaster as they successfully dealt with every setback that came their way. "I've seen three recessions in my business lifetime, we were in the middle of one when I left school in the 70s, emigration was rife and industrialisation in West Clare was non-existent, farming was only beginning to spring to life. Then we had one in the mid to late 80s, because Moneypoint was in full swing at that time that definitely cushioned us from that blow. The last one from 2007 until 2013 that hit West Clare badly that particular one, it hit farming and businesses badly, I think what maybe saved a lot of businesses is they were family owned and family run and were able to withstand the crash".
Through this, Bourke and his team have still managed to carve out unique ideas for a clothing store including the release of a documentary, barbers in the basement and the world sliotar challenge. These campaigns differ on whether they were moments of inspiration or madness, the challenge stemming from Clare's 2013 success when he placed an order for 4,000 sliotars with the expectation further All-Ireland glory would follow, it never did and led to the creation of a social media competition which saw their brand photographed at some of the world's most iconic sights. Such ideas are among the reasons why the received a Retail Excellence Award in October.
While Bourke's Menswear have made men of the county look their best on big days, West Clare has helped make Patrick the successful businessman that he is. Though he recommended setting up shop in Kilrush in 2019, previous experience is a must-have. "Working for somebody and working for yourself are entirely different things. You're talking about Premier League to Europa League, a different skill completely. When you're working for yourself you have to put in a lot of extra time and effort which some people don't realise, you never sleep being your own boss. When you wake at 5 in the morning something comes into your head, when you go into bed at 11pm something goes into your head about the business about the day gone by or the following day. The complexities of business aren't as simple as they used to be".