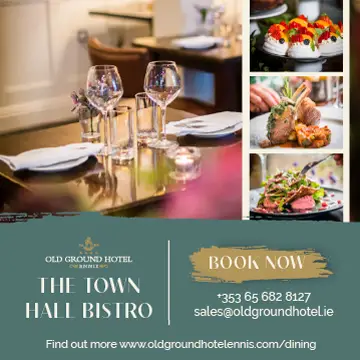 Martin Daly GAA ANALYSIS
DIVISION 2 footballers couldn't be blamed for suffering whiplash – one minute they're looking up the table hopefully and the next they're looking over their shoulder in fear of the drop to Division 3. The fine margins between promotion hunters and relegation battlers became a bit clearer at the weekend and Clare, following defeat on a tight pitch at Newbridge, found themselves in the second grouping. It doesn't look unlikely now that two Munster sides will be relegated, it's just a matter of which two. Last year the Banner men blew hot and cold and the trend appears to be repeating itself – even when you take into account that Kildare are admittedly a step above Cork and Armagh. I believe this Clare side is a better version of its 2018 self, so what needs to be addressed? To start with, decision-making was at an all-season low on Sunday and it led to an incredibly poor first half. There were examples all over the park – but it is fixable. Systematically, Clare are in a good place.
We work well as a defensive unit, generate plenty of possession in midfield and we certainly exposed Kildare a few times. But all that's no good if players are having brain farts, or at least failing to make the correct decisions when coming under a bit of pressure. Cian O'Dea has a savage work ethic and does so many things right but his distribution was sloppy in Newbridge. He wasn't the only one rushing passes and it seemed Kildare were celebrating a score every time we coughed up possession. Goalie Pierce DeLoughrey won't have fond memories of Kildare's goal, which came courtesy of a penalty after a loose kickout was plucked by Kildare's corner forward. A backtracking Gordon Kelly was forced to pull him down in the square, which left us a goal down and a man down for 10 minutes when Kelly was black-carded. At the other end of the field we missed two glorious goal chances, including a Jamie Malone one-on-one with the keeper.
Keelan Sexton – who I have a lot of time for – was taken off at half time after he tried to kick a few scores into the wind off his bad foot, off balance. One or two of them weren't within 20 yards of going over the bar. Jamie Malone and Gary Brennan were culpible in either soloing the ball into traffic or into a dead end. Management can't do a whole lot about that; the decision-making was poor. The tight pitch and step up in intensity probably led to some of that – but you need to adapt to that. Colm Collins' men certainly should not have been going into the changing room discussing how they would claw back an eight-point deficit at half time. Secondly, much like the Banner hurlers, indiscipline is costing Clare's footballers. I mentioned above that our defensive unit is cohesive and seems to be gelling well. Kevin Harnett's return is a huge boost, Gordon Kelly has been steady, Cillian Brennan is fitting into that fullback role very well, as is Aaron Fitzgerald in centre back. However when we're stretched and forced to man mark, problems emerge. Clare are scoring 16 points per game but are conceeding the same amount, which is the most in the division. Kildare's Fergal Conway did a lot of damage on Sunday because he didn't fit into any zonal system of marking and he pulled us around the field. Dean Ryan was on him for a while and then we put Sean Collins on him. When we're stretched indiscipline can creep in and there isn't a Division 2 team that won't have a free-taker to punish you for that.
Kildare scored four points from frees, along with a mark, and a penalty. But it's not all doom and gloom. I actually believe Clare will beat Fermanagh in Ulster. While Clare are conceeding on average 16 points per game, Fermanagh have leaked on average 6.5 points per game (or 8.75 when you include goals). It's astoundingly low, which is the result you get when you multiply the Donegal style of football by 10. They're super defensive, very disciplined and obviously very good at it. But they don't score much either (10 points on average this campaign) and I actually think Fermanagh will suit Clare. They play very deep, get everyone behind the ball, it's a very slow tempo game – so you need to find a gap. With the likes of Jamie Malone (who did go on to have a very good second half in Kildare with five scores from play), David Tubridy, and Eoin Cleary who is just coming back to match fitness, Clare are well capable of getting 12 or 13 scores against Fermanagh and that will be enough to beat them. We might just need to, as I wouldn't like to be going to Tipperary on the last day looking for a result to keep us in Division 2.