A "proper housing stock" is needed to cater for persons with disabilities throughout Co Clare, a meeting of the Ennis Municipal District has heard.
Two universally accessible units are included in the eight unit housing development in Roslevan led by Clare County Council.
€727,544.24 was spent in 2020 to facilitate works to 104 homes to accommodate need. This includes the 23 grants that have been paid for adaptations to Local Authority Homes in the Ennis area to a value of €155,000, senior executive officer in the Council's housing section, Siobhán McNulty confirmed.
Generally the Department of Housing, Local Government and Heritage will fund up to 10% of a new scheme for universally accessible units.
Phase Two of the Cuan an Chláir scheme was "imminently due for completion," she advised, this will accommodate 15 households over the age of 65.
Quarterly meetings of the Housing & Disability Steering Group are held. This is led by the Council and discusses and "prioritise accommodation for persons with disabilities," McNulty stated. "For new schemes properties designed to universal design standards will accommodate most tenants and individual need can be accommodated at allocation stage".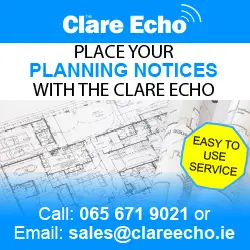 Properties are not allocated by the local authority until they are ready for occupation. An 'offer window' provides notice to the client of the proposed allocation and gives six months for arrangements to be put in place to support independent living.
She outlined, "For clients with needs that cannot be accommodated within the universal design i.e. where hoists are required we do consult with the client and medical team to deliver the accommodation necessary for independent living". Consultation in this regard is generally held between the client, the Approved Housing Body and the HSE.
Cllr Ann Norton (IND) had requested detail on the amount of houses in the Council's housing stock that had been adapted for persons with disabilities and how many new builds were constructed specifically with adaptations. She described the response from McNulty as "quite positive". Her proposal was seconded by Cllr Mark Nestor (FF).
"As we know for the last number of years there is a number of young people with disabilities living in nursing homes because of a lack of suitable accommodation," the co-founder of the Clare Crusaders Clinic noted. She was critical of her omission from the steering group.
Six months was not sufficient to notify a person that there was a possibility of them obtaining a house, the Barefield representative felt. She said the Council were not allocating houses until the unit was ready, "a number of people with disabilities need certain adaptations and would need to get into the house while it is being built".
Norton continued, "When you have a list, you know who the people are and the disabilities they have, it is something going into 2021 that we need to change the policy that is there and start working with the individuals, not every person is connected to the Brothers of Charity and Enable Ireland, we need to work on making sure that people are getting the best quality care. Not everybody is able to walk, we need proper housing stock to be able to accommodate them".