St Michaels Villas "is neglected and forgotten about," one of Ennis' six elected representatives has stated.
Speaking at the September meeting of the Ennis Municipal District, Cllr Clare Colleran Molloy tabled a motion seeking the green area, road and paths be addressed describing them as "neglected" and "long in need of attention".
Eamon O'Dea, senior executive engineer within the Ennis MD confirmed they still have outline drawings from a previous examination of the open space which can be reviewed and brought before councillors. "A means of funding this work and similar projects to this work needs to be identified for works to proceed following public consultation process".
During her canvass for the local elections, Cllr Colleran Molloy saw the "poor condition" of the estate which first opened in 1953. "It seems to me to be neglected and forgotten about, that is not fair. We need to put St Michaels Villas up on the pecking order, it has long been on the bottom. When can we start looking at St Michaels Villas as an area of our town that deserves attention," the Fianna Fáil representative commented.
"I brought this up many times during the years even back in the old Town Council days," Cllr Mary Howard remarked. She felt there is "serious issues with parking and the green is too big". She estimated, "In order to go and do work on the green and increase parking space, we're looking at something like €80,000 which at the time we didn't have. It is a shame to see because a lot of the residents are older".
Parnell St native, Cllr Pat Daly described St Michaels Villas as "a lovely old townie area of the town". "It has been neglected for the past twenty years, the roads and footpaths need to be upgraded," the Fianna Fáil councillor first elected in 1999 said. He praised "the very active development group" that is aiming to bring improvements to the area.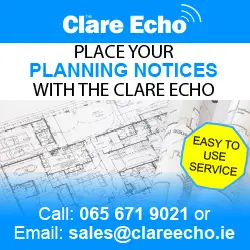 Mayor of Ennis, Cllr Johnny Flynn suggested the drawings come before a briefing of the MD. Council engineer, Ian Chaplin flagged that there "would be quite an expense involved" for any works and recalled the issues at the time of the drawings were parking related, "Unless funding is identified it would be difficult to advance".