'Honest' John Purcell will be remembered as a hero of the past when PJ Purcell, grand-nephew of John, will act as one of the Grand Marshals at the St. Patrick's Day Parade in Ennis.
Deciding to honour Purcell's memory in such a fashion follows a suggestion from the Mayor of the Ennis Municipal District, Cllr Clare Colleran Molloy (FF).
Born in May 1860 in Ballymaley, Barefield, John Purcell is regarded as one of the world's greatest all-round track and field athlete during the 1880s. He competed for three athletic clubs in the Dublin area, the Metropolitan Hurling Club, the Civil Service Harriers Athletic Club and the Haddington Harriers Athletic Club before emigrating to the USA in 1888 and continuing his career there with the famous San Francisco Olympic Athletic Club.
He was a versatile athlete, competing in the hurdles, sprints, long jump and steeplechase among others, with the hop step and jump (triple jump) being his premier event.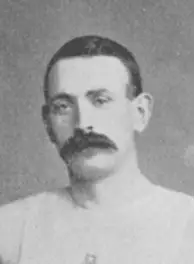 An American Report selecting the top 10 greatest athletes of the decades up to the 1990s listed John Purcell at Number 9 for the decade of the 1880s. In the records for the various decades, names such as Babe Ruth, Don Bradman, Bob Fitzsimons, Jesse Owens, Joe Louis and Michael Jordan are mentioned. John Purcell was ranked with the very best and the Clare Journal once described him as "an Athlete of whom Clare is proud".
It is understood that John earned the title 'Honest' John Purcell due to the high standard he imposed on himself, frequently requesting that record-worthy distances achieved would not be officially recorded, in one case questioning whether there was a downhill slope on the approach. John was his own worst critic and quickly earned himself the moniker 'Honest' John.
In July 1888, he set the Pacific Coast record for the shot put. He set world records in the long jump at 7.3025 m (23 ' 11.5"), recorded in Monasterevan on 29th August 1886 and triple jump at 15.12 m (49 ' 7.5") recorded in Cork on 7th May 1887.
John married Mary Emily Higgins in New York in 1888 and they had a family of four children. He died tragically in early 1904 and is buried in St Mary's Cemetery in Oakland, San Francisco.
Efforts continue locally to enhance the current memorial to Honest John at Lees Rd where the athletics track is dedicated to his memory. In parallel, a book is being prepared by Seamus O'Sullivan on the achievements of 'Honest' John Purcell. The aim is to have the book launch at the athletics track where a more visible dedication to the World Champion would be installed.