*Pictured is well-known broadcaster Marie Crowe at Aviva Ireland's new community garden which officially opened to the public.
MARIE CROWE IS ONE OF the top voices and faces when it comes to sports broadcasting in Ireland presently but its her upbringing in Sixmilebridge that she credits for instilling her passion and love of the games.
Since October 2019, Marie has been fronting RTÉ 2FM's flagship sports show Game On which airs weekdays at 6pm. It has brought her to an audience across the country but since she dipped her toes in the world of journalism in 2008, she has dived straight into the national sphere.
Sport is part of the daily diet for the former St Caimin's Community School student with her consumption of the latest news via multiple means described as "a way of life" while at home with her husband Billy Sheehan and their three sons. She told The Clare Echo "Even if I wasn't working I'd be doing it anyway, when you're coming from a sporting background and family, it's all you know, it's your water cooler chat. What I talk about when I ring home is how Sixmilebridge and Clare are getting on, who's going to be the next minor manager or whatever it is, it's a larger scale of that. Billy my husband is mad into sports and the kids are, the boys come home from school and ask will Haaland be coming over when Ireland play Norway, our conversations are what I'm doing for work anyway".
It comes as no surprise given her upbringing with her father Tim well known in sporting circles. Sport was always dissected at the table with her mother Bernie's iconic Apple Tart also regularly served up. "It's funny when you're in the press box or at a press conference, you will always hear people say 'you can't say where you're from' or you can't wear your jersey not that I wear the jersey but figuratively wear the jersey, I can't help that I'm from Clare or Sixmilebridge or that I absolutely love Clare hurling and Sixmilebridge because that's what I grew up on and was raised on, if I didn't have those experiences of going off to Clare training with Dad, then I wouldn't have had that some love and passion for Clare if I hadn't gone to those All-Irelands in Clare in 1995 or 1997 or following Sixmilebridge on their All-Ireland club final journey or have the love or passion, I'm so proud of being from Clare and Sixmilebridge and having had all those experiences and values instilled in me because we were surrounded by sport which was the backbone of our family, it makes me the person that I am and I'm really proud of that".
It was the way for Marie and her siblings Sinead, Cyril, Flora, Josephine, Bernadette and Timmy so there's little surprise that this has continued for her own sons, Timmy, Billy and Davie. "They love it, they're very aware of the fact that we love sport too, they don't know any different, they play loads, their friends play and they're out in the garden before school and after school, I need to get them hurling a little bit more that's my only issue, they absolutely love it. Billy coaches the Laois senior football team, they know that too and they're always very aware of results and how things are going, it's normal life for us. Billy training the team, me playing, them playing, that is our normality, it's what we do and the way we live, it was the way I lived as a kid and Billy lived. We went off training with Dad when he was training teams, if he went playing indoor soccer in UL we'd go with him, we'd go to The Irish Open with him, Munster rugby games, we had the same life as kids and hopefully it will serve our kids as well as it served us too".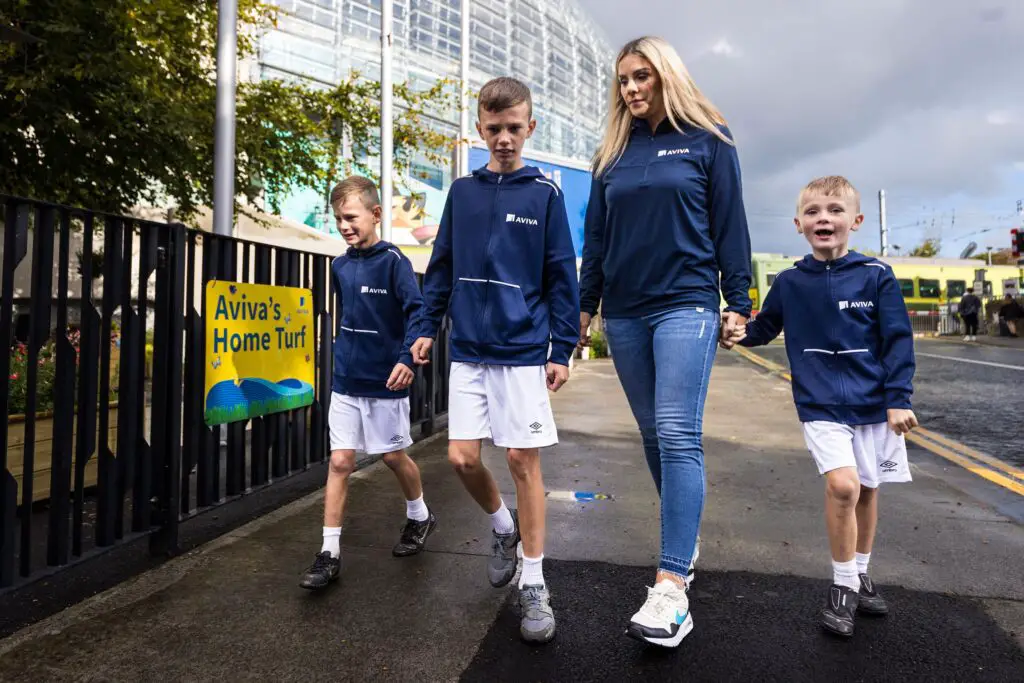 Crowe Park is getting used to hosting some fierce contests between the Crowe grand-children with Marie earmarking Liam McMahon of Kilmaley as the grandchild to watch. "Liam is a pretty special little hurler, he has the stand and the strut, from when he was young he just got the skills and skills are really hard to pick up in hurling, he could hit it on the run when he was about four or five into the hand and over the bar, I can only imagine if he keeps going the way he is that he will develop into a really good hurler and he has the physique and genetics with Diarmuid. They also have the competitiveness because he has three younger brothers, Eoin, Tadhg and Daithí, they'd be killing each other in the garden".
In the media sphere, Marie first got the foot in the door with Clare FM and stayed at the local radio station for a brief spell working alongside Colm Flynn, John Cooke, Ross O'Donoghue and Trudy Waters.
What started as work experience with The Sunday Independent resulted in her spending seven years with the title. Landing exclusive interviews and a two page spread with then Tipperary captain Shane McGrath and Ger Loughnane on the week of the 2008 Munster SHC final proved her worth and capability from an early stage.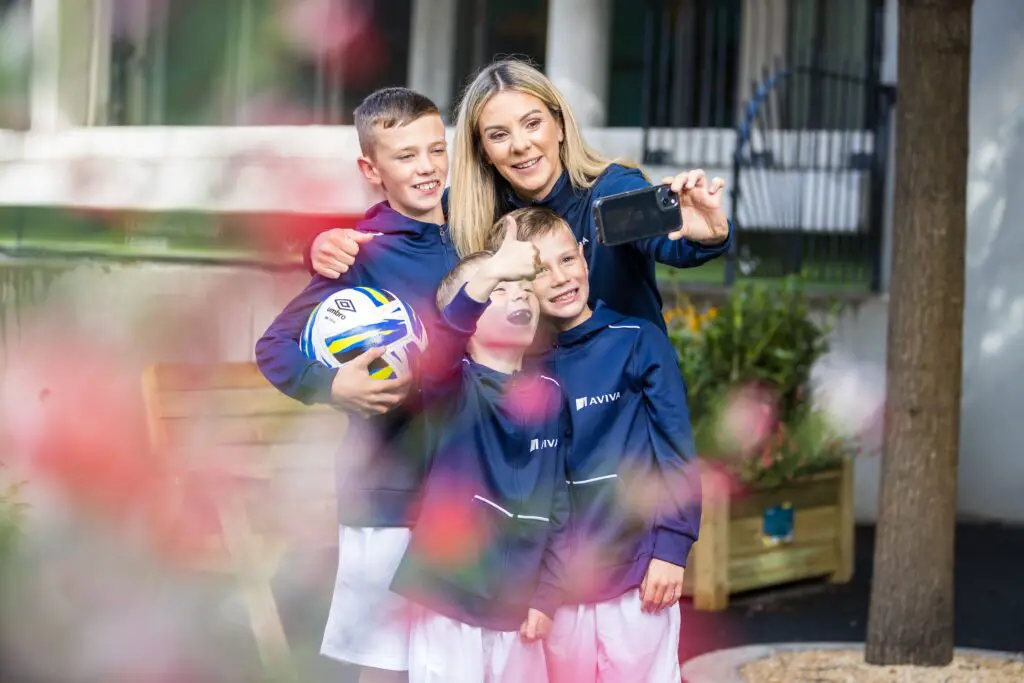 Her knack for getting the exclusive really came to the fore during her time with The Sindo. "You really find out pretty quickly the importance of picking up the phone, having the contacts and knowing people. Dad having been involved in sport and having a big sporting family really helped with knowing people and getting a way in. I remember Kieran Fallon the jockey, he had been in the spotlight a lot and the parish priest in Sixmilebridge, Fr Cotter had encountered him along the way, I wanted to do an interview with Kieran and I got onto the priest in The Bridge and he said I'd put a call in for you, he put in a call and Kieran said 'no problem tell her come over', so I went over to England, he collected me off the plane and I spent the whole day with him, went off to the races in the car with him and just had a brilliant experience from a journalism point of view and I got a great interview, it all came back to knowing people and having that trust and people doing a favour for you. It's different now, you can go into somebody's DMs or go onto their LinkedIn, when I was starting off it was very much connections that really helped".
An opportunity to lead UTV Ireland's sports coverage led to Marie's foray into television but the short-lived station brought with it the first big career setback for the Sixmilebridge woman when its closure was announced in 2017. "It was difficult, I had a baby in September 2018, that was my third baby, I'd three small kids and no job, I had a family to look after, a mortgage to pay and all the rest, I had to freelance so that was pretty hard because with freelancing you're at the behest of everyone else and you don't have a structure or a schedule, you've to do whatever work comes along which can be quite difficult when you have three small kids and trying to organise childcare but it worked out in the end, I think the fact I went through that makes me all the better because I have a job that I love and appreciate all the time. When things get tough at work, I always feel that I'm lucky to have the job because I didn't always have it, I never get sick of it, I appreciate it and I have the structure, I have the childcare and can bring the boys to training, I've a much better outlook because I went through that tough time".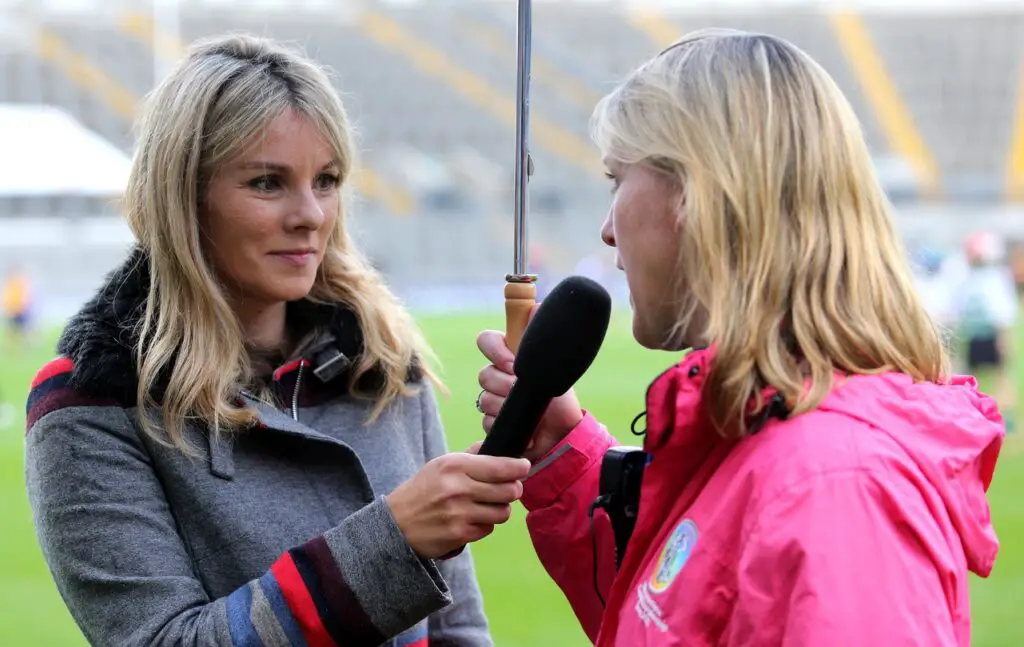 Among the freelancing work she started from here was with RTÉ where she has worked up the ladder to take the reigns of Game On but also anchoring television coverage of camogie, soccer and golf. She credits her newspaper background for stressing the importance of getting exclusive interviews. "Getting the one on one interviews are so important because it sets the agenda, that's the breaking news and that's the story for a Sunday paper that can lead the coverage for the next week if you get a good story, they're not as easy to get now because of all the media management around football and hurling teams, it's a different landscape now so it's quite difficult but it means when you do get them, it's all the sweeter".
Access for such interviews has become a difficulty with Marie's 2017 interview with Clare hurler David McInerney and his father Jim, again on Munster Final week, a rarity given how closed off inter-county set-ups are becoming. "That's the one part that I find the hardest to deal with when it comes to the change in the way things operate now, we can no longer pick up the phone, there's a buffer between everybody, the county teams all have media managers now and you have to go to them, people are almost afraid to give those one on one interviews to show their personality, even in the off season it's not easy to get access to players, I'd love to see it go back to the way it was. If you were to go back to 1995 and 1997, some of the stories that came out about the access then, Vincent Hogan had steak with Ger Loughnane in his house the week of the All-Ireland final, imagine doing that now, it has changed, people are different and there's more apprehension with social media, the control maybe isn't there but I don't think there's any going back".
Crowe's rise in RTÉ has coincided with increased coverage of female's sports across the country. Marie who formerly lined out for St Patrick's Athletic maintained that this exposure can only help the next generation of sporting stars. "I was only talking to my husband recently about this little girl that plays with Shamrock Rovers. My son plays out in the Shamrock Rovers academy and there is a little girl who is about seven, Saoirse Daly is her name and she plays on the U8 boys team, she is really good, I kick about with her when I'm out there, we'd be chatting away and she's doing her keepy uppies, I'd ask her who would she like to play for and she'd say maybe PSG, Lyon or Man City, she can see a career for herself, all power to her and hopefully she will get to do that, I could never see that when I was growing up. If I was starting out my career now with Lifford Ladies unlike when I started I could never see myself going on to play for Arsenal or have a professional athletics career. PE teaching was the job I wanted to do because it was the only sport job that I could see anywhere that women were doing. I love now that girls can go out and play their sport, whether it's Naomi Carroll playing hockey for Ireland or Chloe Morey and the camogie, seeing them on the telly and that they can maybe go on and reach the heights that these girls and women go onto and have professional careers is amazing, it should be that way too".
Also increasing when it comes to broadcasting of games is the amount of female presenters and pundits. "There's definitely opportunities in television and radio for women, I'm not sure in print, if I was to look at the amount of women I see writing now from when I started to now is probably the same whereas I feel there's way more women in broadcasting, television and radio, I don't know if that's a reflection on the print industry or if it's a case that women aren't seeing the Can't See Can't Be in print to follow in someone's footsteps, they might think they have more of a chance of getting a career in broadcasting because there are so much women in it, I don't know the answer to that from a print point of view, there's definitely loads of women in broadcasting which is great to see. I feel it's equal, there's plenty of brilliant men out there, they got opportunities too, I've had loads of opportunities, I've never felt I didn't get an opportunity because of my gender".
Among the most difficult interviews she's conducted was a report for Nationwide on her brother in law, Diarmuid McMahon following a serious concussion injury in 2017. "It was such an emotional time and we didn't know if he was going to be okay, thankfully he came out the other side but I don't think there's been enough of a focus on concussion over the last few years. It's still such a massive worry for people, I don't know if there is enough education around it, we were lucky and Diarmuid was lucky that he has seemed to make a pretty full recovery but it was really tough to see him like that and see the videos of him and the worry of what might have been if his sister Claire wasn't there, in a way he was unlucky but he was really lucky as well, not everyone is going to be as lucky as him if the right education and protocols aren't put into place right across the country in all sports".
Speaking to The Clare Echo as part of Aviva Ireland's launch of a new community garden at the Aviva Stadium, Marie admitted she was of little help when it came to assisting Tim and Bernie in the garden in Sixmilebridge. "There was seven of us, all we did was go and wreck the garden, it was a big garden and they had the goals in it, it was just grass so we'd go out and play football at the time. Mam cut the grass at the time I think, it was definitely not me, it's pretty much a football pitch out the back and there's so many grand-children out there running around and making use of it, that's what you want to have the kids out the back running and playing, making the most of they have, we don't have that in Dublin, we've a small garden and a small house so my lads love going down to the open space and having the big matches with all their cousins".