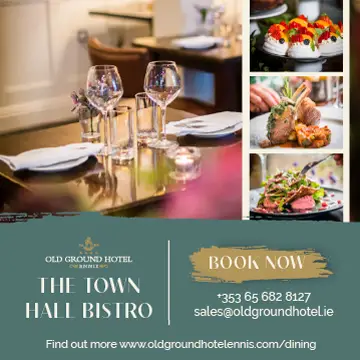 ARRIVAL OF OVER 800 UKRAINIANS to North Clare has strengthened the argument for driver feedback signs on the approach to both Corofin and Ruan.
With over 800 Ukrainians now taking up residence in North Clare, primarily in Lisdoonvarna, the amount of pedestrian activity in the locality has increased with elected representatives keen to see safety considered.
Addition of driver feedback signs on the approach roads to the villages of Ruan and Corofin was sought by Cllr Joe Killeen (FF) before a sitting of the West Clare Municipal District. Senior executive engineer, Enda MacNamara said they would work with Cllr Killeen "to source funding" for the installation of the signs.
Citing the presence of 90 houses in Laghtagoona, the largest housing estate in Corofin, Cllr Killeen pointed to the extent of traffic from this section of North Clare alone. He acknowledged plans to carry out works on the R476 towards Kilnaboy and the crossing in Ruan. "Lots of motorists go through Ruan village when leaving the motorway in Barefield, it has increased the level of traffic on that road".
Slow down signs have had a "big impact" in alerting motorists in Lisdoonvarna to the presence of increased walkers, Cllr Joe Garrihy (FG) noted. "Speed is one of the biggest issues with us all. We're all aware of the excess of 800 people that have arrived into village of Lisdoonvarna".
On the subject of signs, acting senior executive officer, John O'Malley outlined that a countywide tender package is to be prepared for the issue of flashing signs that are no longer functioning properly.