*Cllr Donna McGettigan. Photograph: John Mangan
Landowners are to be issued with a reminder to maintain hedges and vegetation on their lands in the interests of health and safety.
Increased levels of walking in the Shannon Municipal District during the COVID-19 restrictions have led to councillors such as Donna McGettigan (SF) receiving reports from the public that some areas under private property are poorly maintained and subsequently causing pedestrians to move from footpaths onto the road when out walking.
She requested the Shannon MD issue a reminder to landowners and occupiers of land "to take all reasonable care to ensure that trees, hedges and other vegetation growing on their lands are not or could not become a danger to people using or working on the public road".
Complaints have been made in Shannon where individuals have been forced to walk on the road due to overhanging hedges and vegetation, McGettigan outlined. "This has become more noticeable during social distancing while out walking". She believed that "people need to know the onus is on them rather than going in heavy handed".
As per section 70 of the 1993 Roads Act, hedge cutting of the boundaries along the road edge is the responsibility of each landowner, senior executive engineer, Aidan O'Rourke stated. The transportation section of the Council will be requested to consider running another advertising campaign on the subject at the end of bird nesting season.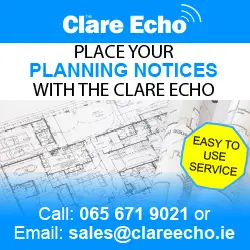 Council staff "have supported the removal of vegetation in some ways when they are blocking pathways," Cllr Gerry Flynn (IND) told the meeting. Cllr PJ Ryan (IND) pointed out that insurance does not cover a farmer to carry out work of this nature from a public road.