A PAIR of old jocks, a bottle of fancy shampoo and the classic phone charger are all regular finds by hotel accommodation staff.
We reckon the staff at an East Clare B&B must have gotten the shock of their lives when they discovered a snake, yes, a snake, left behind by one of their guests.
Clare County Dog Warden Frankie Coote was on hand to remove the corn snake from the property and she has since been taken in by Sam Ryan.
"She is hungry but other than that she is perfectly fine. She's happy, she's well handled, there's no strike in her at all. She's a little bit light and cold but other than that she's coming on already," Sam said.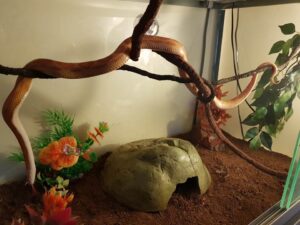 The snake is amelanistic (amel), which is a pigmentation abnormality characterized by the lack of pigments called melanins.
Sam's kids name the snake Beauty due to the little heart shape on her forehead and she has certainly landed on her feet (heh heh) in Sam's home.
Beauty arrived in a makeshift tank with the wrong kind of lighting and no access to a heat mat.
"Maybe they thought she was dead, or had escaped or something like that. The corn snakes bury themselves and she was well and truly buried," Sam said.