CELEBRATING 25 years in business, The Snack Shack's quarter century milestone will be widely celebrated – not just by the tight-knit Reidy family but also the thousands of customers who have crossed the famous yellow door at Abbey Street Car Park.
The Snack Shack has become an institution among those who work and study in the town centre. The family-run business draws in customers from classrooms and offices across the town who keep returning for one of their famous sandwiches, a takeaway breakfast, a coffee or an ice-cream. Inevitably, you will be welcomed like a neighbour into the Snack Shack, where a smile and a chat are not hard to come by.
Founder Trena has watched her customers grow over the last 25 years. In many cases, where she once welcomed them as students in their school uniforms, she now greets and serves them with their growing families.
She started the business in 1997 with her friend from college, Sarah Corr who departed the Snack Shack after giving birth to her firstborn a year later. Trena stresses the importance of Sarah's influence in starting the business, and loyalty is certainly a trait identifiable with the Snack Shack.
A little-known fact, the Clarecastle native spent a year working in Tunnock's Teacake factory in Motherwell, Scotland. "I was eating a teacake while I was doing my exams and I said, I'll send them my CV. I was studying Production Management in Kevin Street, DIT. They rang me then, and said 'come on over'." Eagle-eyed customers will notice that Tunnock's Teacakes are for sale at the counter of the Snack Shack today.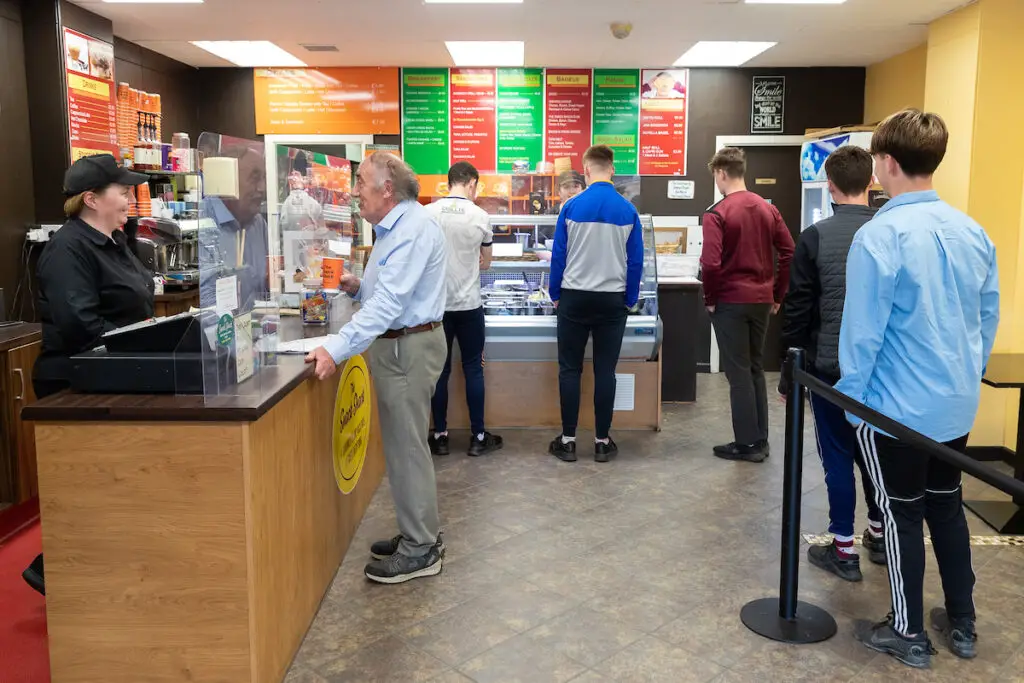 As time passed, the influence of the Reidy family became stronger at the Snack Shack as Trena's sisters Edel – who previously ran the Bagel Factory – and Marie got involved. Their dad Damien is a cattle farmer by trade but is now also a fixture in the Snack Shack. "He came in helping out one day and he never got to leave," quips Trena. It's resulted in a harmonious working relationship and Damien admits he counts himself lucky to work beside his daughters every day. Trena adds, "You would be lost without family, I wouldn't be here now without them."
Trena smiles now when recounting her first visit to the accountant when the business idea came about. "He said it would be fine as a hobby," she laughs, noting that it quickly became a 14-hour-a-day hobby. "It is successful but that can change in a heartbeat."
Noted locally for their food, the Snack Shack was also listed in 2017 by RSVP as one of the Top 10 Sandwiches in Ireland. Aside from the popularity of their food, much of the Snack Shack's success is down to their relationship with customers. During our interview (conducted in-store), customers pass through with some even contributing to the conversation. Edel notes, "Most of our customers are repeat customers. When we had the tables, we were the nearest thing to a pub without the drink, there's a very friendly atmosphere. Even with takeaway only, you still have it. That was the biggest change from Covid, moving to takeaway, and it's just worked out.
"You have customers coming in who came in as schoolkids, and now they have children, their children have children now. You still have those families coming in, generations of families."
Trena adds, "You always like to see them coming in, especially around Christmas. The ones that were away and come back from Canada and Australia." When Edel notes how Trena remembers the sandwich orders of those who have returned for the holidays, Trena jokes, "Only the ones I like … but I like all my customers."
Thanking their customers for supporting the Snack Shack, Trena credits their success with simplicity and consistency, along with their hard-working staff over the years. "Many of our employees have been siblings, and most have stayed with us for a number of years. We wouldn't be where we are now without them all and I'd like to thank them for the care they brought to customers over the years.
"It's hard to believe I'm here 25 years. Many of our customers have died, that's the saddest part, the ones you really loved. We've seen a lot of them go. But you also watch the younger ones grow up, that's the fun part. You'd have to thank the customers, we wouldn't be here without them."