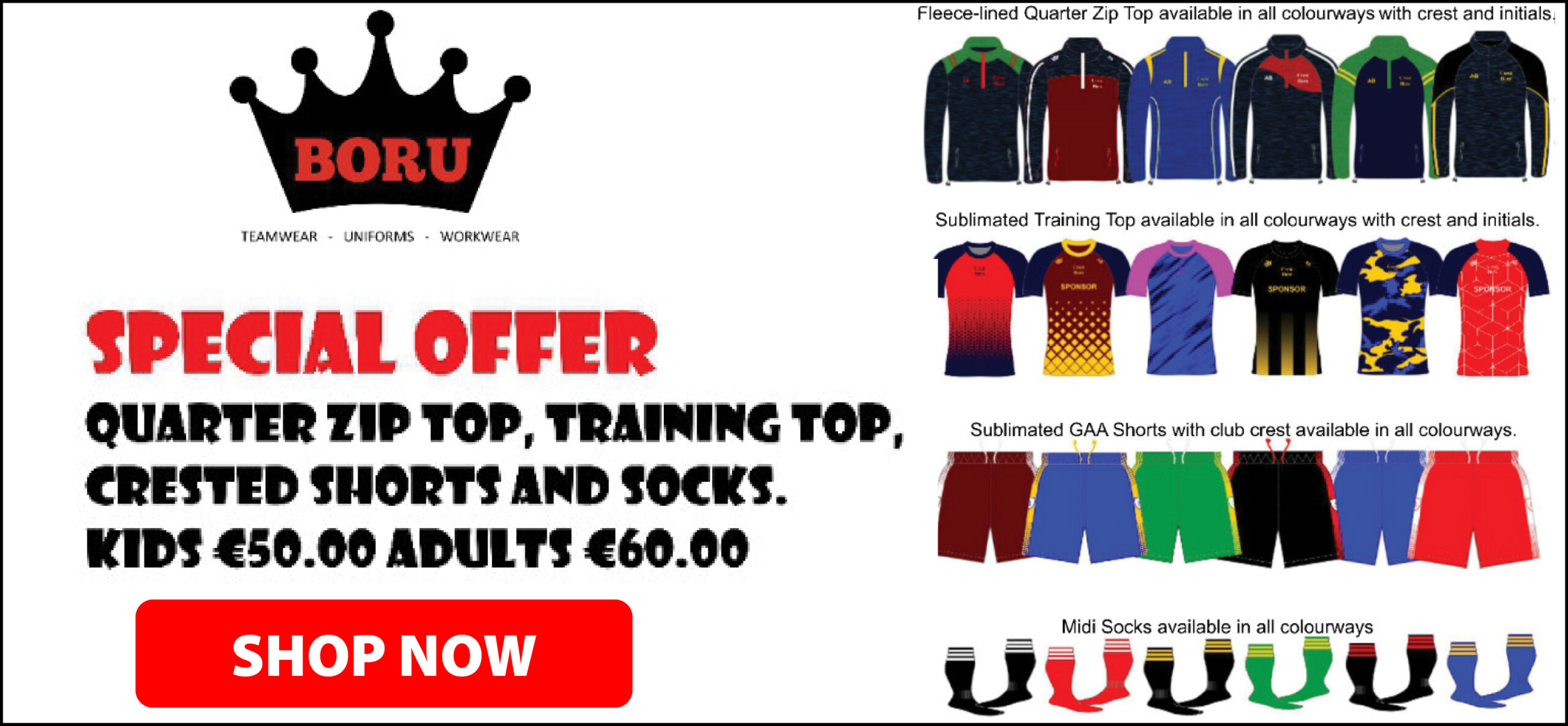 *Evan Connolly. Photograph: Martin Cooper
Smith O'Briens have qualified for their fourth Clare IHC semi-final in six years after clawing their way back to force extra time and send Corofin crashing out of the competition.
Smith O'Briens 2-20
Corofin 1-19
Venue: O'Garney Park, Sixmilebridge
Trailing by eight points at half-time, very few of the spectators in attendance at the 'behind closed doors' game would have given Smith O'Briens any chance of making a comeback but they managed to defy the odds.
Already without regular full-back, Luke O'Loughlin through injury, Corofin's cause was dealt a further blow on the morning of the contest when centre-back Damien Ryan failed a fitness test. The dismissal of freetaker Gearóid Cahill for a second bookable offence on forty three minutes greatly impacted on their chances with other key men not stepping up to the plate in his absence.
Corofin donning the Kilfenora jerseys to avoid a colour clash, dominated the opening half and built up a double scores advantage inside the first twenty minutes. Harty Cup winner with St Flannan's College, Diarmuid Cahill was proving to be a handful, he clocked up four points in the first half and would have three different markers assigned to him, crucially the experienced Cian Nolan would dilute the impact of the eighteen year old as the tie progressed.
Daylight was put between the sides on twenty nine minutes after Kevin Heagney rattled the back of the net. The 2009 All-Ireland U21 winner got on the end of a Cian O'Dea clearance after Smith O'Briens defenders focused on Cahill and allowed the ball slip to Heagney who powerfully blasted past Adrian Power. His strike would see them hold a 1-10 0-05 half-time lead.
Score by score, the Killaloe men focused on cutting the distance, it began with three Tommy Reddan frees in succession before Gearoid Cahill opened Corofin's account on forty two minutes. That would prove to be the ex county minor's last involvement as Chris Maguire correctly dished out a second yellow card. Moments previously Cahill was laid out on the ground by the Smith O'Briens goalmouth and no card nor free was forthcoming from the Shannon referee.
Further deflation followed for the North Clare men. Liam Corbett got down well to deny Keith Stritch a green flag but his confidence was not dented, instead Stritch picked out an excellent pass from the subsequent passage of play after the save to find substitute Pat Aherne who roofed the sliotar past Corbett to reduce the deficit to three points with forty five minutes on the clock.
Diarmuid Cahill and Gearoid Kelly added much needed scores for Corofin after the final water break but Smith O'Briens responded with three Tommy Reddan frees in a row. It was his next free that Reddan would cause the most damage as he purposefully went for goal and his strong effort took a deflection to get past Liam Corbett and put the East Clare level on fifty seven minutes.
His goal came off the back of a controversial decision by Maguire. Cian O'Dea had overcarried the ball but was struck while going to ground and the referee pulled the defender for steps and the resulting placed ball would ultimately change the game.
A free at the other end was converted by Diarmuid Cahill to put Patsy Fahey's side one point ahead but corner back Cian Maloney stepped up with an outrageous effort to force extra time and push the momentum behind Smith O'Briens.
While it was Cahill that fired the first point of extra time, Smith O'Briens responded through Keith Stritch, Mikey O'Shea and Tommy Reddan to edge ahead. A trio of scores, via Cahill, Fionn Clancy and Killian Neylon saw Corofin take the lead by just one point at half-time.
Once again, Corofin failed to push on on the restart, indeed they failed to score throughout the second period of extra time. Eddie Bourke added two points inside four minutes while further white flags from Reddan on the double and one from Mikey O'Shea saw them seal a return to the last four.
Leadership was lacking from Corofin, as mentioned above they did lose key players both during the tie and before it. Regardless, they had enough experience and know-how within their ranks to see out the job but they fell short. On the sideline they were aggrieved with some decisions by the match officials but having been awarded a scoreable free in the second half, a shoulder by Gearoid Kelly on Cian Nolan who had been nudging Diarmuid Cahill on his way to hit the free resulted in it being disallowed and a throw-in given.
When at their best, Corofin used Fergus Killeen as a launchpad from Liam Corbett puckouts to feed the dangerous Cahill in the inside line, Smith O'Briens amazingly never reacted to this and didn't cut out the source. When the supply to Cahill dried up so too did their effectiveness. Diarmuid Cahill, Cian O'Dea, Fergus Killeen and Damien O'Loughlin did best for Corofin who will be stronger in 2021 with younger players making the step–up.
With a one month hiatus, Smith O'Briens made the most of this affair with the extra-time under their belts is the ideal preparation for the last four. Their refusal to lie down, impact from the bench and long-range scoring when it mattered stood out as key reasons for their success. When they face Scariff in the semi-finals, they will not get away with a below-par opening half and this has to be addressed by Sean Tobin when they begin focusing on that tie.
Eventually they got to grips with Diarmuid Cahill and found the pace of the game but defensively improvement is required from the Killaloe men. Coming through this battle will strengthen their belief and character, it will also send out a message that Smith O'Briens cannot be taken for granted, a note Scariff must take heed of. Eddie Bourke, Cian Nolan and Tommy Reddan were most effective for the winners.
Scorers Smith O'Briens: Tommy Reddan (1-13 11f 1'65), Eddie Bourke (0-03), Pat Aherne (1-00), Michael O'Shea (0-02), Cian Maloney (0-01), Keith Stritch (0-01).
Scorers Corofin: Diarmuid Cahill (0-08 3f), Kevin Heagney (1-01), Gearoid Cahill (0-03 2f), Gearoid Kelly (0-03), Jamie Malone (0-01), Kevin Keane (0-01), Fionn Clancy (0-01), Killian Neylon (0-01).
Smith O'Briens:
16: Adrian Power
4: Cian Maloney
3: Cian Nolan
12: Micheál Ryan
5: Dwayne Sheedy
6: Cathal Stritch
8: David Gough
7: Evan Connolly
9: Eddie Bourke
2: Michael Gough
11: Michael O'Shea
14: Keith Stritch
10: Mark O'Halloran
15: Tommy Reddan
25: David O'Shea.
Subs:
17: Declan Power for M O'Shea (HT)
18: Mark Stritch for Connolly (HT)
23: Pat Aherne for D O'Shea (44)
20: Oisin Moloney for O'Halloran (54)
11: Michael O'Shea for Maloney (FT)
10: Mark O'Halloran for Aherne (70)
Corofin:
1: Liam Corbett
2: Conor Leen
3: Donnacha Kelleher
7: Cian O'Dea
18: Fergus Killeen
5: Damien O'Loughlin
4: Sean O'Brien
12: Gearóid Cahill
11: Jamie Malone
14: Kevin Heagney
10: Gearóid Kelly
20: Fionn Clancy
13: Diarmuid Cahill
8: Eoin Clancy
15: Kevin Keane
Subs:
24: Killian Neylon for Keane (42)
9: Eoin Davoren (FT)
15: Kevin Keane for E Clancy (72).
Referee: Chris Maguire (Wolfe Tones)