Sixmilebridge magician, Paddy Ward will show age is only a number when he appears on Ireland's Got Talent this Saturday.
84 year old Paddy has picked up every single magic award there is to be got in Ireland, for five years running he won the International Brotherhood of Magician Ring 85 Shield as Ireland's Top Magician, a feat that has yet to be matched. He was tempted to audition for the Virgin Media Television programme after watching the first series last year.
"I said to myself I might as well have a go at this. I got the forms and filled them in, the next thing I was called for audition. I love magic, I've been in magic all my life, my father was a magician, he died a young man at 44, I took up magic when I was 10. I performed in my first show in the Oriel Cinema in Dundalk for a week at ten years of age and I've been at magic ever since even during my apprenticeships. I was entering competitions during my apprenticeship and winning them, I won all the top awards in Ireland," Paddy told The Clare Echo on Tuesday.
A native of Dundalk, Paddy moved to Sixmilebridge in 2004 having previously resided in Limerick for 35 years. Since appearing in promos for Saturday's show, Ward has been receiving plenty of phone calls but has had to keep tight lipped on how his audition goes.
Saturday will not be the first time he has appeared on television screens. He was in high demand following his international success with slots on RTÉ's Live at Three and Play the Game, the Gerry Kelly presented Kelly on UTV plus shows broadcast by the BBC.
Nicknamed, 'The Great Padini', Paddy explained its origin. "Years ago when the tourists were coming from Australia, they used to stop at the Ryan Hotel in Limerick, I was asked to do a couple of shows for them at night time, my name is Paddy and the famous Houdini, so I changed my name to Patini and it has stuck".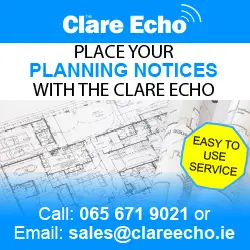 Magic has been a family thing for the Wards, his father Benni was his biggest inspiration in the field while Paddy has passed on the tricks of the trade to his family. "My grandaughter Lisa Hogan was a brilliant magician, she followed in my footsteps and she won all the awards I ever won, she did a different type of act, mine was a patter act I brought the fun into magic, she performed magic to music".
His daughter Michelle lives in Sixmilebridge while his son Nigel is further afield in Australia. The death of his wife Josie forced him to take a break from magic and he described her passing to producers of the show as "the hardest thing I've ever had to face in my life."
Last Friday, he celebrated his 84th birthday and on Wednesday of this week he performed for visitors to Carrigoran Daycare Centre, such magic acts are among his most enjoyable. "I do an awful lot of charity work and I'm in Carrigoran every month. They love it. I've been going around to daycare centres, nursing homes, to disabled children all throughout my life".