*Shannon Town Utd players including Brian Monaghan celebrate. Photograph: Natasha Barton
SHANNON TOWN UTD expect this will be the last year that they are the only team from the Airport town competing in the Maloney Garden Machinery Premier Division.
Both Shannon Hibs and Shannon Olympic have previously joined Shannon Town Utd in the top flight, Hibs had won promotion back to the Premier Division but were forced to fold their adult sides while Olympic are pressing strongly for a return with a positive start to the First Division.
Steo Dolan is entering his second season as Shannon Town Utd manager, making the step-up from the Youths side to succeed Derek Byrne.
Reaching the level of the top two in the Premier Division is the overall goal, he outlined. "Let's be realistic, we've the FAI champions in our league and we have Avenue who have just got stronger and stronger with the signings they've made, we're building each year and just want to get better than last year. Yes we are the only Premier Division team in Shannon but that will only last for this year because Olympic will win the First Division, we want to be up with Avenue and Newmarket, it will take time because we're very young but we will get there".
"We want to build on last year, it was a failure and success, we got to the last 32 of the FAI Junior Cup and finished fifth in the league. The lads are another year older and they now have experience from the Premier Division. Only four of our players had played junior football last year, for the rest of them it was their first year at that level. We got to the Hugh Kelly Cup final in the first year which was excellent and we want to build on that. Avenue Utd and the FAI Junior Cup champions are stronger than ever," Steo stated.
Lessons from year one for Steo were "mainly to get a very good coach and managing the boys. I had the same lads at youths but with senior ball you need as much help as possible, especially the experienced players. We tried to do our best last year but we needed extra bodies".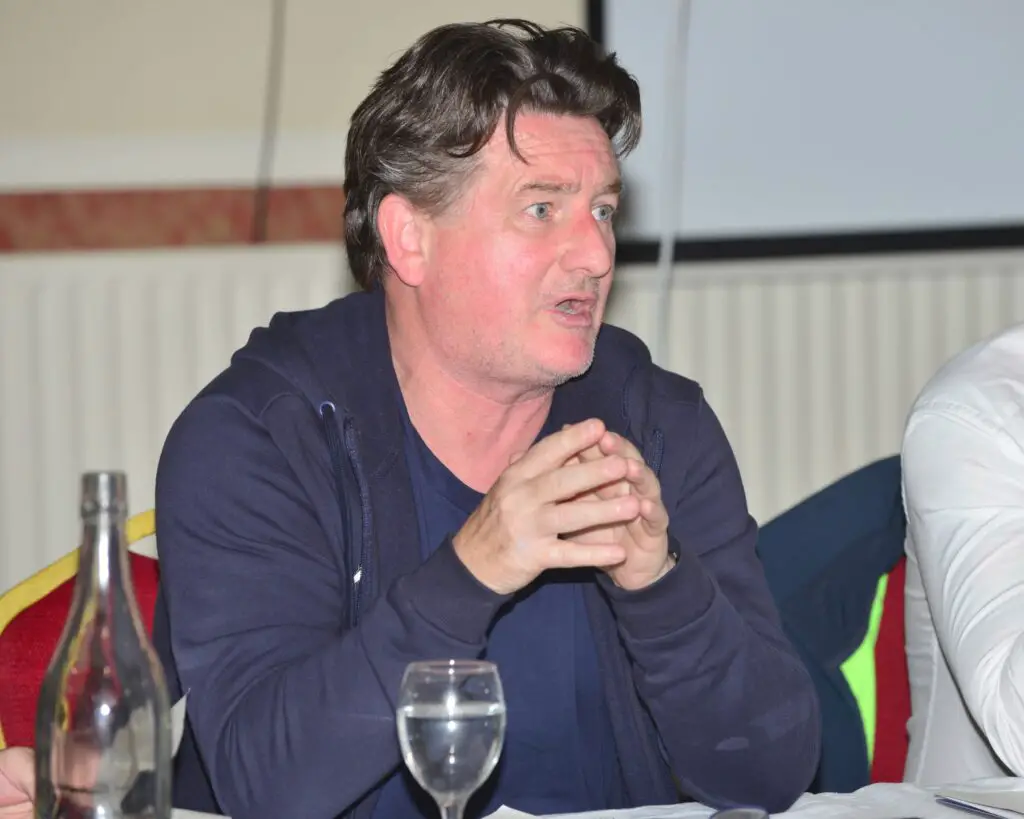 Joining the fold is the experienced Donal Magee who managed Shannon Town to Premier Division success in 2017 and since then has had stints managing Ballynanty Rovers and coaching Newmarket Celtic. "Me and Donal had been in talks for a while, he brings what I lack, he brings massive experience, he is very good at in-game management, for me as a young lad there's a lot to learn, he has already brought a big lift. We've had a good pre-season, we were one of the first teams to come back training. Fitness has let us down so props to Fergal McCarthy who has been doing the fitness work with us so far".
Wolfe Tones' involvement in the business end of the Clare intermediate football championship and the relegation final of the Clare SHC means Dolan will not have his entire squad available for a couple of weeks.
Another experience they have learned from is an over-reliance on GAA players. "We relied on the GAA a lot last year, now we've built the squad around it, we're going to have these lads but we have to put a plan in until they come back and not wait around, that is the way we built it. The lads still trained away with the soccer. The footballers are going well so we have to give leniency, if we go fighting over players neither team gets any benefit, if lads can't train because they are sore or training we get on with it, there's bigger goals and objectives. We've brought in a few lads that don't play GAA and the hurling will be over after next weekend".
Shannon Town Utd:
Management: Steo Dolan (manager), Donal Magee (coach), Fergal McCarthy.
Captain: TJ O'Dwyer
Key Player: Kai Khetan
One to Watch: Craig Riordan
Fresh Blood: Daithi Lohan, Jamie Doyle, Cian Johnson, Gary Cusack Eoghan Gough, Aidan O'Donnell, Lee Wall (signed from Shannon Hibs), Billy Connors (signed from Shannon Hibs), Dean Devanney (signed from Shannon Hibs), James Fahy (signed from Newmarket Celtic).
Departures Gate: Shane Russell and Eoghan Casey (both gone to Shannon Olympic).
Last season's run: Fifth place finish in Premier Division, reached last 32 of FAI Junior Cup, lost Hugh Kelly Cup final to Lifford.