*Photograph: Joe Buckley
Shannon Town made it two wins from two games in the Maloney Garden Machinery Premier Division while Ennis Town collected a successive win as Avenue Utd dropped points for the first time this season.
Another victory for Shannon Town
Shannon Town A 4
Shannon Hibs 1
Venue: Lynch Park, Shannon
Shannon Town A collected another brace of points when they accounted for their neighbours Shannon Hibs on Sunday morning.
Gary O'Connell, scorer of the winning goal against Lifford a week earlier, opened the scoring for town and this goal separated the sides at half time.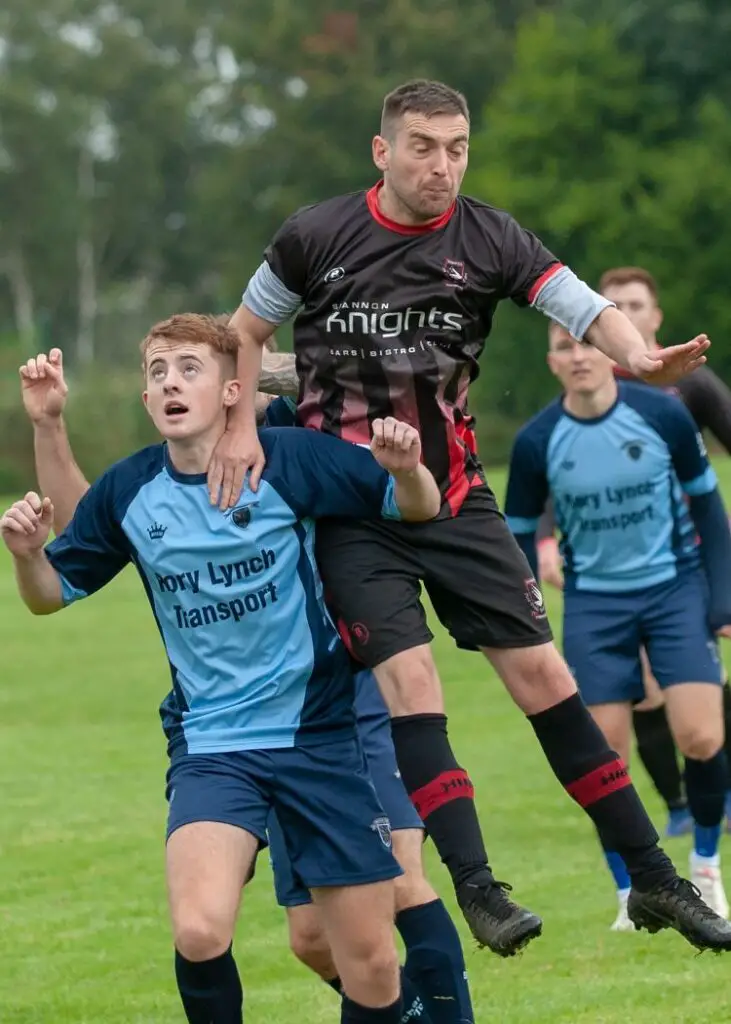 Early in the second half Shannon Hibs equalised through Town dominated the closing stages and had further goals from Colin Scanlan, T. J. O'Dwyer and Brian Monaghan.
Scanlan's goal came from the penalty spot after the free had been awarded when Darren Griffin's goal bound effort was handled in the area.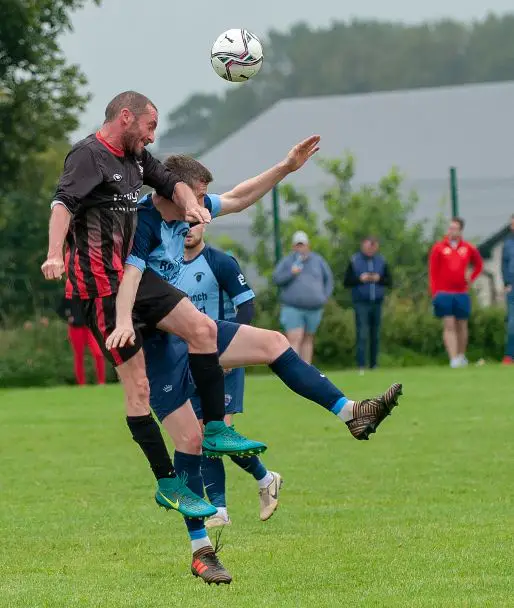 Three players were sent off in the second half in separate incidents, two from Shannon Hibs and one from the winners. Aidan Leahy was the Town player dismissed while Mikey Wall and Thomas McDade were the Hibs players who saw red, all on second yellow cards. Shannon Hibs goal came from Billy Connors early in the second half.
Shannon Town; Darren Whelan; Aidan Leahy, Brian Monaghan, Colum Treacy Darren Griffin, Jack Kelly, Brian O'Connor, TJ O'Dwyer, Colin Scanlan, Gary O'Connell, Brian O'Neill.
Subs: Rob Wall for J. Kelly; Chris Dunning for B O'Neill; Charlie Morrison for B. O'Connor; Steve Carroll for Scanlan; Nathanael Nuakujara for O'Dwyer
Shannon Hibs: Trevor O'Donnell; Thomas McDade, Bobby O'Connell, Pa Devanney, Alex Cole, Mikey Wall, Darragh Leahy, Gary Leahy, Liam Delaney, Lee Wall, Billy Connors
Subs: Adam Ryan for D Leahy; Zygge Wall for G. Leahy; Darragh McDade for Liam Delaney.
Referee: Trevor White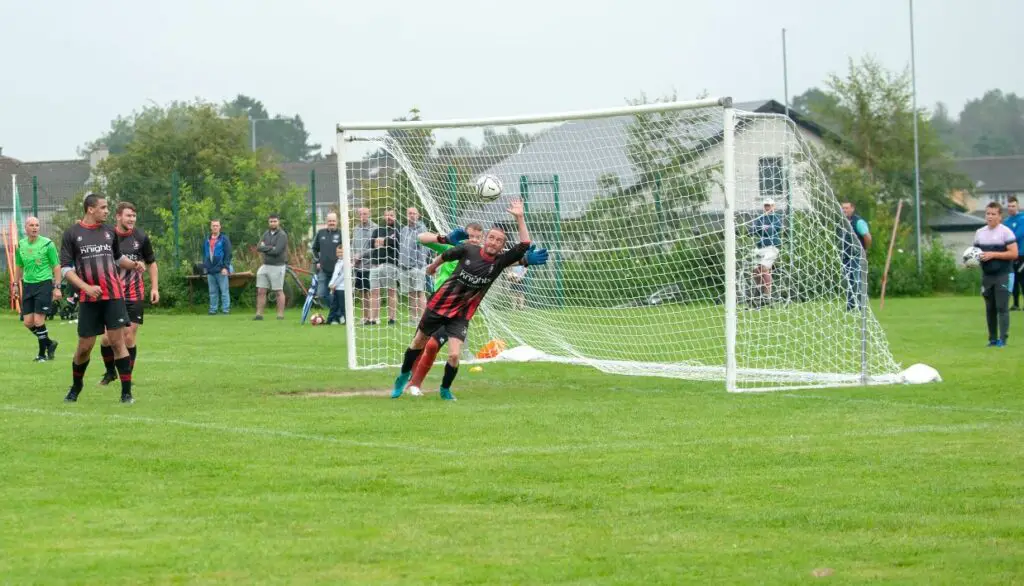 Ennis Town dominate second half
Shannon Olympic 0
Ennis Town 4
Venue: Olympic Park, Shannon
Ennis Town followed up on their impressive first round win a week earlier when they accounted for Shannon Olympic A on Sunday
Following a scoreless first half, Town dominated the second period scoring four times.
In the fifth minute, Paddy Bugler came close while at the other end Olympic's Ray Quigley fired in a shot from the edge of the area that was saved by the winner's keeper Andrew Skerritt.
Just before half time Paddy Bugler got clear but shot wide of Keane's right hand post.
Early in the second half, Ennis Town's Dean Hegarty had a shot saved by Kieran Keane while shortly afterwards Olympic's Ray Quigley had a shot from 20yards that beat Skerritt, but hit the crossbar and went over.
Town went in front in the 55th minute when Paddy Bugler got up to head Dean Hegarty's corner from the left to net.
Town increased their lead in the 75th minute when Declan Ensko headed Lee Clohessy's cross to net.
Town made sure of the win in the 80th minute when David Keenan raced into the area and fired in a shot that beat Keane. The ball hit an upright and came back into play but Keenan reacted quickest and knocked rebound into the net.
They got their fourth shortly afterwards when Declan Ensko's shot from the right side was deflected to the net by an Olympic defender for an OG.
This was an impressive second half performance by a young Ennis Town team, and will give them confidence for the rest of season. For Olympic they will need to get back on track quickly if they are to challenge for honours in this division.
Ennis Town: Andrew Skerritt; Stephen Horgan, Chibby Okoye, Lafe Ifebajo, Sean Perrill; Eoin Keenan, Dean Hegarty, Paddy Bugler, Jashar Aliu. Lee Clohessy, Davy Keenan.
Subs: Declan Ensko for Bugler; Emmanual Ihiebey for Perrill; Kevin Barron for D. Keenan; Kadri Karimu for Jashar Aliu; Graham Callinan for Horgan.
Shannon Olympic: Ciaran Keane; B.J. Cantilon, Dean Power, Rob Clair, Wayne Regan; Rashid Amallah, Ray Quigley, Sean McDonald, Zbigniew Barszcynski, Declan McDonald, Jason Regan
Subs: Gary Birchall for W. Regan; Jason Ledger for Birchall inj)
Spoils shared at Lahinch
Sporting Ennistymon 2
Avenue United A 2
Venue: Lahinch
Avenue United made the trip to Lahinch in search of a third win in as many games but they had to settle for a draw against a spirited Sporting Ennistymon
Last years Premier Division runners-up started the game well with a chance from Thomas Hehir who forced Joe Gallagher to make a point-blank save with his feet. Conor Shannon then replaced Gallagher in goals and was immediately called into action producing a top-quality save. The Ennis side were again close to going in front when an effort from Mark Roche struck the crossbar but it looked like Shannon had the shot covered.
Sporting took the lead when midfielder, Chris O'Keeffe played a ball over the top which resulted in Ciaran McMahon setting up Sean McConigley who fired home from 25 yards.
Good defensive work from Tiernan Hogan, Ciaran Monaghan, Michael Leigh, Shane Kearney and Eoin Marrinan helped Sporting to a 1-0 halftime lead
Avenue began applying pressure after the break but again the Sporting defence stood solid. On 48 minutes, Mark Roche's shot was well blocked by Tiernan Hogan and the resulting corner was headed over by an unmarked Cian O'Dea.
The levelling goal came after a Ronan Kerins powerful shot was parried by Shannon and subsequently finished by Alan Roche. Avenue took the lead after a ball was played over the top and substitute Gary Roche fired low beyond Shannon.
Darren McNamara's low cross was not dealt with by Avenue's Cuddy who subsequently brought down Sean McConigley in the box and McConigley sent the keeper the wrong way from the penalty spot to make it 2 all.
Avenue could've been ahead moments later when Gary Roche struck low with his left foot but was denied by Conor Shannon.
Sporting Ennistymon: Joe Gallagher, Tiernan Hogan, Shane Kearney, Michael Leigh, Ciaren Monaghan, Eoin Marrinan, Ciaran McMahon, Chris O'Keefe, Jamesy McConigley, Sean McConigley, Darren McNamara.
Subs: Conor Shannon for Gallagher; Thierry Buton for Monahan; Jack O'Dea for McMahon; Daragh Flynn for J. McConigley;
Avenue United: James Tierney; Cullen McCabe, Simon Cuddy, Dylan Casey, Conor Hehir, Mark Roche, Alan Roche, Mikey Dinan, Cian O'Dea, Ronan Kerin, Thomas Leahy
Subs: Dylan Barry for Dinan (inj); Gary Roche for Hehir (inj) Conor Mullen for Cuddy.