Shannon residents have been on edge following recent incidents in the town.
Tensions have been escalating in the past fortnight between two families, one of which has set up an illegal encampment at Illaunamanagh.
Between the hours of 10:45 and 11:15 on Wednesday morning last, there was a shooting incident where no persons were injured with no damage to any property. An Garda Síochána later retrieved the firearm in question on Saturday which is under examination at the Forensic Science Laboratory. A man, aged in his 20s, was arrested in Shannon on Friday, while a second man, in his late teens, was arrested in the Ennis area on Saturday morning.
A file is currently being prepared for the Director of Public Prosecutions on the incidents while The Clare Echo has also learned that a number of cars have been seized for failing to have tax or NCTs.
One Shannon business person told The Clare Echo that they are quite "nervous" with the goings-on in the town. The presence of the encampment on approach to Shannon Crematorium and Illaunamanagh Graveyard has resulted in funerals "lacking dignity", the business person stated while adding to feelings of "fear and intimidation" of pedestians using the Loop Walk.
Residents should no longer feel intimidated, Sergeant Seamus Mulligan told The Clare Echo. "I would be very happy that all the volatility is gone out of the situation. Arrests have been made, a file is being prepared for the Director of Public Prosecutions, a firearm has been seized so there is no firearm down there. I would hope if there was two sides to it that maybe going on a lot of common sense has entered it and a lot of them aren't around anymore. Calm has come for the time being and we will continue to do what we can to make sure the calm stays there".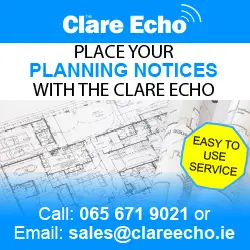 In order to quell the unease of some visitors to the graveyard and crematorium, a Garda presence is visible every morning on the approach to give persons visiting the memorials of their loves ones greater confidence. "A lot of people have said they feel intimidated to go to the Graveyard, I would say it is perfectly safe to go to the Graveyard, people shouldn't be intimidated," Sergeant Mulligan explained.
He felt the presence of Gardaí was not necessary. "It is very important that people try keep their routines in the situation we find ourselves in. It is a residential area and it is in walking distance for a lot of people, there is a Loop Walk down there too which is a great amenity for the town and I would encourage people to use that and the walks as much as possible. We will continue to have a small presence down there in the mornings for people who may feel intimidated by the presence of an illegal encampment. There is no evidence of intimidation or that anyone needs to fear".
Gardaí are making every effort to make the town as safe as it can be, Sergeant Mulligan said. "Everyone's perception of it is different, I don't know is there any ingredients of intimidation there, people just feel that way that way, it is not like they are being intimidated. There has been a lot of ongoings in the past week which have calmed down".
Damage to the grounds of St Senans RFC has also been reported to Gardaí, he confirmed. "There is no evidence to suggest who did that but there has been damage done. I can't say categorically that it is connected to the fact that there is an illegal encampment there".
Comments from elected representatives that scenes in Shannon resembled "the Wild West" were described as "flippant" by Sergeant Mulligan. "People are maybe looking to get impact from comments. We would be looking for a bit of common sense. Over a long period of time, illegal encampments do come and they do go, people aren't happy when they come but people in the encampments do have to camp somewhere for a period of time. We hope a solution to their housing difficulty will be found sometime and that an illegal encampment won't be an issue".