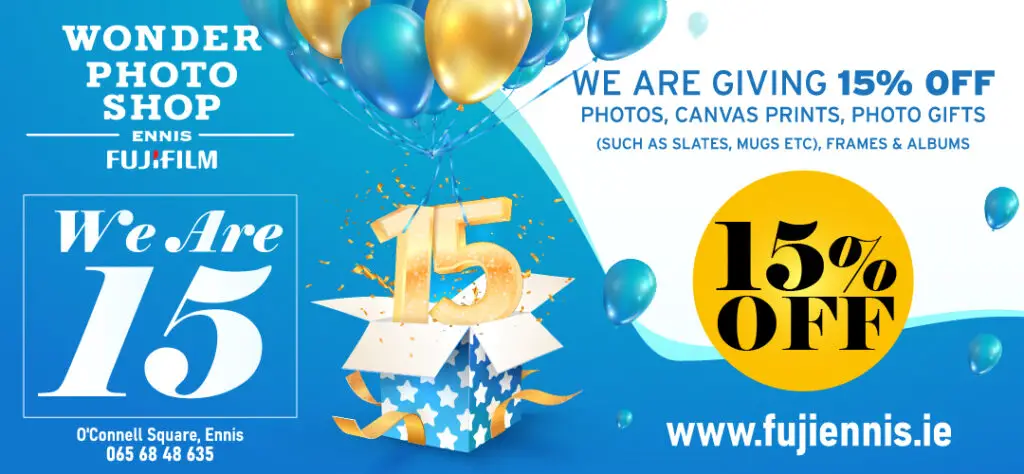 *Lily Murphy makes a point. Photograph: Natasha Barton
SHANNON HERITAGE workers have slammed the level of communication they have received from Shannon Airport Group as uncertainty looms over the proposed transfer of the tourism sites in Co Clare.
Clare County Council have stressed they will not take over the sites from Shannon Airport Group in the absence of €15m in funding. Talks have been toing and froing since June of last year.
Speaking at a demonstration held by Shannon Heritage workers at Bunratty Castle and Folk Park, Clare TD Cathal Crowe (FF) remarked, "until the dotted line is signed over, the supreme management of Shannon Heritage is with the Shannon Airport Group".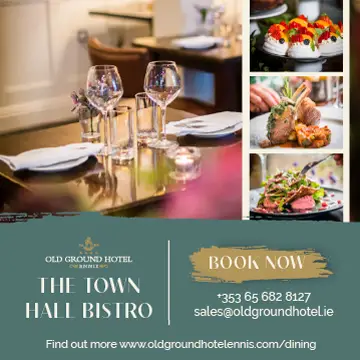 Workers are now "terrified" about the prospect of becoming unemployed in January. Chris Rowley an entertainer at Bunratty Castle said, "no one person knows what they'll be doing on the 1st or the 2nd of January, nobody knows, pressure needs to go on Shannon Airport Group to let me and all these people know what is going on, we're facing into the busiest part of the year and the blood will be taken out of us".
"We are unemployed in January, we don't have COVID payments anymore, we've a lot of questions and we can't get an answer," Dolores Broderick of Shannon Heritage operations commented.
Other speakers flagged how the sites have "always been open all year round" while also pointing to the income of Shannon Airport Group returning to 2019 levels. "There are people here working twenty to twenty six years and we're caught in the middle, we're dealing with people here not an organisation. Somebody has to put their foot down and give a date," one employee stated.
Lily Murphy who also works at the Castle & Folk Park stated, "this issue didn't arise last month, it's going on since Shannon Group took us over, they've funding for everything in that company but nothing for us. The best thing I could do is stand out on the road and get knocked down, then they'd take notice". She added, "no one talks to us from Shannon Group".
Cllr Gerry Flynn (IND) told the demonstration, "Shannon Group don't want this place, they don't want it, the Council don't want to take it because it's been left in rack and ruins". He described Bunratty as a "fantastic facility" which is loved by all generations.
Until a takeover happens "the buck stops with Shannon Airport Group," Deputy Crowe advised workers. He detailed that the regional airports programme is the biggest tranche of state funding given to the Shannon Airport Group and labelled Shannon Commercial Properties as "very lucrative". He said Council Chief Executive, Pat Dowling is "rightly saying he needs a sum of money to make it successful".
According to Cllr PJ Ryan (IND), Shannon Airport Group "have a huge amount of money in the bank, they could solve this problem tomorrow".
In response to queries from The Clare Echo subsequent to the protest, a spokesperson for Shannon Airport Group said they had "worked tirelessly with all parties to facilitate the smooth transfer of the Clare sites to Clare County Council".
Regular updates have been issued to staff, the spokesperson detailed. "Staff have been updated throughout this process as news becomes available. Every effort has been made to communicate with staff on the transfer by onsite management and the Shannon Airport Group. In fact, management from the Shannon Airport Group met with the senior management team at Shannon Heritage as late Thursday".
"We know that this is an unsettling time for staff. We are ready to complete the transfer and have taken all the steps required of us. Clare County Council are currently in discussions with Government on the matter. We are awaiting an update from these discussions, which unfortunately are out of our control. Once we get this we will inform staff immediately. In the interim it is business as usual, and having had a good operational year to date, staff are now preparing for a busy Halloween event at Bunratty Castle and Folk Park," the spokesperson concluded.