Possessing the beauty of the Wild Atlantic Way and Ireland's Hidden Heartlands will add to the prestige of the Shannon Greenway when it is completed.
"Significant progress" has been noted with plans for the Shannon Greenway, Waterways Ireland Regional Manager Éanna Rowe stated on Monday. The route is to start from the "heart of Limerick City" to the University of Limerick (UL), crossing the River Shannon over the Black Bridge and following the old Erinagh Canal to O'Briensbridge and onwards to Killaloe, Ogonnelloe, Tuamgraney and Scariff.
Waterways Ireland are the lead agency on the project. Rowe said on Monday that they were ready to award the tender for the feasibility and route selection aspects of the project which he hoped to have completed by the end of this year before moving onto detailed route design and environmental studies required to get the project before planning authorities by the end of 2023.
Cathaoirleach of the Killaloe Municipal District, Cllr Pat Hayes (FF) described the Shannon Greenway as "a game-changer here for us in East Clare". In particular, the connection between Limerick, Clare and the River Shannon was commended by the Maghera representative.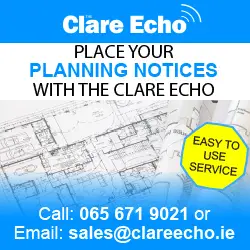 "The Shannon Greenway is a massive project when and if we get going," Cllr Pat Burke (FG) stated. He spoke of a visit to Garrykennedy earlier this month and the vibrancy of the location given its proximity to centres of population such as Limerick and Nenagh. "The Greenway could encourage slow tourists from Limerick to keep left on Killaloe side, we need to get those people travelling from Limerick, the Greenway would open up the slow tourism and get people to enjoy the waterway and surrounds".
Speaking at a briefing on Monday, Rowe commented that Co Clare will now have the beauty of being on the Wild Atlantic Way and also forming an integral part of Ireland's Hidden Heartlands with greenways at either side of the county.