Prioritising staff wellbeing was the key message imparted on Shannon College of Hotel Management graduates on Thursday.
Time and energy must be investing into combatting workplaces stress by putting staff wellbeing to the top of the agenda the 101 graduates were told. The world renowned institute is the only third level country with 100% graduate employment since its foundation.
Graduates hailed from ten 10 countries including Ireland, India, China, USA, Seychelles, and Hungary. They listened to Head of College Dr. Phillip Smyth and members of its alumni who have gone on to manage some of the biggest hotels all over the world
.
In his address to the class of 2019, Dr. Smyth urged them to be conscious of the mental health of the staff they will manage and support and look after them. "The physical quality and beauty of the hotel product will be of little value if the people you lead are unhappy in their work. Standards will suffer, and staff turnover will be high; further diminishing performance and increasing recruitment costs.  As tourism continues to boom, the hotel industry must intensify its efforts to retain staff on whom they have expended valuable resources on training and developing."
His message struck a chord with successful graduates of the college, including the MD of the busiest visitor attraction in the country, the Guinness Storehouse. "People are our most valuable asset, and it's critical that we nurture them and treat them with dignity and respect," said Paul Carty.  "A work/life balance is essential, particularly today when technology means we are always on duty. I would always encourage my team to switch off when they finish work".
Carty who is a former Shannon College of Hotel Management graduate pointed to the potential danger from lack of sleep. "A substantial amount of research has found that sleep is critical to overall performance and wellbeing. A lack of sleep has a direct, negative impact on a person's body, mind, and spirit, also affecting emotions, temperament, and self-control. Moreover, and perhaps of most interest to organisations, increased sleep tends to cause individuals to be happier, more engaged, and more creative."
Nicky Logue, Manager of the Intercontinental Dublin, also a Shannon graduate, agreed that when workplaces adopt staff wellness programmes, there are huge benefits to both the workforce and the customers. "At the Intercontinental, we have invested heavily in fostering a supportive environment for our staff and it has really paid off. Our guests have even commented on what a pleasant atmosphere there is in the hotel.  Firstly, while I agree that sleep is hugely important, I think equally so is nutrition. We provide free healthy meals for all our staff.  We have a staff gym in the hotel, and we also provide a uniform laundry service. We identified these initiatives as being key to reducing staff stress. It is our way of letting them know that their wellbeing is our concern. If you don't have a happy team, you won't have a happy hotel."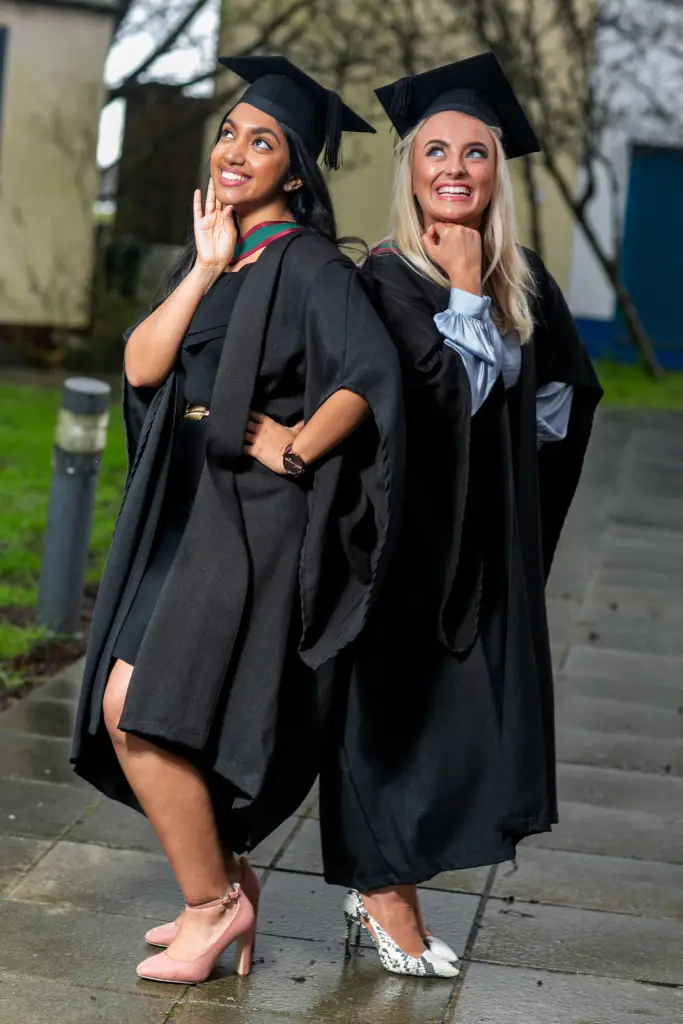 Another member of the college's alumni, Andrew Murphy, Managing Director of Shannon Airport, said that raising the issue showed that the college very much has its finger on the pulse of the industry. "I think stress is an issue that all managers face and it is a very positive thing that graduates are aware of the pivotal role it plays in the productivity of a workplace. The college has always been ahead of its time regarding equipping students for management roles. Typically graduates do exceptionally well, and it's a credit to the staff of Shannon College of Hotel Management."
*Main Photo – Coady Cullen, Ballysheedy Co Limerick, Aoife Finn, Ballymacoda Co Cork and Colin Jacqueline, The Seychelles, pictured during their Graduation Ceremony in Shannon College of Hotel Management. Photograph: Arthur Ellis.