A one week extension of "significant reductions" in scheduled care at Ennis Hospital and University Hospital Limerick has been confirmed while the planned opening of a new COVID-19 testing centre in Ennis has been delayed.
All routine appointments and the majority of elective procedures remain cancelled at both Ennis Hospital and University Hospital Limerick until Friday (November 20th). It follows outbreaks of COVID-19 at each hospital with multiple wards affected close to 200 staff self-isolating.
At UHL, six wards are closed to admissions with a total of 188 staff off work and self-isolating across the UL Hospitals Group having either tested positive for the virus or deemed a close contact of a confirmed case.
Patients whose procedure or appointment is affected by the cancellations are being contacted directly by the hospital in advance. "Affected patients will be rescheduled at the earliest opportunity," a spokesperson confirmed to The Clare Echo.
Emergency/trauma theatre, Cancer and other time-critical surgery, Cancer Day Ward (chemotherapy and radiotherapy), Cancer rapid access clinics (breast, lung, prostate), Dermatology melanoma clinic, Urgent outpatient appointments, Dialysis, Palliative care will continue to operate next week. The emergency department at UHL remains open on a 24/7 basis with the injury unit and medical assessment unit at Ennis still open.
Chief Clinical Director of UL Hospitals Group, Prof Brian Lenehan stated, "The volume of staff currently self-isolating having come into contact with Covid-19 is now such that we are curtailing scheduled care to concentrate resources on emergency presentations and on inpatients. This will also serve to reduce footfall in our hospitals in the coming days. Such cancellations are provided for in our escalation plan. We very much regret the impact this will have on hundreds of patients in the coming days and we will reschedule the affected patients as soon as possible".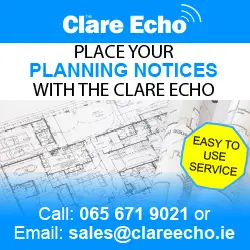 Meanwhile, The Clare Echo has learned the planned opening of a COVID-19 testing facility in Ballymaley on Monday has been delayed. The anticipated date for the opening is now November 23rd, one week later than scheduled.
"Unforeseen circumstances" have been detailed as reasons for the delay, such as "extensive" work setting up the building and a delay in handing over the building to the HSE. The Cusack Park testing facility will remain open and testing to continue until the Ballymaley facility opens.