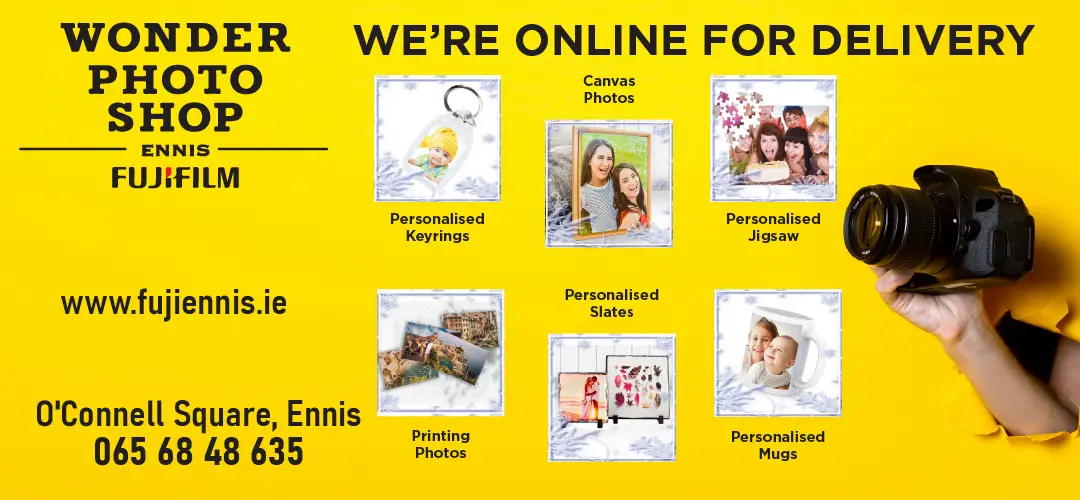 *Clare Fianna Fáil PRO Michael McTigue, Micheál Martin & Cllr Cathal Crowe. Photograph: John O'Brien
Electing an extra Clare TD is the target for Fianna Fáil, party leader Micheál Martin has outlined.
Sitting TD, Timmy Dooley is joined by Cllr Cathal Crowe and Doonbeg businesswoman Rita McInerney as the party's General Election candidates in the county.
A bruising 2011 election was the first in Fianna Fáil's history that they elected just one Clare TD, they failed to double the figure five years later even though Deputy Dooley topped the poll.
Now, Micheál Martin has pinpointed Clare as a constituency where they need to at least double their amount of TDs if they are to become the lead party in Government. "The outcome of the local election was positive for us in most areas not all, that speaks to the quality of your candidate, we've a very strong team here for the General Election with Rita, Cathal and Timmy Dooley who is a very strong national frontline politician. Cathal is Mayor of the County, a very hard worker, well known and a good vote-getter.
"Between them, we have a strong team and we're in with a real prospect of gaining a seat in Clare, that is something we're focused on but we're not taking it for granted because modern electoral politics is very competitive. We have traditional strengths in Clare, we had a good local elections here with new people elected plus experienced councillors, when the time comes we'll be well placed to take a seat and we want to be the lead party in the next Government and potentially in partnership with other smaller parties".
Should The Soldiers of Destiny fail to form a minority Government in the election which the Cork native expects will be held in Spring, Martin will become the first leader of Fianna Fáil not to be Taoiseach. He told The Clare Echo such a scenario does not keep him awake at night.
"It doesn't put me under any pressure, I've a different philosophy in life. When I became leader in 2011, most people said you would never become Taoiseach and some said Fianna Fáil wouldn't exist in a while, one person said Fianna Fáil was finished. My focus at the time was to rejuvenate the party, reenergise it, bring a new cohort of politicians into the party at local and national level, the first step was the 2014 local election and it worked quicker than I thought, we got a very good team in, quite a number of them became TDs in 2016 and we more than doubled our seats, Stephen Donnelly has come on board since, some councillors have come back in so we have been reenergised.
"We've changed as a party, we're different in terms of our approach, Cathal and Rita are coming in as candidates so not only did the last local elections bring in new people, you have to keep bringing in new blood, we will win more seats in the General Election and be stronger, that was always the fundamental objective to bring the party back but do so in a way that would help the people and the country, it's not about parties per sé but us making a positive contribution to the quality of life in the country and we've done since 2012 on a number of policy fronts, around Europe and climate change Timmy Dooley has been excellent on that committee which is much stronger than what the Government have done. We're now moved from a position of seven years ago where people said we were also rans and definitely saying 'you will be the first leader of Fianna Fáil not to be Taoiseach', they're now saying it's a fifty fifty call but it doesn't faze me to be honest with you".
His interview with The Clare Echo took place before the phantom vote controversy involving Timmy Dooley and Niall Collins. When asked if Deputy Dooley would be given a ministry should the party be in Government, Micheál said. "We're out to maximise our seats, we want two seats in Clare at a minimum, we have three strong candidates. If we don't win second seats in places like Clare, nobody will be in a Fianna Fáil led Government and that is the bottom line, it doesn't just apply to Clare, it applies to Longford/Westmeath and other constituencies where we have one seat and are going for two. We are in a good position in those areas. Timmy Dooley has been a very effective front bench spokesperson, he is nationally respected and on the crucial issue of climate change, he has been particular innovative and constructive, has worked well with other parties on that issue, he is a national player".
"I'm not a person who is over confident, I always look at the competition, I like to come in fighting hard and winning, if it's by a point in the last minute so be it, that will do me fine. I think we've a good team this time. I like the balance of our team, we have three strong candidates, well positioned, we have energy and in the team, where there is energy and hungry I think you can win, I can feel it this time, there is a real hunger here," he concluded.