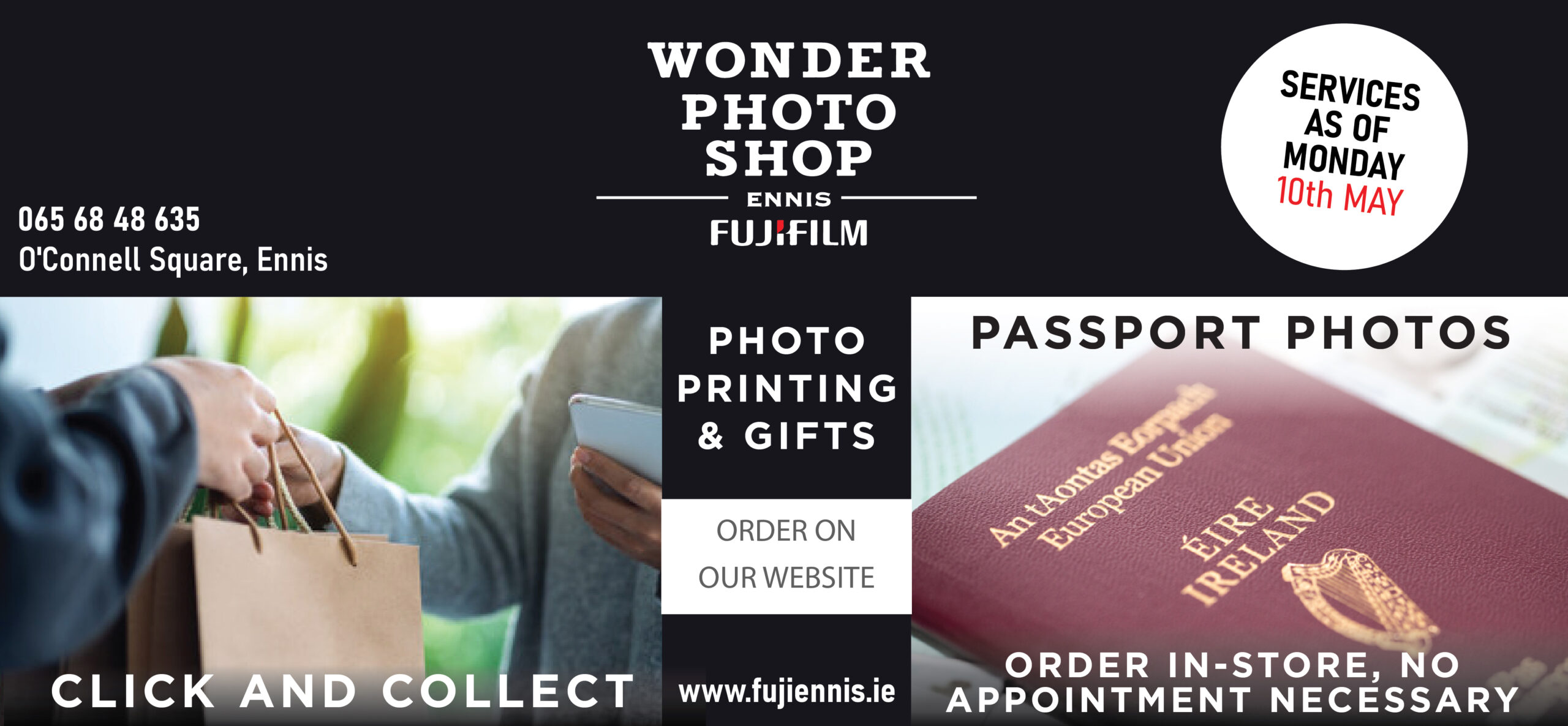 *Trina Golden.
"Chronic under-investment" in education and childcare will "come home to roost" with the attempted reopening of schools and creches in the coming months according to a Clare principal.
Frustration between teachers and the Department of Education has been building during the COVID-19 pandemic with an 'increasing disconnect in communication' a source of added stress and anxiety for teachers. Fears of how schools can reopen when some are unable to fund a cleaner have also been expressed.
Catriona Golden is bringing to an end her two year stint as principal of Ennis Educate Together having recently submitted her resignation to the Board of Management at the Gort Rd school to take up a new role as principal of Owenabue Educate Together National School in Carrigaline. Not having the closure of saying goodbye to staff and students in a traditional manner is "the hard bit" of the move.
She was critical of how the Department of Education have communicated with schools during the pandemic. "I think it is fair to say from the start there have been issues with how the information has been communicated, what is in the information and the timeliness of it".
Firstly, Trina referred to the announcement that schools were to close, one that principals all over the country had no prior warning about. "Right from that it set a tone that there seems to be a disconnect between how the Department are going about the communication, we appreciate it is an unprecedented situation but the announcements since then have been leaked to the media before there has been any engagement with teachers and schools".
Such behaviour "has caused an anxiety for parents" and their kids with schools unable to provide sufficient information when fielding questions such as will the schools be reopening in June. "It puts schools, principals and teachers in a very difficult situation where we're reading the same thing parents are but parents of course assume we know more, it is putting schools in a challenging position with the information that is getting shared in the media before we get a chance to start to process anything".
Guidelines on remote learning which were focused on digital and online didn't factor in pupils and families that wouldn't have strong access or the fact that four children could be sharing one device in a house, Ms Golden felt. She praised the document on supporting children with special needs but maintained the information from the Department was "hit and miss".
Consultation prior to the first document was "non-existent" according to Trina. She commented that focus groups that have been established failed to reflect the wide-range of schools such as DEIS schools like Ennis Educate Together.
A spokesperson for the Department of Education told The Clare Echo, "The Department has made strenuous efforts to communicate clearly and in an upfront manner with all education partners and stakeholders on a range of issues since the Covid-19 crisis hit. This productive engagement will continue".
Numerous principals in the county have told The Clare Echo of their frustration with Department circulars being issued late on a Friday evening. Teacher's well-being is not acknowledged by such a move, Trina said the Department's "favourite time" to release a circular was on a Friday.
"That guidance document came on the Friday afternoon of the Easter holidays, rather than us trying to take a break and recharge you're reading a 15 or 20 page document, trying to process it and get it across. It is very common timeliness, there doesn't seem to be a focus or a consideration of school and staff well-being when they are releasing these, it does put pressure on staff, it has teachers worrying are they doing things right or doing them wrong, then you're going into a weekend wondering what will I do on Monday rather than get a chance to recharge".
Last week, guidelines were issued on sending home end of year reports. Again the timeliness caused frustration with most schools having already commenced the process. "It is putting them in the position where they just work away and half ignore the guidelines or else you have to review all the work that has already been done and get your staff to re-read their reports to see they meet the guidelines. I know the staff in the Department are under pressure as well, this is new for everyone but I do think there needs to be more of an understanding of how it impacts the staff on the ground when these things are done in such a way".
"It is causing stress. We have finished our reports, they are being printed this week, I'm not going to ask my staff now to go back and redo them, that is not a reasonable expectation and it wouldn't be in the best interests of our staff well-being. I understand that they are figuring it out and are thinking better late than never but I would say better never than late and causing stress," she added.
As per the phased roadmap for reopening Ireland, schools are expected to reopen in September. The Cork City native has questioned if the "uncertainty" surrounding communications will be an issue in preparing schools. "What do we need to put in place in the summer, what do we need to be looking to buy, how do we lay out our classrooms, there are so many unknowns. There are things we can't know right now and that is completely understandable. The track record to now wouldn't give you a huge amount of faith that we will get the information early enough to put it into practice. Then there is the constant media back and forth of whether schools might reopen in June, there is a lack of clarity and it doesn't fill people with optimism of what we need to have in place for September without that taking up the summer or last minute in August".
Arguments that schools should reopen to assist working parents struggling to obtain childcare is one the Mary Immaculate College graduate has sympathy for. "Our primary school system isn't childcare and it shouldn't be, that is not the purpose of it but I also have a lot of empathy and sympathy for the families that are really struggling right now and they are being asked to go back to work potentially in the next few weeks and they don't know what to do. The parents calling for the need for schools or some childcare option to reopen".
Insight into what preparations school must follow to reopen are as of yet unknown but Trina is concerned that events over the past years will mount stumbling blocks. "Continuous and years of underinvestment in our childcare and education system have led us to a point where we don't have many options, we've never really had proper wraparound childcare to support parents who are working particularly mothers, now we're seeing the impact of that more strongly because it is not safe to open schools".
Relations between educators and the Department have been strained for some time, she said and flagged that frustration has been increasing for the last five to ten years. This has been heightened by "the expectations" now placed on principals. "At the rate it was going it is completely unsustainable, we're seeing principals burn out very quickly, we're losing principals, the level of applications for principal posts is dwindling particularly for teaching principal positions because they try to do both jobs".
Ireland cannot follow countries like Denmark in a seamless reopening of schools because of "chronic underinvestment for the last two decades". She stated, "Our education system is hugely underfunded, our class sizes are far too big, now we're seeing that come back and bite us because it is very different trying to send a class of 15 back in a big room to sending back a class of 35 in a smaller room. While parents are looking at international examples saying they can do it so why can't we, it is because we built a system which doesn't allow for it. Look at the election before this happened, education didn't get a mention, not once".
"My fears would be we're looking at potentially another recession and generally the first thing to get cut is education, our chronic underfunding is going to come back to bite us and the fact that parents will be less capable of contributing from September, parents have always picked up the slack. A survey done a few years ago said about 57% of school funds come from the Government, the rest is picked up by parents, voluntary contributions and fundraising, if that money is not there what happens".
"She concluded, "There are certainly concerns going forward, if this is to continue ongoing where we may have to look at periodic closures or more remote learning options, none of it is doable without money. Some schools don't even have enough money to have a regular cleaner so if we're going back in September, what happens there, we need increased funding to make any of the hygiene practices possible. There is a lot of questions to be answered but the chickens are coming home to roost, we ignored the education and childcare system for a long time and this is the fallout".