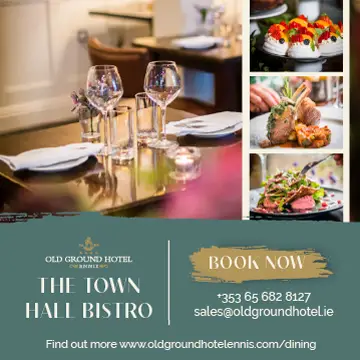 Scariff-Ogonnelloe's unprecedented trailblazing journey finally ended at the hands of four-in-a-row chasing Slaughtneil in Ashbourne on Sunday afternoon.
Slaughtneil 2-10
Scariff-Ogonnelloe 1-10
Venue: Ashbourne, Co Meath
By Eoin Brennan
It proved a day of mixed emotions for the Clare and Munster champions as the result masked a superb backlash that almost reeled in a nine point deficit, only for time to ultimately run out.
Two sucker-punch opening quarter goals with the aid of a sizeable breeze provided the perfect platform for an experienced Slaughtneil to carve out a 2-8 to 0-6 interval cushion which was duly extended to nine immediately on the restart.
Led by the pacy Tina Bradley who accounted for 1-4 of that tally along with Shannon Graham and Louise Dougan, the Derry powerhouses appeared to have the necessary guile, understanding and winning know-how to push on for their fourth tilt at All-Ireland glory.
They hadn't faced Scariff-Ogonnelloe before however as arguably the East Clare side's greatest trait throughout a perfect 2019 championship season was their relentless work-rate and more importantly resilience.
So while time or fortune wasn't on their side as Marian Rodgers (twice) and Mairead Scanlan had goal chances repelled, Scariff-Ogonnelloe admirably persisted and would outscore their opponents by 1-4 to 0-1 in the final 18 minutes to eventually topple the arrears to three.
Unfortunately, the goal arrived just too late as Rodgers' 64th minute scrambled effort was followed soon afterwards by the final whistle and with it, the end of an inspirational journey.
Susan Vaughan and Ciara Doyle were simply outstanding throughout, Holly McGee, midfielders Amy Barrett and Lynda Daly and the ever-reliable attacking duo of Mairead Scanlan and Marian Rodgers fought valiantly while 16 year olds Jennifer Daly and Alva Rodgers performed like experienced veterans made for the big stage.
However, being the first time that Scariff-Ogonnelloe have had to chase a game throughout their eight match campaign, it proved just a bridge too far.
The damage was inflicted early as the sides traded points on three occasions before a Tina Bradley 45 metre free deceived everyone to nestle into the roof of the net and put clear daylight between the sides in the tenth minute.
Alva Rodgers responded with a point but it was met by a second hammerblow, this time through Therese Mellon who took a pass on the overlap to billow the right corner of the net at 2-04 0-04.
Scariff-Ogonnelloe captain Mairead Scanlan did have a bullet attempt brilliantly saved by goalkeeper Jolene Bradley in the 25th minute but by the break, a further brace from Tina Bradley had stretched Slaughtneil's advantage to eight.
Despite a strong wind to come, a goal seemed a prerequisite for Scariff-Ogonnelloe to regain a foothold in the contest and as ever, the most likely candidate was Marian Rodgers who first had a shot blocked before a subsequent pulled effort was denied by goalkeeper Jolene Bradley.
With goals proving elusive, instead Scariff-Ogonnelloe looked to chip away at the nine point deficit with points. Lynda Daly began the fightback before a trio of Scanlan placed balls injected real belief into their veins at 2-09 to 0-10 entering the final ten minutes.
An injury to Shannon Graham broke that momentum as a four minute delay ended with a Tina Bradley free to restore a six point lead.
Slaughtneil still couldn't shake off an obstinate Scariff-Ogonnelloe though as Mairead Scanlan's 64th minute free broke around the square for Marian Rodgers to finish over the line and halve the arrears.
It came too late to alter the result as Slaughtneil advance to the All-Ireland decider against Sarasfields in Croke Park. But while Scariff-Ogonnelloe are back to square one for 2020, they are armed with a bank of memories, experience and proven character that can only stand to this impressive young squad as the best could yet be to come.
Scorers for Slaughtneil:Tina Bradley (1-5, 1-2f); Therese Mellon (1-0): Louise Dougan (1f), Shannon Graham (0-2 each); Bridin McAllister (0-1)
Scorers for Scariff-Ogonnelloe: Mairead Scanlan (0-6, 3f, 2'45); Marian Rodgers (1-1); Alva Rodgers, Aisling Corbett (f), Lynda Daly (0-1 each)
Slaughtneil
1. Jolene Bradley
4. Eilis McGrath
3. Grainne Ní Catháin (Joint-Captain)
2. Cáit McEldowney
5. Bridin McAllister
6. Aoife Ní Chaiside
7. Clare McGrath
8. Shannon Graham
9. Cliona Mulholland
10. Siobhán Bradley
11. Tina Bradley
12. Louise Dougan
14. Sinead Mellon
13. Josephine McMullan
15. Therese Mellon
Subs
17. Olivia Rafferty for Graham (54, inj)
Scariff-Ogonnelloe
1. Aisling Corbett
4. Holly McGee
3. Susan Daly
2. Alison McGee
5. Susan Vaughan
6. Ciara Doyle
10. Aisling Corry
8. Amy Barrett
9. Lynda Daly
12. Jennifer Daly
11. Mairead Scanlan (Captain)
7. Rachel Minogue
13. Aoife Power
15. Alva Rodgers
14. Marian Rodgers
Subs
18. Alison Madden for Corry (38)
17. Danielle Sheedy for Minogue (51)
Referee: John Dermody (Westmeath)