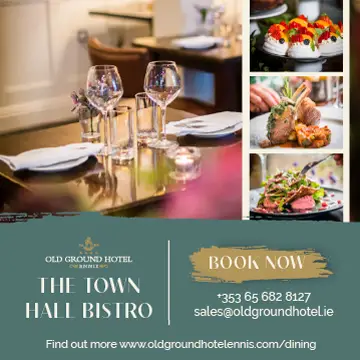 Linda Daly keeps her eye on the sliotar while Eimear McGrath closes in for a hook. Photograph: Gerard O'Neill
SCARIFF/OGONNELLOE's reign as Munster Champions is over after a six point scoring spree without reply secured the Thomas McDonagh Cup for Drom & Inch.
Drom & Inch 0-14
Scariff/Ogonnelloe 0-08
Venue: Mallow GAA Complex, Cork
In what was an incredible battle fatigue eventually told as substitute Katie O'Dwyer made the telling difference late on in Sunday's Munster final, a repeat of last year's decider.
There has been very little between these two great camogie sides in the two previous meetings in Munster Finals with two points in 2019 and only a point separating them twelve months ago. It was of little surprise then that after the opening thirty minutes the teams headed to the dressing room level at five points apiece.
Player of the match, Niamh Treacy gave Drom & Inch the lead after forty seconds and by the seventh minute they led 0-3 to 0-1 with a Mairead Scanlon free accounting for Scariff/Ogonelloe's score. From here to the end of the half though Alphie Rodgers' troops were the dominant side creating a couple of gilt edged goal chances which if had been converted would have made a huge difference to the outcome especially in such tough weather conditions.
Just before the half time whistle Lynda Daly provided spectators with a moment of individual brilliance when picking the ball up amongst four opposing players before winning a free which Scanlon converted.
On the resumption Drom & Inch again started the brighter and it only took 38 seconds for Niamh Treacy to point again. Eighty seconds in and Eimear McGrath pointed but credit to Aoife Power who landed two points in two minutes with one of the scores absolutely outrageous. In fact you will go a long way to find a better score in any game such was the quality. Surrounded by three players she jinked left then right before firing off her hurley into the breeze over the black spot from a full forty yards with the stands erupting en masse.
Level at eight points apiece this game turned when Ciara Doyle was unceremoniously fouled with no free awarded, the ball broke to Anne Eviston who gave Drom & Inch the lead, one they would not relinquish.
Substitute Katie O'Dwyer was then introduced and it must be said from here until the final whistle there was only one team in it. O'Dwyer landed three points in succession before winning a penalty which McGrath tapped over.
Try as they did Scariff/Ogonelloe could not get the all important green flag they desperately needed and their unbeaten ten match run in provincial action came to an end but they represented the county with distinction.
Scorers for Drom & Inch: Eimear McGrath (0-7 5f 1'Pen), Niamh Treacy, Katie O'Dwyer (0-3 each), Anne Eviston (0-1)
Scorers for Scariff/Ogonelloe: Mairead Scanlon (0-4 4f), Aoife Power (0-3), Jennifer Daly (0-1).
DROM & INCH
1: Caoimhe Bourke
2: Aine Greed
3: Christina Brennan
4: Maureen Ryan
5: Eimear Cahill
6: Mairead Eviston
7: Aoife McGrath
8: Niamh Long
9: Mary Burke
10: Eimear McGrath
11: Anne Eviston
12: Caroline Shanahan
13: Niamh Ryan
14: Niamh Treacy
15: Miriam Campion
Subs:
Joanne Ryan for N Ryan (45)
Katie O'Dwyer for N Long (48)
Siobhan McGrath for M Burke (60)
Scariff/Ogonnelloe
1: Rachael Daly
17: Holly McGee
3: Susan Daly
4: Alison McGee
5: Ciara Doyle
6: Rachel Minogue
7: Amy Barrett
8: Abby Walsh
9: Lynda Daly
10: Jennifer Daly
11: Mairead Scanlon
12: Labhaoise O'Donnell
13: Alva Rodgers
14: Aoife Power
15: Lorraine Grady
Subs:
Cliona McNamara for L Grady (46)
Bonnie Wiley Murphy for H McGee (48)
Aisling Corbett for J Daly (54)
Referee: Andy Larkin (Cork)